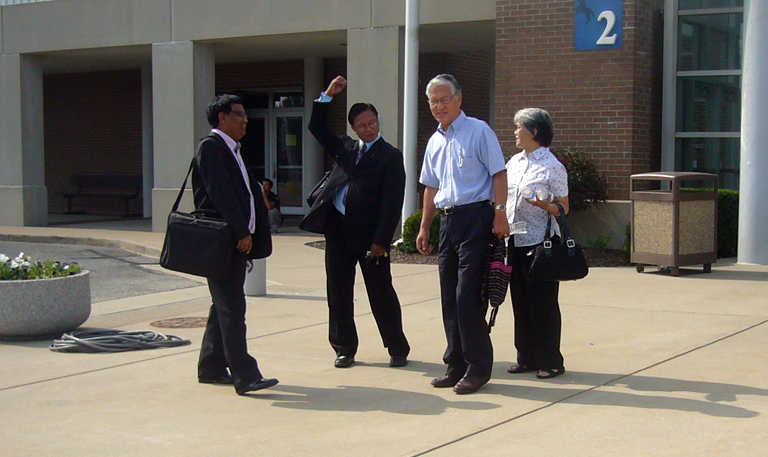 BM metting chung ka vong luh cu ka lau ko; a ngan tuk i. Minung 400 leng kan si e an ti rua. Minung mah vial metting tuah lai cu caan kan itingzo lai maw ti ka ruat. Agenda ka zoh cu, CCOC Thar kan thok lai maw ti lawnglawng caih awk biapi a um. Fawite'n kan chah, ttuan ding in. Asi ah, ZBC hei ihlerhlau hlah seh law zeitin dah kan ttuan hnga, Global Chin Christian Fellowship min in maw, ram chung ah aho dah a cawlcang hnga ti tehna ruahcaih awk nganpi a taang.
Adang pakhat cu, USA chung i refugee zohkhenh rian ah part time in Laimi pakhat an herh e ti kong a si. Mah cu zei dah CBCUSA he aa seng i, rian a lawn ah cun application au hna seh law a duh mi nih an sok lai i a si ko cuta tiah ka lungthli in ka ti nawn. Mah kong cu Florence Li an chimter, caan heu in. A bia a tawinak in pakhat nih kan chim hna seh law a za ko hnga nain. Atu bantuk caan sunghar ah hin cun phunghram sersiam bantuk thil biapi tu hi caan saupi pek a hau mi a si. Mah lehtuk cu suimilam pa khat te lawng a ting i, caan a um lo e tiah an hnawt. Caan a um lo ah cun phunghram kong caih cu ilaak ding a si lo. Phunghram caih nak hrimhrim ah ni khat cu zuah a hau.
Thimnak aa tuah ning tehna ngiat tik ah kan ram chung krifalei metting ah hin phung cilnaan a rak um lengmang bak lai tiah ka ruah colh. Phung zulh setsai lo i ithim, biatam ngam tu zong um lo, thil a felfai lo ning pi i kalpi thluahmah ko, tehna a rak um bak lai ti ruahnak a um. Cun pasator hi bu chungtel pumpak ruahnak upat itlaih lo i a-uk in mi uk phun lei ah hoih deuh men lai ti zong aa ruat thar. An mawh hnga lo; krifabu cu dictatorship in a kal ttheu mi a si.
Nili zan ah palai phaan dih cang hna kaw mah zan cun pumh aa thok. Civui dong CEBC an ipumh nak biakin ah ipumh chung a si. Mizoram Baptist Kohhran i GS Rev. Lianngaia nih phung a chim. A ttha ngaingai. Lai Holh in an leh belte i hna a hnok. Kei cu phungchim tanttim ah ka va phaan.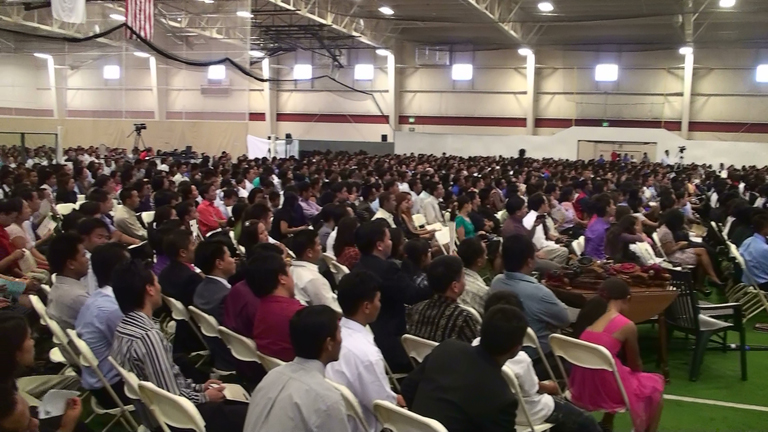 Ninga zan cun civui tuah nak hmunpi ah ipumh a si cang. BM metting zan cu a si i, rawl nih ka thlim kaw pumh ka tlolh. Tthutdan ah kaa hngelh. Mangcanghlan khin Mawte (Monica) aw ka theih. "Zeizongte ka pek" ti hla an sa. A vong nuam tuk. Pathian cu nan aw ngeih mual khan thangtthat ko u law an kan ti tawn ko na'n aw ttha i an sak ah hla cu a thlumal in hmual a ngei deuh ko. Livestream cun ka zoh i, "Zeitin dah keimah tu Pathian thangtthat nak ah ka um lo ning?" kaa ti. Vancungkhua i Pathian thangtthat nak ah khin hei itel hlah ning, hauleng in hei cuan hna ning law zeitluk in dek ka lung a fah hnga. Hmanhseh, "Min an au tik ah kei zong ka um ve lai" ca ah ngaihchiat le lungfah cu a um ding an si ti lo. Pathian thangttha ko seh.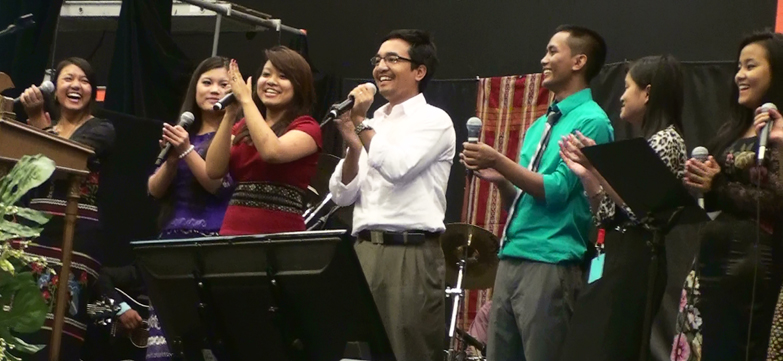 2010 Civui i Praise Team ah ICBC pakhat hmanh an telh hna lo. Ka chim cang. Atu tan ah an telh hoi hna lo. CBMC le CEBC hrawng lawngte an si, zeidang ah cun u-ting nau-zo in mi an thiah ko nain. Hmailei ah cun bu khat pa khat ti bantuk deuh in ithim hna seh law co-operation le unity le fellowship a ttha deuh men hnga.

Civui i ka lung a kan ton nak pakhat cu baan hler hlasak hi a si. Praise & Worship kan sak ah baan thlir in Pathian kan thangtthat hi mah cu Pathian nih a duh tuk lai tiah ka zumh. Civui hin baan hler Pathian thangtthat cawng usi law, kan biakin cio zong ah mahti cun Pathian thangtthat usi law ka duh. Atu rih ah cun, aa hlerhlau lo kan tam tuk rih i baan thlir Pathian thangtthat a rak hmang mi hmanh nih kan baan kan hler ngam ti lo. Kan hler ah aho dah a si hnga tiah an kan zoh thulh, video an kan thlak thulh. Za a long lo.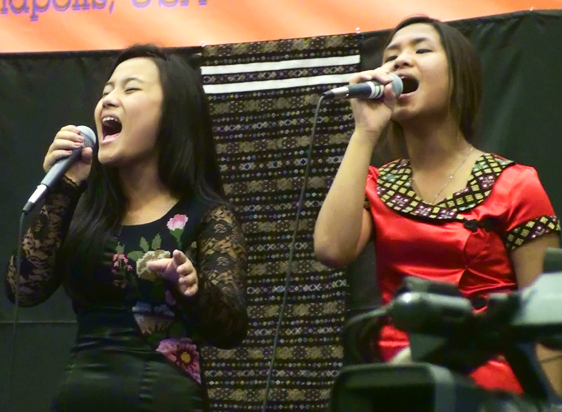 Praise & Worship sak chung a sau tuk deuh tawn ka ti. Hla fung 6 hrawng lengmang kan sa in ka thei. Fung li a za ka ti. ZBC hla kan telh pah i mah cu ka duh ngaite. Tutan P&W kan sak mi ah ka uar mi hla cu, Kawl hla "Hallelujah" le "Ra" ti hla kha an si. An ttha bak ka ti.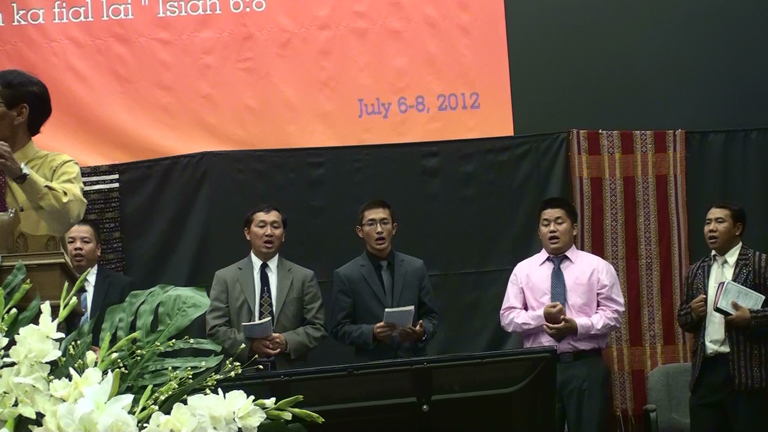 Tutan civui i ka lung a ka tong lo mi pakhat cu pulpit hrawng rong a si. Anak lawngte a si i a "ttauh" lo tuk. Pulpit a kai mi hi pa an si deuh i coat ah anak le aduul ttheu ihruk a si. Background i nah, sam i nah, coat i nah, vunhawng i nah chinchap ah cun, kaang dip lak vom vaak an lo. Aa dawh kho lo. Atu zong zoh u law an cal tiang lawng a lang himu; an sam a lang ti lo. Hmailei ah cun Laimi thil ti nak pohpoh ah background hi a vaar lei lengmang ser ding a si. A vaar cung ah cun sam le coat nak si seh, puansen si seh, dawhte in an lang.
Laimi hi black and white kan uar tuk deuh rua ka ti. Suit nak le angki raang ko a tam. Tutan kan background nih anak, kan pangpar nih araang, an si. Pangpar ngan tuk an chiah i mi hni le kedan dawhdawh a phenh dih, an thim leen ve mi. Pangpar hi a za tawk te a ttha. Cun banner puanzar rong khi dignity a ngei deuh lo. Cattial nih aa palh hngehnge. Isaiah ti ding ah Isiah aa ti i, hmanthlaak le video ah a cuang zungzal ding a si ttung i a poi pah. USA Lai mino hi an za tuk kan ti ko nain ca an ttial ah cafang le punctuation an palh lengmang. Miphun dang sin ah ning a zak. Zohpiak lengmang ah a ttha. Rinh dih ding an si lo.
Nan fale kha hawi sin ah chuaklang kho ve hna seh ti nan duh ah cun; (1) Lai Holh tthate'n thiamter hna u. Laica thiamter hna u. (2) Solfa thiamter hna u. (3) Lai thil hruk thiam/tlaihchanter hna u. Cu lo ah cun hmai fon cu chim lo, hawi zawng in an cawlcang kho lai lo. An pil lengmang ko lai.
Mahhna laam zong hi duh a nung ngaite ve.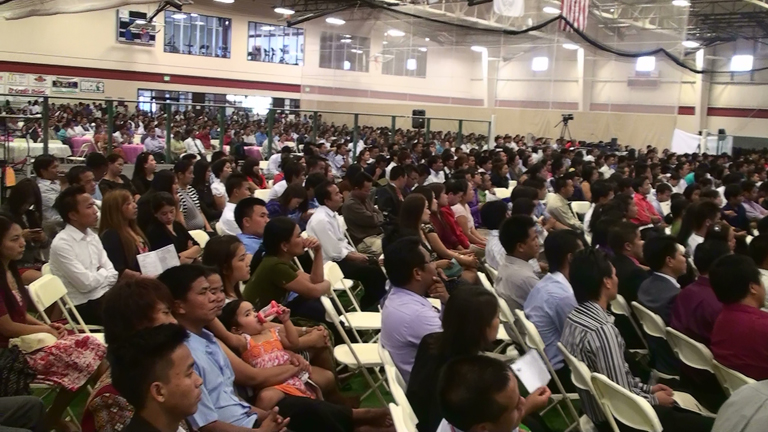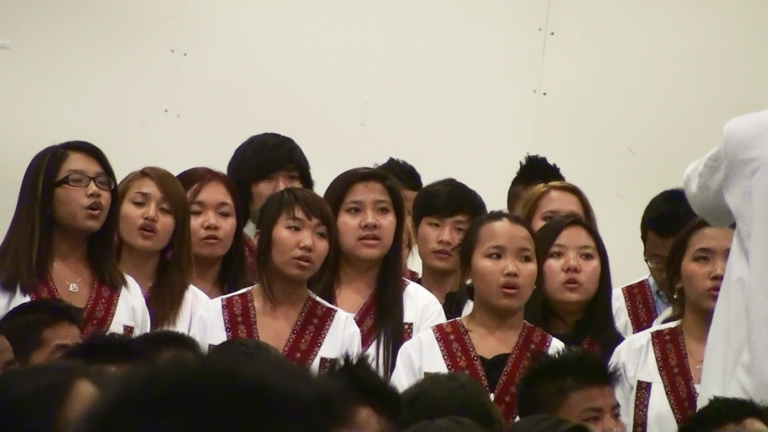 Krifabu le Laimi society kan nuamhter ah cun tthangthar zong Laimi an si ko lai.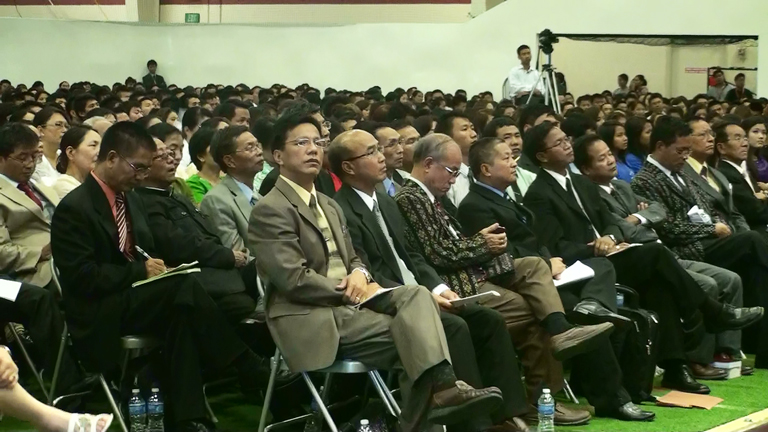 Hmai tlaang palinak mithman benh lo coat nak hruk khi Pu Thlasui Tluangneh, CBCUSA Literature and Publication Secretary i thim thar mi a si. Mah rian ca ah aho dah a ttha hnga ti ka von ruat ta i amah hi ka lung nih a rak tinh colh. An thim i kaa lawm, amah nih cun a zuam ve theng lai lo nain. Anih hi biaknak degree (M.Min) a ngei mi a si i krifalei ca a tawlrel tu ding zong ah do a tla.
EM Rev. Dr. C. Duh Kam. A angki chung raang hlah seh law nak dup in um hnga. Tutan ka lungka tuk an tuah mi cu, phungchim caanchung an khiah hi a si. Ngollo phungchim kha cu hloh a hau cang mi hrimhrim a si. A chim tu chim duh mi tam ko hmanh seh, a ngai tu ngaih duh mi a tlawm. Civui lo zong ah minit cuzat cung chim chiat ti cu pehzulh ding a si. Cun mirang i bia an chim mi leh si hlah seh an ti zong hi a ttha tuk. Leh chom hau cu thiah zong thiah lo ah a ttha, midang an tampi ko. Holh leh chom phungchim ngaih cu hna a hnok tuk. Pumh riim nak hmanh a si.
Thawngthanh le thlacam zong hi minit cuzat lonh hlah seh tiah khiah ding a si.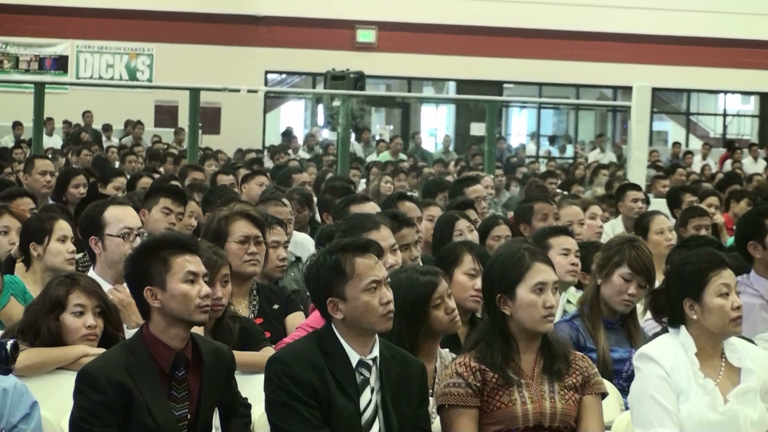 Mary Ling le Lian Bawi duet video.
Atutan hlasak mi ah mah hi ka lung ah a taang. Mary Ling aw hrimhrim hi ka duh phun te a si. A hla hi Min Awng hla a si e tiah ka pawng mi nih an caih.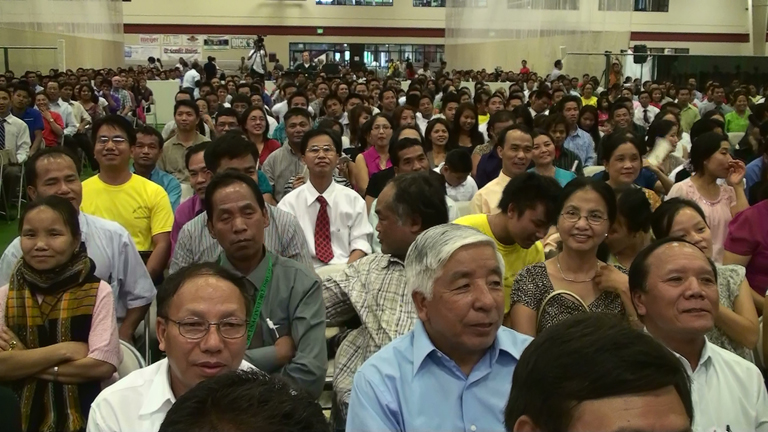 Tutan phungchim hi ngaih awk pipa ka hngal hna lo, kei cu.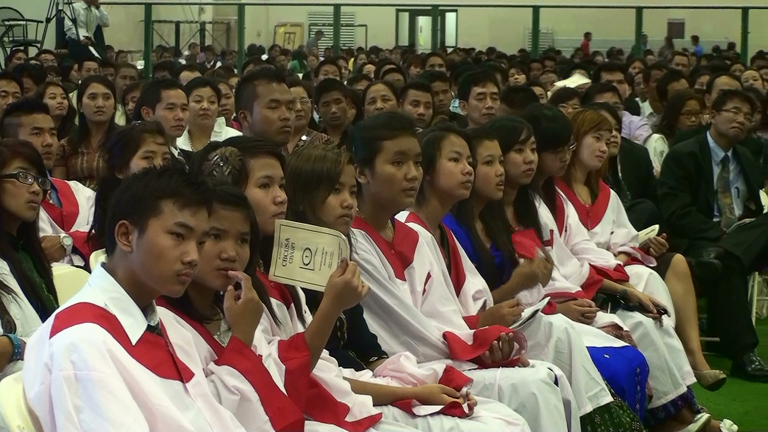 Hlaremh zong an ttha set lo, ka theih tawk. Mahle biakin i an remh i a ttha kan ti cang mi remh hna seh law mah cu an ttha deuh men hnga. Atu hlaremh cheukhat nak cun keimah le hawi hmanh kan ttha deuh lai.
Tutan civui cu saza an tling ngaingai; piangthar pasator he, thar lo tor he, evangelists he.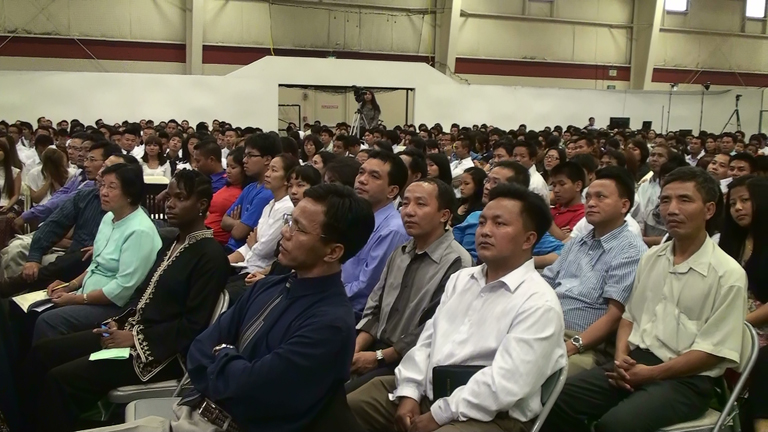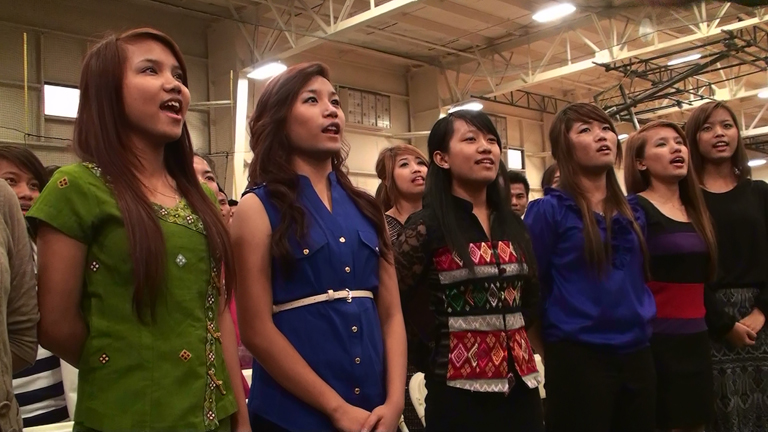 Uniform hruk lo ka duh deuh, kei cu. Pathian zong aphunphun a duh.
Mah hna phueh hi an idawh. Tutan civui ah aSui hi aa dawh bik pawl a si, puan hring orhlei i khi.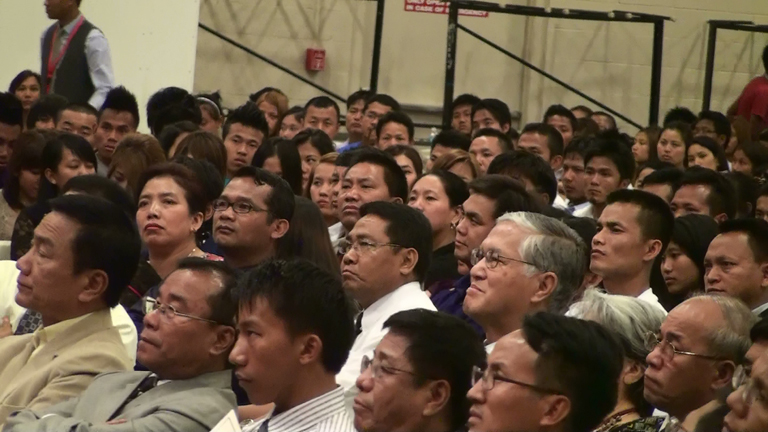 Civui a tthat nak cu evangelist le pasator zong mi phungchim an ngai ve.
Tumbul tonh duhnungte hi video camera tlaih ka fial i atang i zong hi amah i a kan thlak mi a si.
Ceu Hlun, Kep Ling, Van Ni, Rolin, Ceu Lian Thang, Peng Thang, Cung Bik, Thla Awr

Mai Lal Cer Lian, Salai Cung Cin, nute, Pi Run Pen, Pu Lian Hmung (acung orhlei bik)
Rangoon Arts and Science University (RASU) rak timi i a rak kai mi kan si. Kei ka kai tik ah cun Rangoon University ti deuh a si cang. Ka kehlei i hi cu ka ule deuh pipi lawngte an si. Kan iton a har tuk ai hmun khat ah hmaan kan ithla tuah lai kan ti cu an imanh lo tuk cio, acheu nih a caan an philh, acheu an tlung i kan tling kho lo. Atang i hi kan sin i hmaan aa thla manh lo mi vial an si. Kan dihlak nawn hin mahle krifabu cio ah mi santlai kan si cio hna. Pasator a ttuan na, church chairman a ttuan na, rian dang biapi a ttuan na.
.
.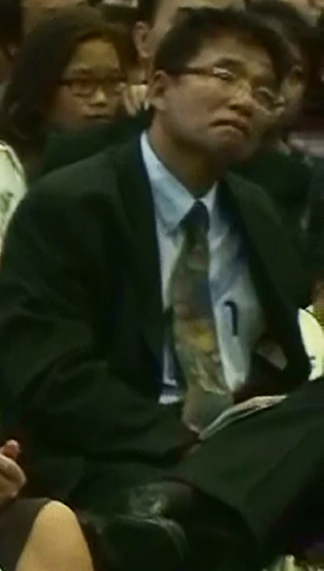 .
Rev. Dr. Van Ram Uk (evangelist), Pu Lal Bat (church chairman), Pastor Ngun Iap, Rev. Zam Mang;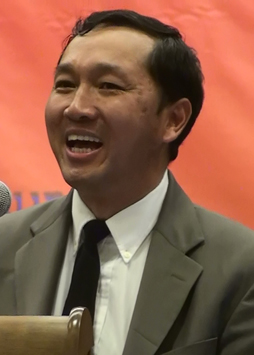 .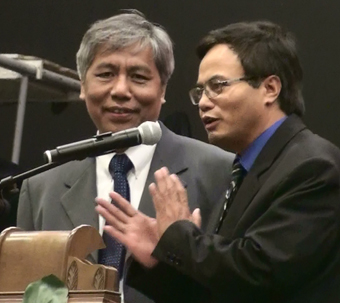 .

Pastor Kenneth Van Bik, Rev. Thawngling Mualhlun, Pi Sung Cer (Mrs. Cung Lian Hup)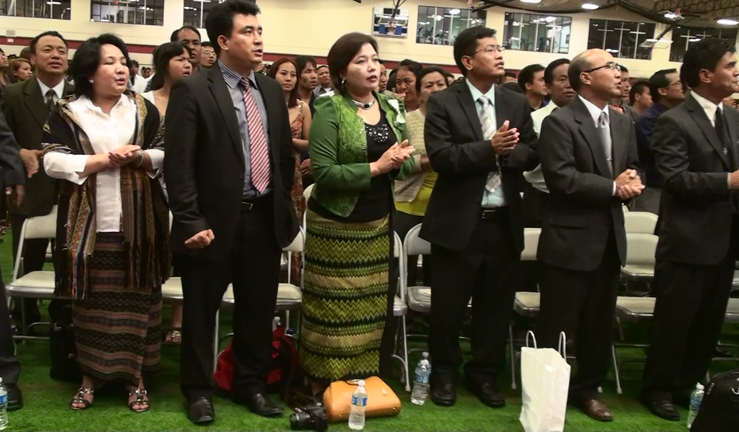 .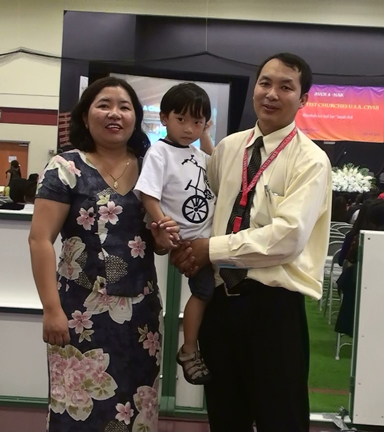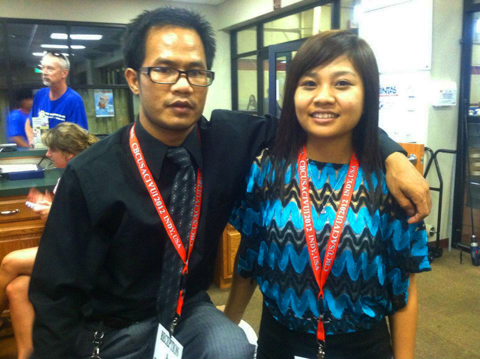 Pu Mang Chawn le a chungkhar. Global Chin Bukbau facebook ngei tu le a farnau.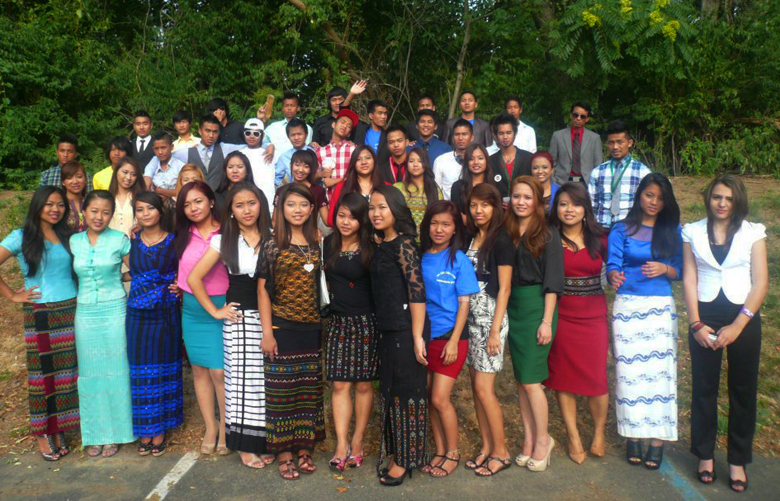 Chin Baptist Mission Church, Washington D.C. pawl. Mah hna hi cu USA Laimi ah vei vei vei.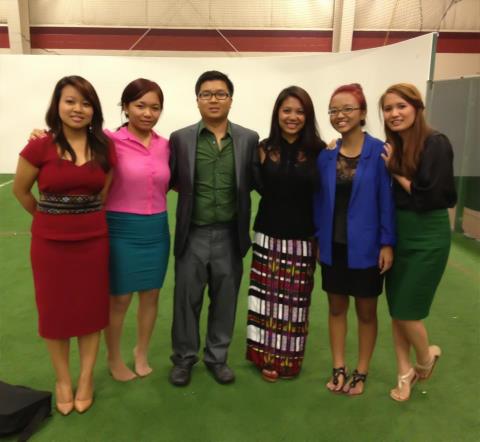 Pastor Ronald Charles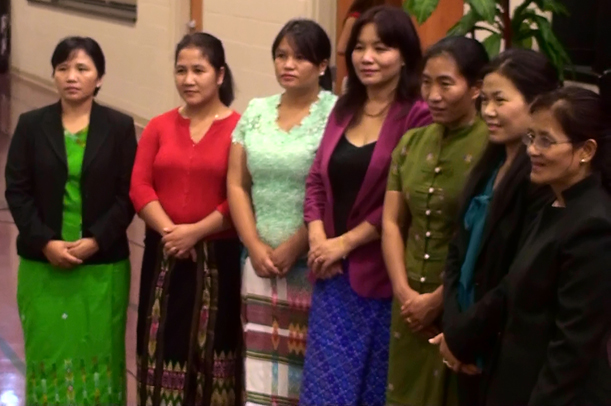 Nubu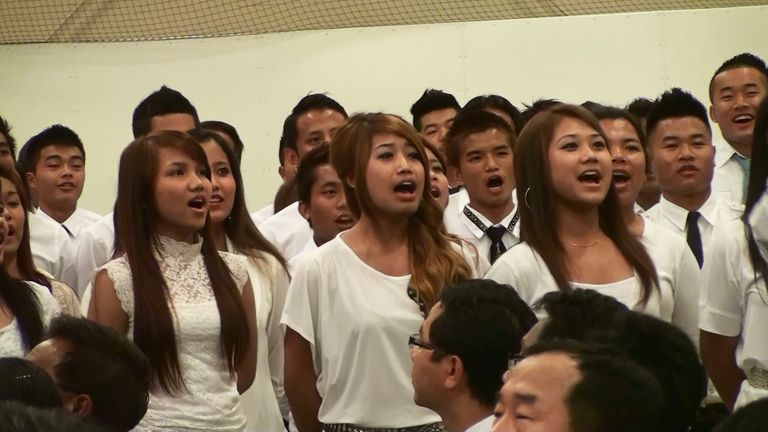 Ar la te bang mino duhnung i hla an sak le an khamhtu an thangtthat hi cu a sunglawi tuk e!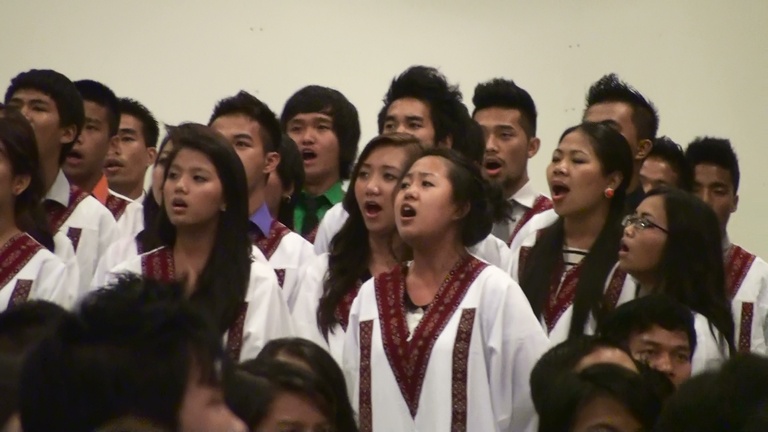 Atu le atu puai tuah hi tangka a dih tuk i hmailei ah cun CYO puai le CBCUSA civui hi kemh usi law, nili ni zing in ninga zan tiang CYO puai (mah kar ah cun CBCUSA upa metting zong rak tuah ve ko hna seh), zarhte zing in zarhpi zan tiang civui, ti in ituah seh law diheh aa daw deuh hnga i nuamh zong a nuam deuh men hnga.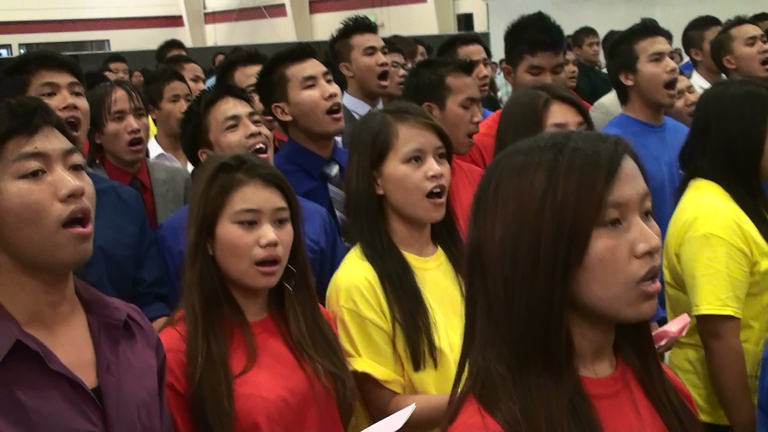 Hallelujah Hlapi an remh lio, bu kip komh
ICBC Choir. An cawn lio ah an tlawm tuk i, kan bawm u law tiah an hruaitule an au tawn. Aho kan chuak hlei lo. A nikhua a naih leisang ah ngakchia rual inn khat in an chuak ciammam i an hruaitule cu an arr ko. Sunday School a lim rih lo mi an tam. An ngaknut tiang Sunday School ah khumh an si, ICBC cu.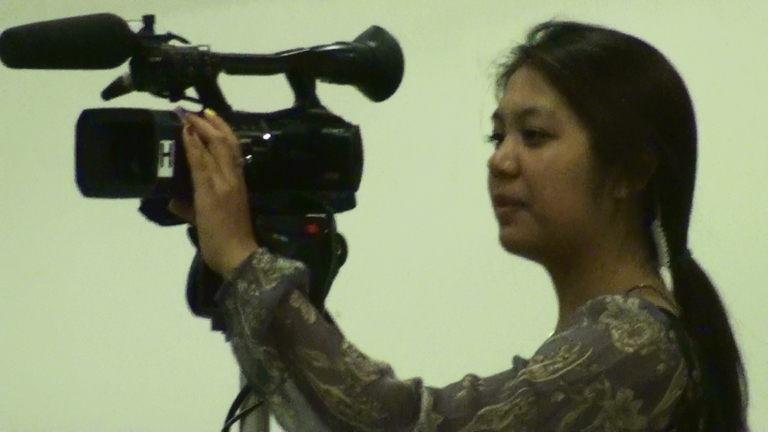 Texas CBC pasator nupile, khual hawi he tthut-tti lo in.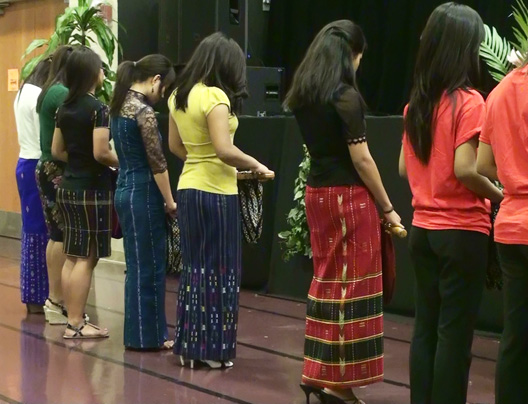 Lai mino hruk-aih zoh a dawh ning hi! Mah hi kan duh mi a si. [Angkisen khi cu steward an si] 2010 civui ah khan ICBC Nunphung & Zatlang nih an secretary Pu Rual Bik thlah in hrukaih le hoiher dawh bik krifabu laksawng a pek hna. Tukum cu aho pek awk an hngal ti hna lo. Lai mino an lung a fim tuk cang. Pop culture icawn men lo in traditional value an sunhlawih cang, Bawipa pek mi nunziamawi kan ngeih mi. Kri i ngeihter a kan duh mi cu mah cu a si, nunziamawi i amah sunparnak langhter hi.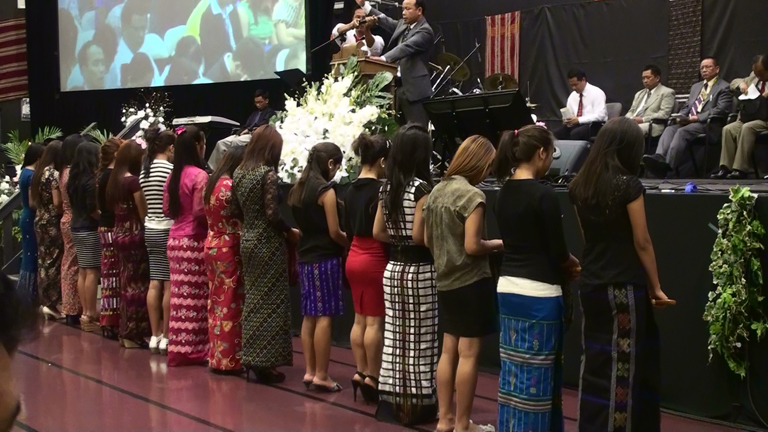 Atu ah cun jean tawhrolh he pulpit a kai mi an um theng ti lai lo. Miniskirt zong hi an hlawt te lai.
ZCC pawl. A laifang nu lawngte kan zoh ko. Video atang ah.
Sam nak dipdep te cu aa dawh tuk e!
Midawh hi civui zawh tal ah cun san tlai tuah u. Nan kan cercawi ve cuh, miphun dang hmuh ah.
Lai khal pasal ttha ttha i civui an dirkamh cang ah zeitin he thlarau cu a tlak ngam lai i? :)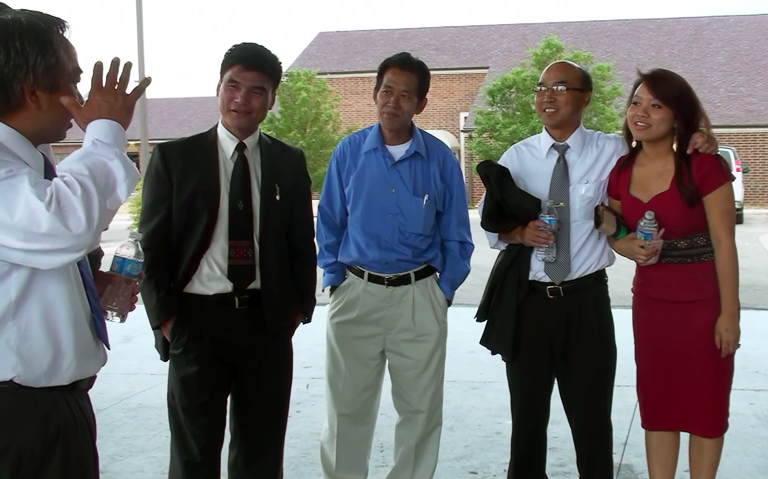 Zei ko dah a chimh hna hnga nan ti lai; zei setsai a si lo.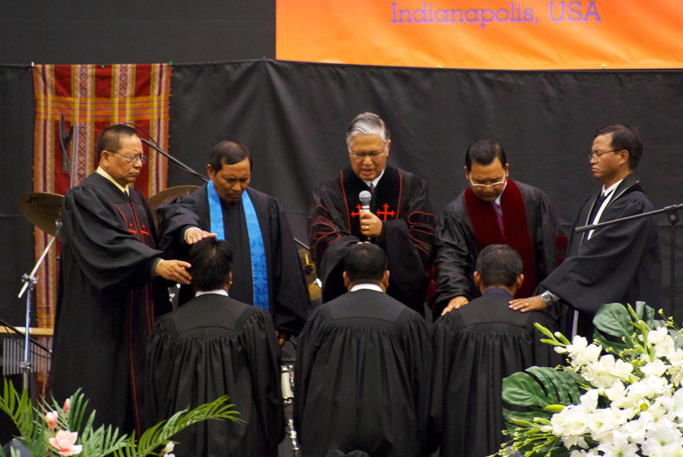 Ordination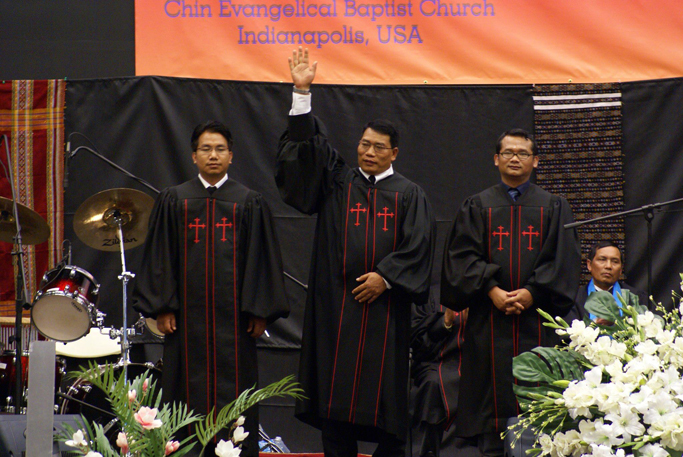 Pakhat hi a min an chim ka thei bal lo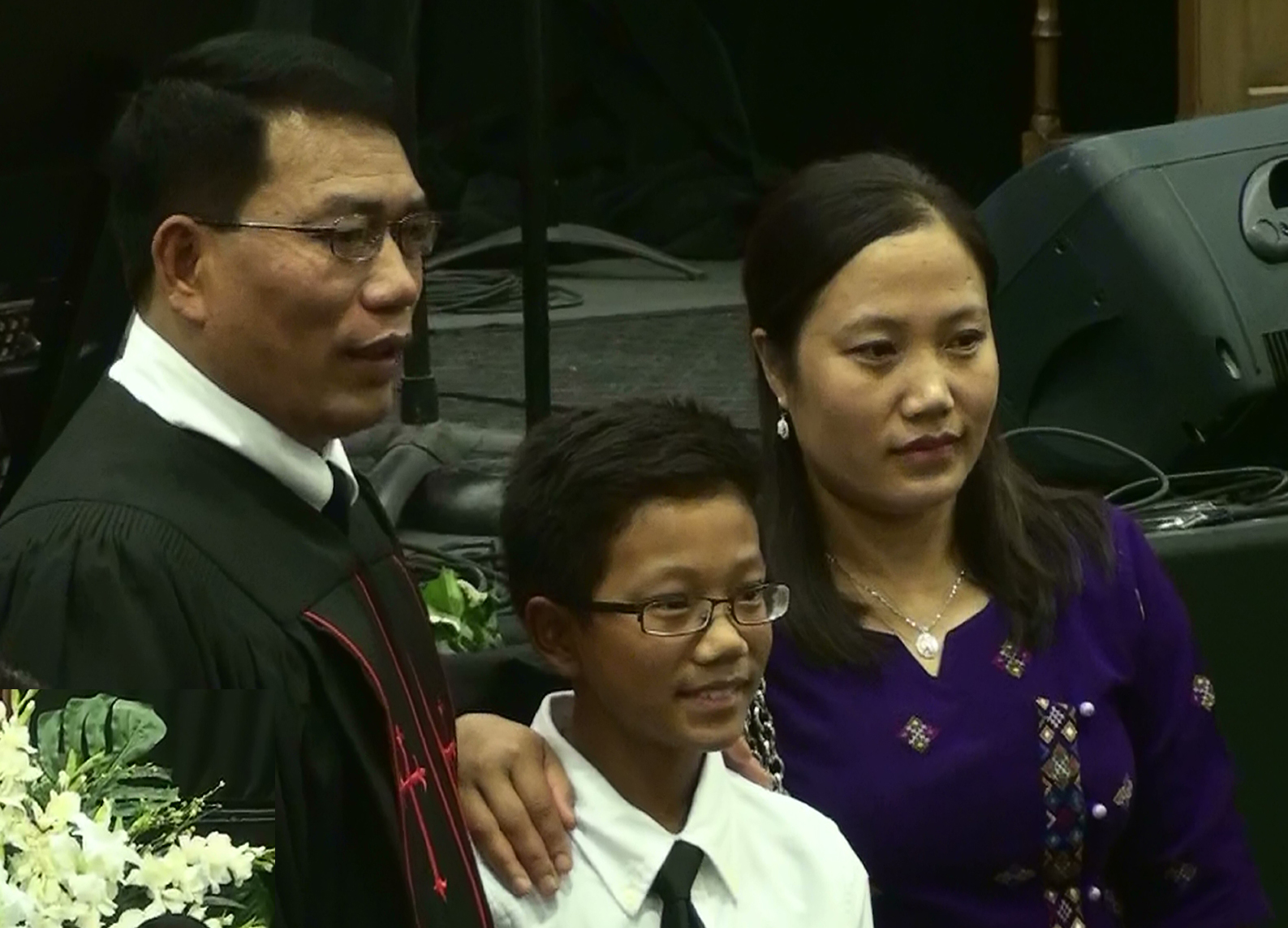 Rev. Tluang Thang
Rev. Lal Cung Awi
Angki raang hi CBMC Church Chairman hlun Pu Roland Maung. Nu khi a nupi sunghno.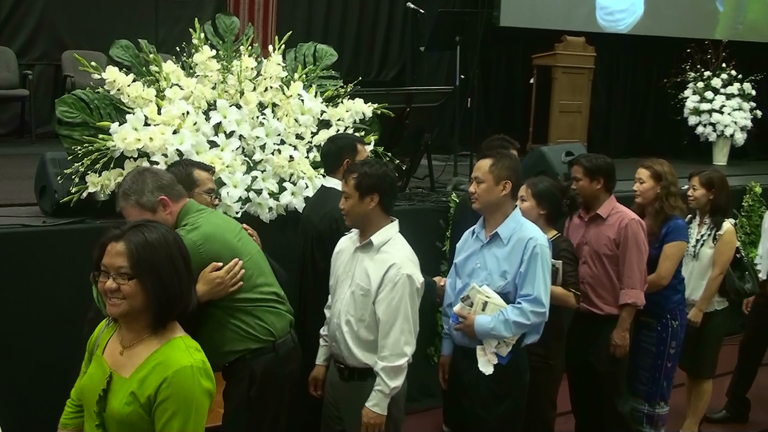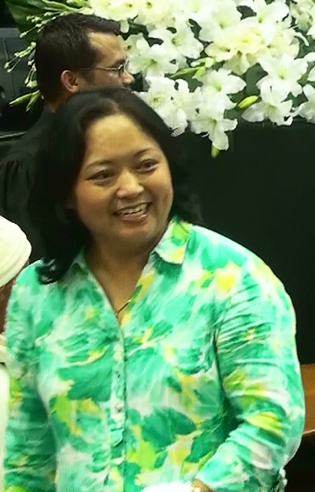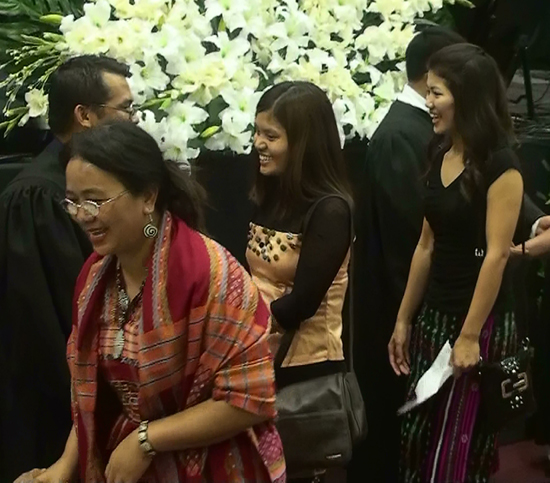 "Midawh Sansan" rak timi kha a si. A fa nih a canh cang. Tutan civui ah hin amah hi rawlchuanlei rian ngei bik a si i coka a tluum. Atu hi Rev. Lal Cung Awi kut a ra tlai ta, Hniarlawn a si ve i.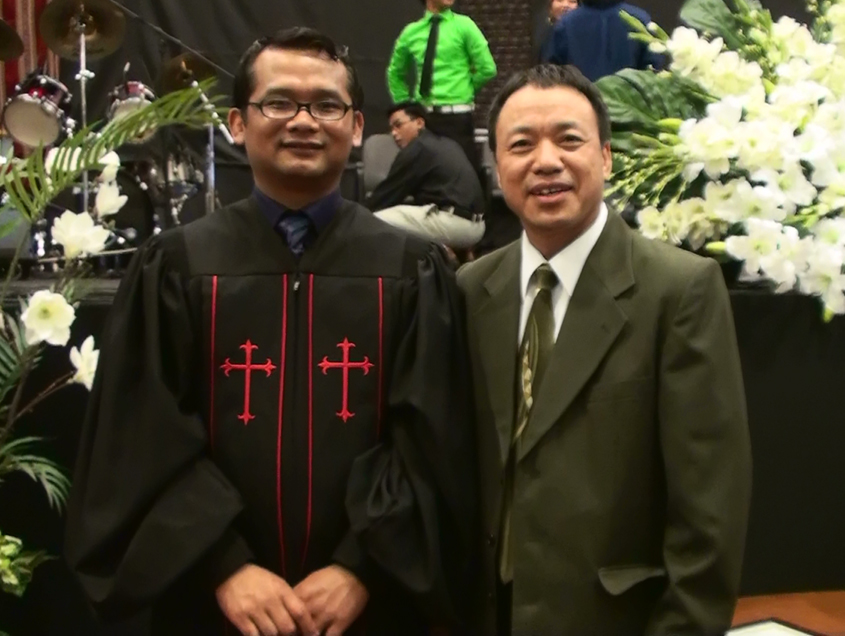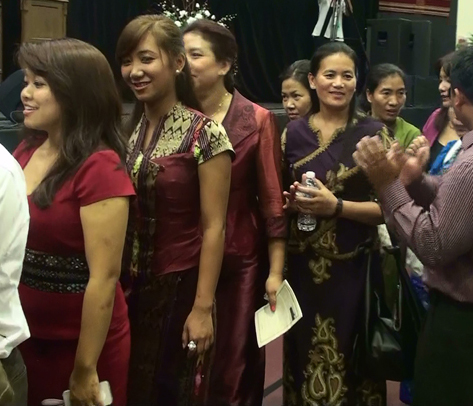 Kei zong atu tan ah hin Reveren ka hmu ve. The Chin Voice timi journal ah "Rev. Ceu Hlun" tiah aa ttial. Ka umlokar ah ordination an rak ka pek rua. Atu tan i fiangte i hngalh khawh ding mi cu ka cal kong hi a si. :)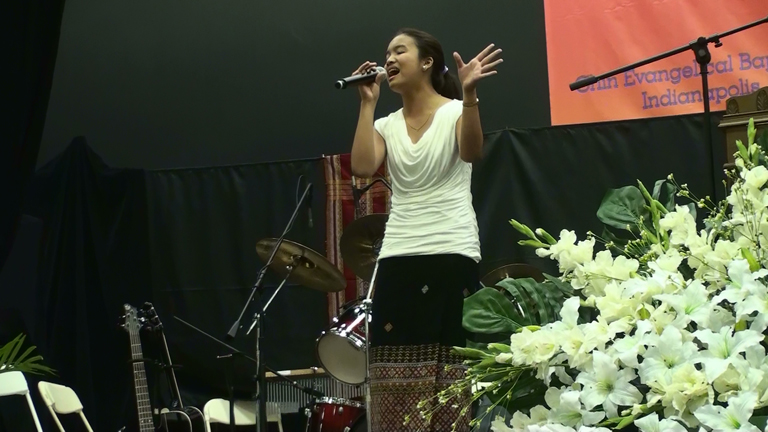 Vanmi bantuk, Pathian fanu Sui Cer.
Ka tu Par Tin Dim
.....
Sui Cer hlasak lio ah cun nu hi thlarau nih a tlak i, "Bawipa, Bawipa" ti in a au lengmang i an chuahpi, an luhpi, an chuapi. Ka hmaika a phanh lio i a chim mi cu, "Pathian, biak lo awk na ttha ti loh!" ti a si. Rev. Ngun Awi nih, "Na au lo ruang ah na thi lai loh!" a ti. Ka ni leen. Rev. Hre Kio le a inchungnu nih pinlei khaan ah an va hramh i dam in an luhpi. A mui aa dawh i hramh cio thanuam pah ding zong a si nain nutung a si ai rua.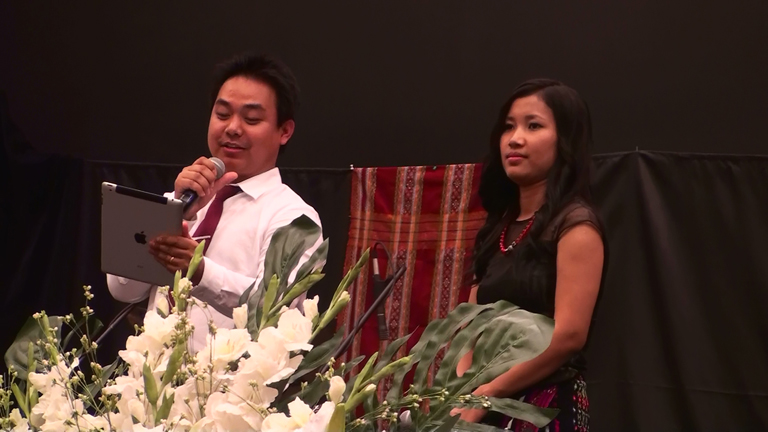 CBCUSA Mino hruaitu thar Steven Thang le ICBC leng fel Za Nei Cin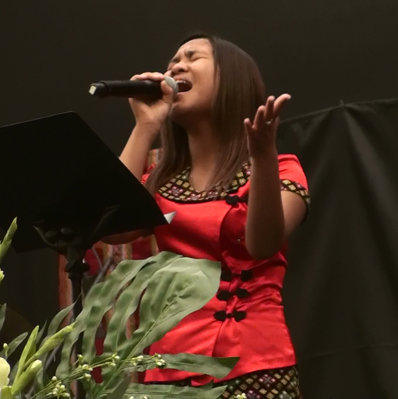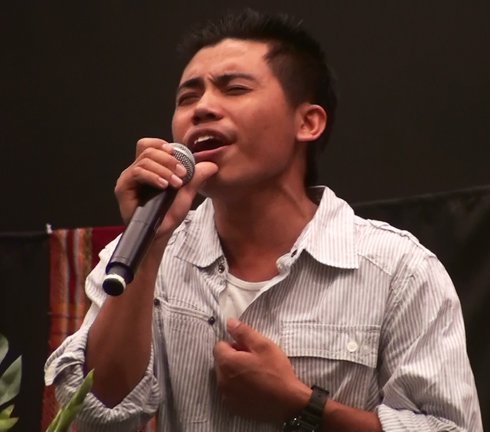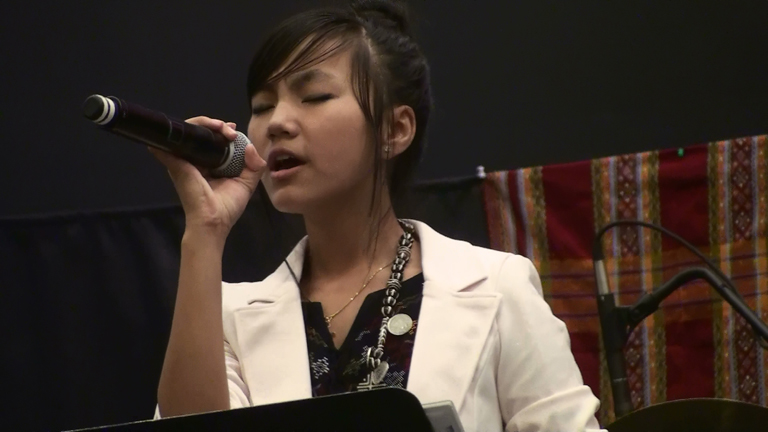 ..
An hla zei huaha an si lo. A cinh tal zeitin dek an zuam.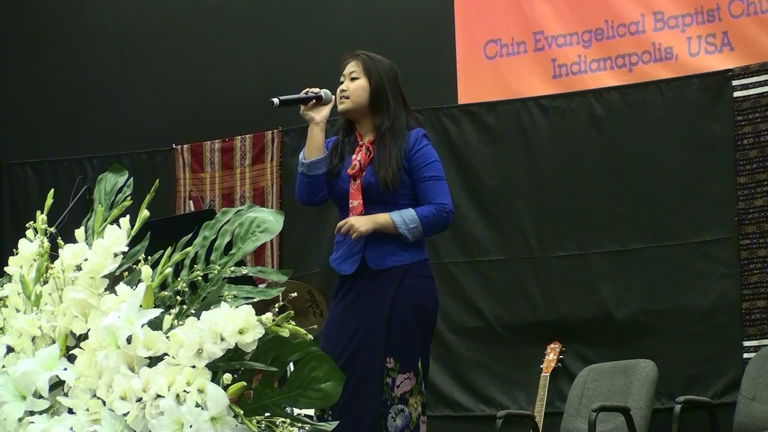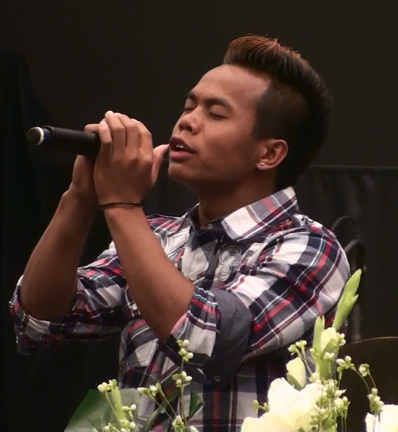 Atutan civui i mi a simh mi cu solo a tam tuk ko hi a si. Group song, trio, duet tehna tal um pah seh law aa ning. A solo le solo hliarhliar. Zarhpi chunhnu Mino caan zong solo lawngte hi ipeh kaw mi an chuak dih ko. Pumh oi khat ah solo fung thum leng cu um hlah seh law a ttha hnga. Hla tam deuh seh kan ti le quartet tehna, phu hme hlaremh tehna tu um deuh seh law a ttha. Hmailei ah cun ruat usi law ka duh.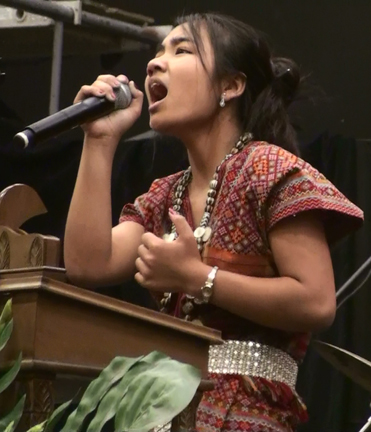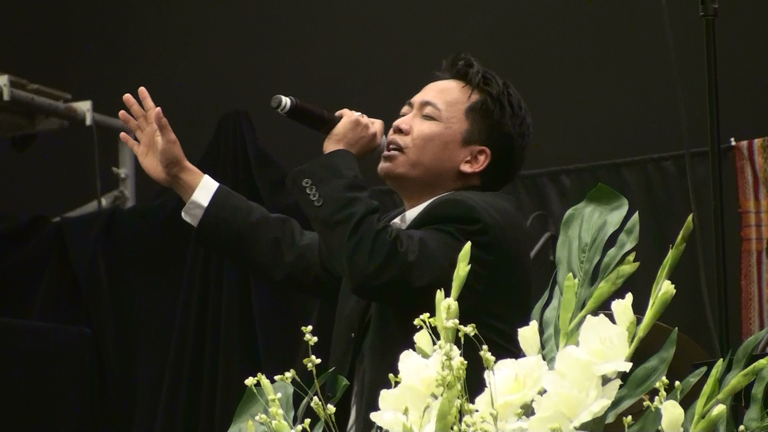 Phua Soe Naing hlasak nih hin kan nun a tongh dih. Ka Amen zong a thang nawn.
Atang i hi a video. Video ka thlak hmasa bik chang a si i theithiam te u.
"Vawlei ah um hmanh usi, vawlei mi kan si lo."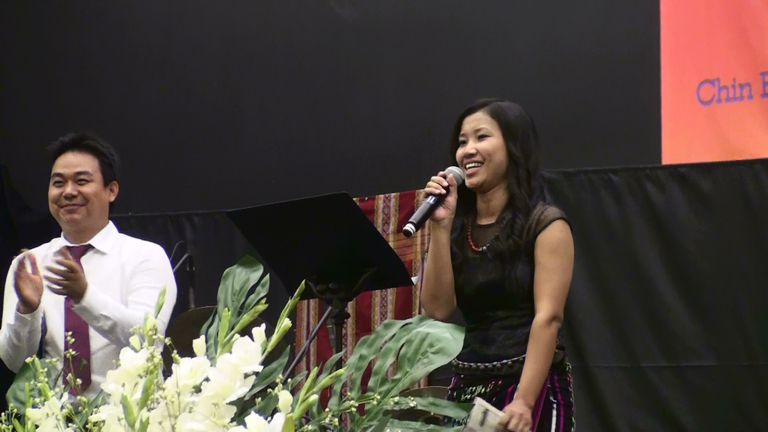 Lehthah lo in an zohsawh ko hna, pasator mah vialte nih cun. :)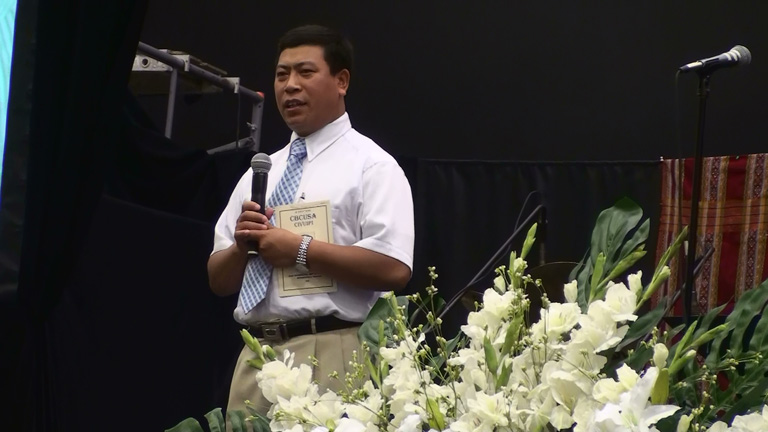 Mino hruaitu hlun Saya Hrang Cung Hnin
Tthut-tti hnu ah tthialtaak chiat!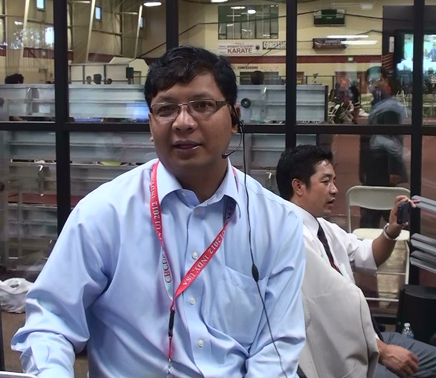 Civui a tthathnem nak cu Pathian lei lawng si lo in minung lei zong.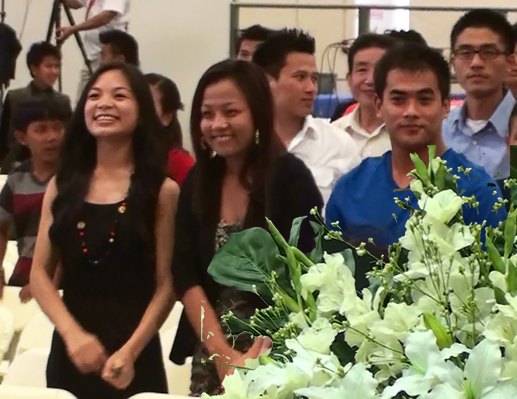 Rangoon University Lai Siangngakchia i King a rak si mi Chan Peng Lian kha a si.
Rev. Thawngling fa Biak Sui Hluan le a nu, le Khuangtawi
Livestream i a thlah tu Sangpui le a naule. An thiam bak, an fel bak!
Van Tha Par, a hngalhlokar i ka thlak mi. Thatha he ingaih hnu i iton cu a nuam in a sung tuk tawn.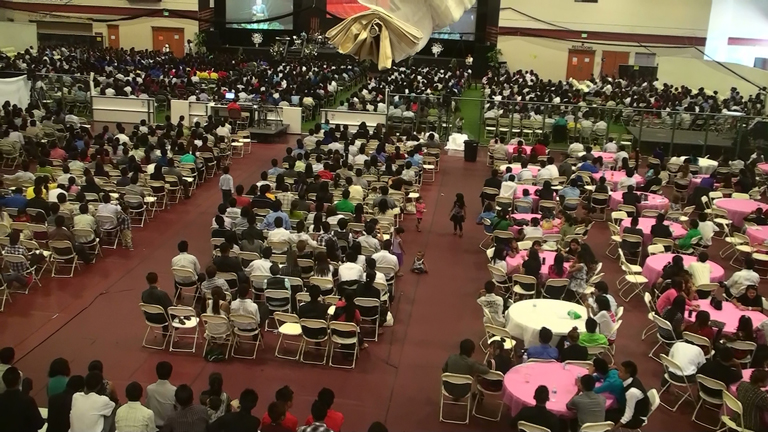 Sailopa bia bang, rawl hi alak i pek lo in ei khat $3 in kan zawrh cang hna seh law a ttha hnga.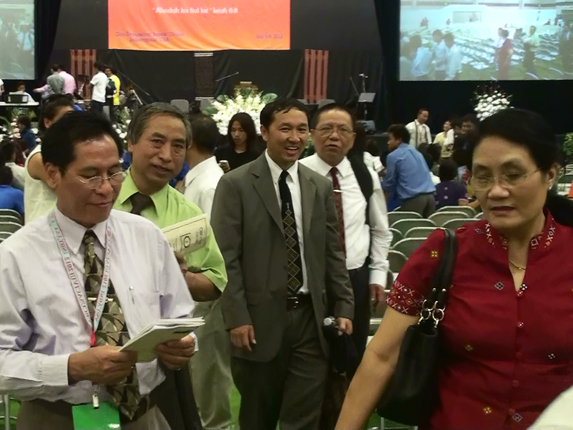 Pumh chuah.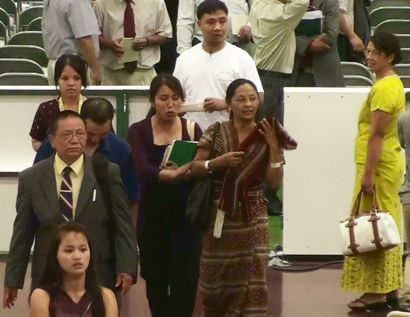 Cunglei in kaa kai i ka thlak hna, thlalang pheen in.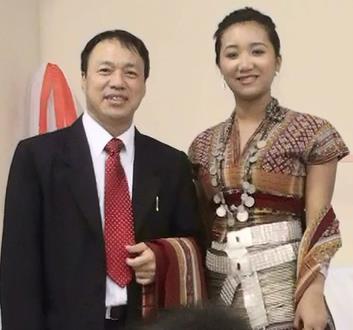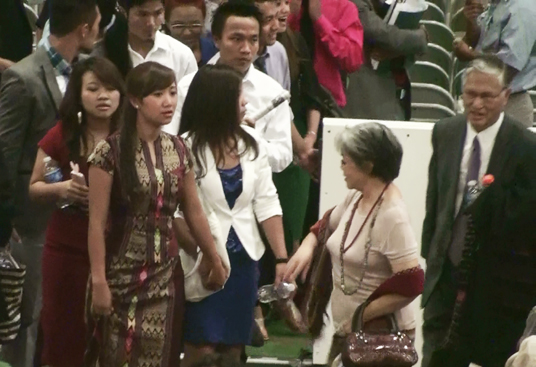 CBMC mintami Mang Tin Tial hi nikum kan chungkhat tthit-um ah maw a ra ttuan i, kan dawt i kan dawt i! Akimkip nih hmaan kan ithlakpi, apuak dangdang an puak, mi ttha duhnung pi si kaw. Atu aa dawh chin.
Suimi zong a ra ve, rat cu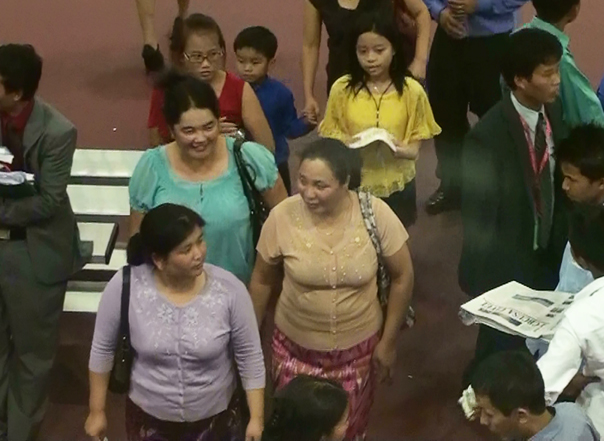 Pi Tluang Sung solo sak auh pah in a pastor Hlei Sung nih,
"Hniarlawn kan ngei ve i" a ti e an ti, hlasatu kan ngei ve hei ti ko lo in.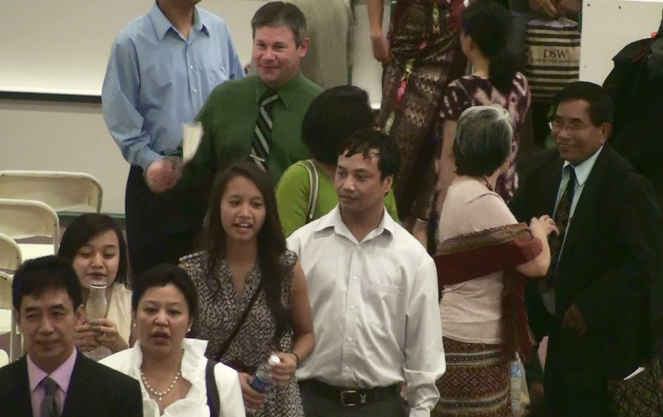 ICBC Church Chairman te. ICBC cu kan idaw lai e an ti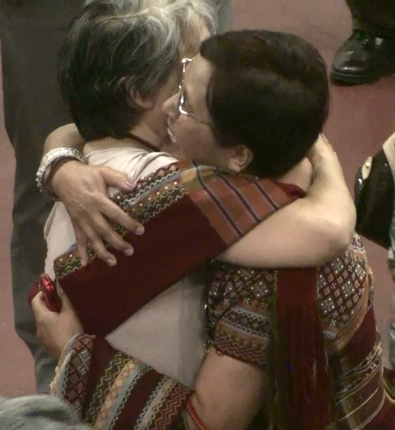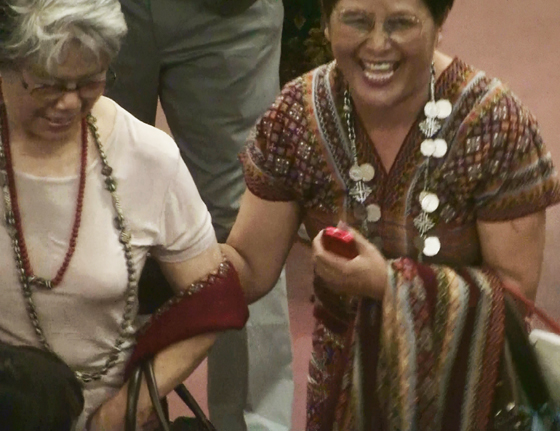 Cawngnak ttheu nih a kan cercawi.
"Doctor anih" kan ti mi an tam pah nain biaknak lei doctor ngawt an si. Kenneth Van Bik hi secular ti mi biaknak lei lo in Ph.D a la mi a si. University of California at Berkeley in a laak. Laimi ah linguistics a cawng mi amah le keimah lawng kan rak si i, kei zong Ph.D laak ve cang ding ka si nain. M.A he ceo ka hmun ko, University of Illinois in. Mah university pa hnih hi USA cozah siangin ah top pawl an si.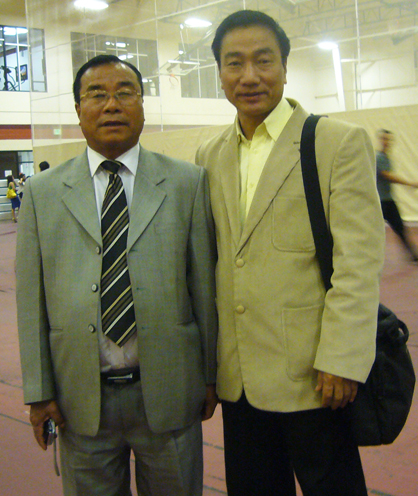 CBCUSA EM Rev. Dr. C. Duh Kam le GCCF President Salai Cung Cin. Rev. Hrangzuala Chinzah le Rev. Lianngaia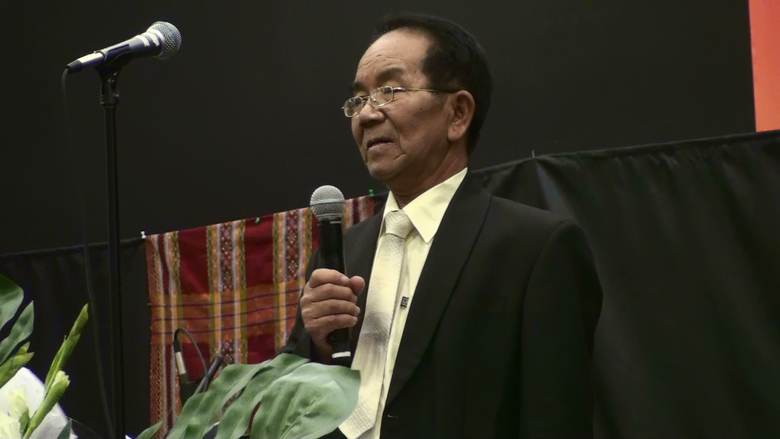 Rev. E.F. Sang Cem hi India Lai Ram khualipi Lawngtlai i a um mi a si. Baibal zong Lai Holh in a let. 1988 kum in kan itheihngal cang. Atu tan civui ah hin a ra ve i bia tawi a chim ta. Bia ttha ttha a chim. Lusei holh fang khat hmanh a telh lo.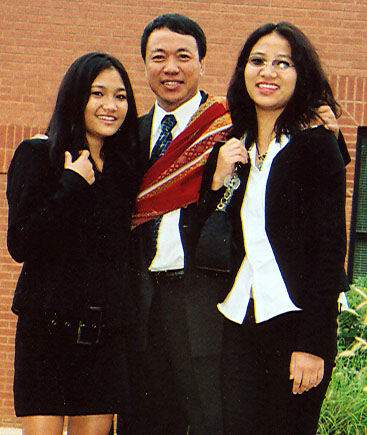 Valentine (angki-sen) hi zoh hmanh u; aa dawh ko himu. Asina'n kum 7 lio he cun aa dang ngaingai cang (mithmanbenh hi a si i). Keimah zong mah lio i ka hmai a rak khah ning le ka sam a rak chah ning hi zoh u law atu ka muisam he cuai hmanh u. Kaa dang tuk cang lo mei u? Mah hi a si, zorchuk chin lengmang cio a si lai i atu hi nan idawh bik lio caan a si cang ko lai. Mah ca'h cun hmaan i ithlak pah lengmang ding a si, kum khat oi khat tal. Atu i na muisam hmanh kha hmailei kum hra ah cun na ngai te lai.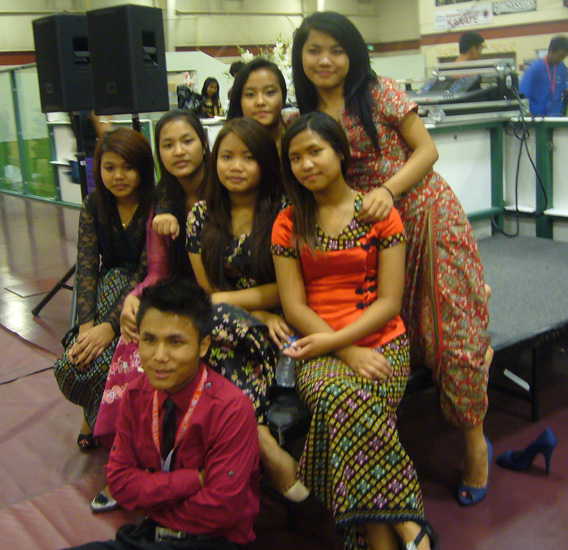 An thilhruk aa dawh ning hi! An ngal hmanh a lang lo. Kawl nu hmanh an lau nawn lai.
Pathian nih cun thilthuam a zoh lo e, chunglei a zoh e tiah an kan ti ko lai nain, mizin miphun a si i Pathian a ttihzah taktak mi cu an thilhruk zong ah "Pathian a ttihzah mi a si lai" von ti awk in an um ko, an cawlcangh, an hoiher le an hmurka cu chim rih lo in.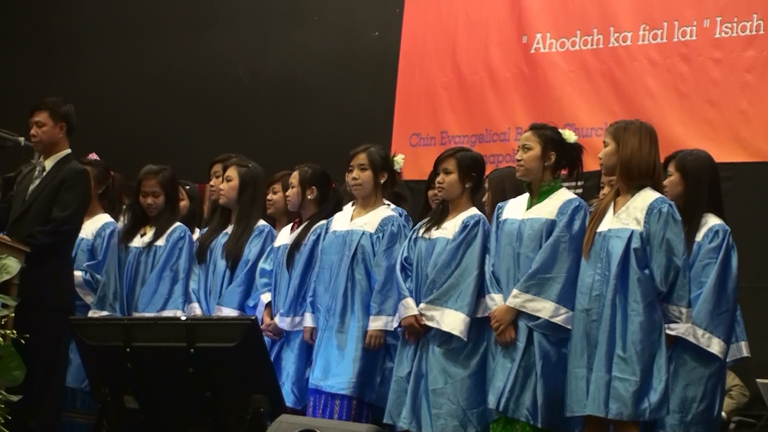 Thlah nak bia le hla
Civui dihter le ttian ruangmang cu siang in ruat kho hna hlah kaw, phungchim dih hnu caan hman a sau ngaingai. Bia an chim boi le thla an cam boi khom aa hngal set lo. Mibu hmai Laimi thlacam cu Pathian maw bia an chimh, minung he ti awk a tam tawn, "chim hnawh thlacam" phun.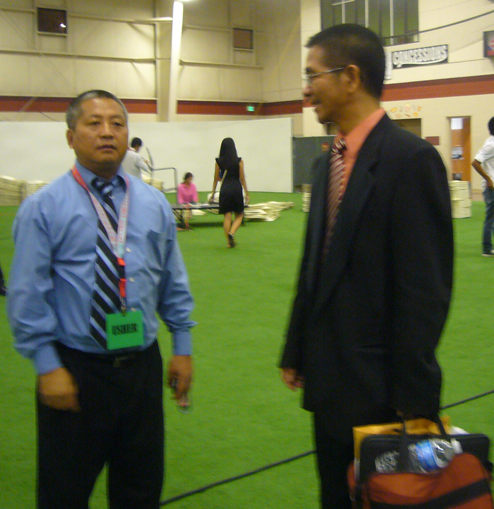 Rocungpa le Sailo pa. Pu Zo Tum Hmung.
Pumh a tam tuk deuh. Khual nih chungkhat le hawikom leen nak caan an ngei kho lo. Hmailei ah cun zarhte tal khi cu chun pumh oi khat, zan pumh oi khat, umter si seh law thadampi tu in ipum usi law a ttha rua hnga.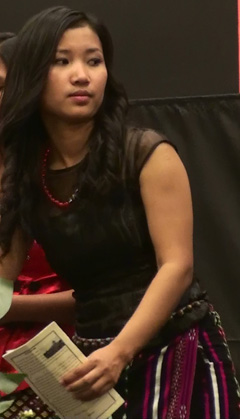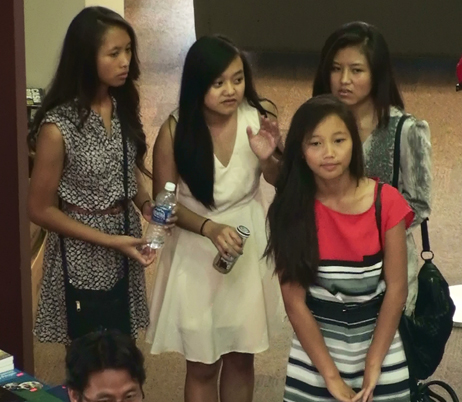 Kha, atu cu 1980-88 Rangoon University Alumni pawl an si cang lai.
1980 hlan kha Mandalay University Laimi an rak tthawng. 1980 lai cun Rangoon kan panh deuh cang i Rangoon University siangcacawng cu kan cawlcangh a rak ttha ngaingai. A ruang pa khat cu, Laimi anih anih ti mi, rampi zung a kai mi hna le Embassy rianttuan mi hna le ca tampi a rel mi hna hi Rangoon lawngte ah rak um hna kaw, khua sang an kan zohpi, khua hlaat an kan thlirpi, lungthin kau an kan putpi. Bia ttha ttha an kan ronh. "University kan kai lio ah cun 'Lai Ram hi kanmah ta a si' ti in dahkaw kan angki zaal ah kan rak isanh cu" tiah Rev. Sang Awr nih khan a rak kan ti i, mah thinlung cu an kan tuh chin. Mahti i khua an kan cuanhpi ca ah cun sianghleirun dang a kai mi he kan ilo lo, kan khuacuanh aa khat lo, ti ruah in kan iruat ttheu.
Mah lio ah Kawlram chung sianghleirun dang siangcacawng pawl cu ipurup lo in an rak um. Acheu Phakanh ah lung an co, acheu chaw an let. Mah vaih in an rak vai, khalh lo mi sattil bantuk in. 1988 belte khan cun siangcacawn a rawk i Rangoon University siangcacawng zong cu cawlcangh nak a ttha ti lo. 1980-88 chung Rangoon University siangcacawng pawl bantuk a um kho ti lo ti awk a si. Cuca'h mah lio Rangoon University siangcacawng cu chan ttha chuak le tin hlei ngei bantuk, hawi hlei fong ding bantuk ah an kan rel ttheu ve. Kan si taktak zong ah si mawh lo kan si lai; khua an kan cuanhpi ning le kan ipurup ning a ttha tuk.
Cun miphun dang sin zong ah kan rak lang. Zeidang chim lo, muisam zong in milang an rak tam. Biana ah, Rangoon University pumpaluk i Mister cu Laimi Nuai Dun a rak si. Salai Tawna tehna, Salai Lian Hmung tehna, Salai Ming Hnin tehna hi mi tampi i hngalh mi an rak si. Mahti cun khoimaw zawn khoimaw zawn ah Laimi min a rak itel ve lengmang.
Mah lio ka hmanthlak ka taar hmanh lai, ka Facebook i.
Writer's Award. Rangoon University Annual Magazine ah "To The Singing Birds" ti in poem hmai thum ka rak ttial i a si. A tthu mi khi Rangoon University lutlai kan ti lai cu, Rector a si. A ka pe tu hi Ragoon University Registrar a si. Keimah lawng Laimi ka rak si rua ka ti. Ka si lo hmanh ah keimah lawng tawhrolh sau aa hrolh mi ka rak si. Midang cu ciammam in ttaihpung he an ra. Kei cu, mah tluk pipa i an tuah lai ka rak hngal lo i hawi zong chimh lo, ratpi tu zong sawm lo, serh zong iserh lo in, library i ka kir pah in cauk zaal khat he ka rak ra, ka thlan le ka daw he. English i cabia a ttial kho rak tlawm tuk hna kaw ka min an au ah cun an hngawng an idawh i an rak ka zoh dih. An kan pek mi hi certificate, hand bag le tangka a si rua ka ti. Ka fim deuh lio si kaw ka rak der deuh. Atu cu ka thau i ka hrut tuk cang. :)
Hmuhsung tonhar caan tawite i capo kan von saih le kan nihtti hi kan caan sung ngeih a si ko. Mah caan tawite cu sau tuk kan hngah. Kan hawi cheukhat an tlun a cu, acheu an ra manh lo i kan sin an itel kho lo.
University kan kai lio i kan rak hruh nak pakhat cu, Lai ngaknu le Lai tlangval hi ihelh le iduh set um lo in, tta-far heiti miau khin kan hei um hna, tta-far lo pipi. Mahti cun sianginkai lim a si i, nu pawl nih khuazei mi le khuazei mi dek an vaat hna (a hau), pa zong kan ruahlopipi an tthi hna. Salai Cung Cin le Mai Lal Cer Lian lawnglawng hi campus chung te hrimhrim i aa duh mi i aa co mi an si. Dr. Lian Hmung Sakhong le a inchungnu zong hi ramdang an chuah hnu i aa um mi an si. Fak awk an tlaak leh. Kanmah le kanmah rak ium hna usi law zei tluk in dek a rak tthat hnga. Angaite ah cun pa mawh deuh a si. Nu pawl nih kan tthi u law tiah an ti lengmang ko. Pa nih an bia zei ah relpiak hna lo, duh lo theng si lo in. Adang deuh an cuan. Hruh hmasa fim hmanun ti khi.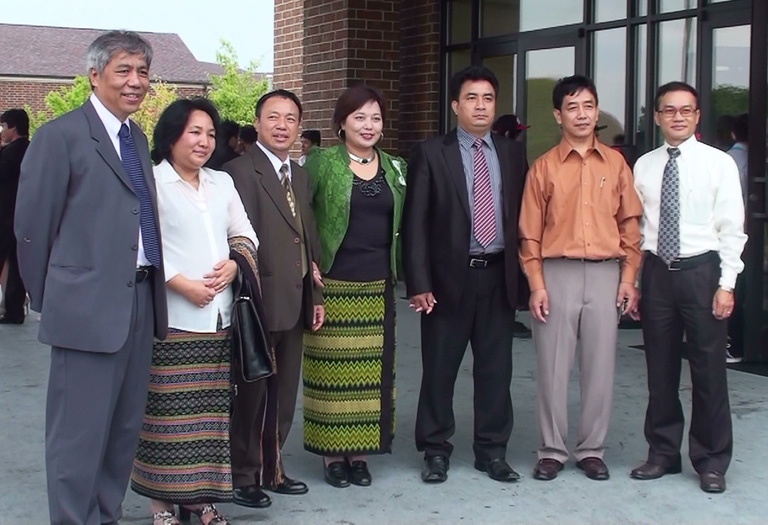 'Mah tluk sam paar cu, chonh zong na kan chonh lai' tiah ka hon meet lio si dawh a si.
Dr. Lian Hmung Sakhong hi M.A. camipuai a phit lai te ah a tthut-um nak a rak rem lo i keimah sin Dagon Hall ah a rak ibenh chung, thla khat tluk. Ca a zoh ah chawnh a thei lo. 'Ka lu a ro ah cun ka thluak rian a ttuan kho lo e, ungsi ciapte i ka von ithuh ah cun a vong tthawng ruahmah ko' e a rak ti i ungsi cu Hledan ah ka va cawkpiak tawn. A si taktak hnga maw, aa ruahdonh bia dah a si hnga tiah mah lio cun atu tiang ka ti zungzal. Kei cu ungsi ciapte i kaa thuh zong ah zei hlei ka si lo.
Kan RASU kai lio ka von theih tuk mi cu, Khuado Puai tuah nak Wizza Hall i kan chuah, Sai Htee Saing hla chuak thar, "Hmyawlinh chin twe yin hma pian shinthan la, maan maanah twe yin hma pian khaingma la" ti hla thang ruahmah i an von chuah, Salai Cung Cin der le samsau lio te pawl, in ileek saling, an von iherhaat, an ule i khua an khaan, kannih i khual kan don hna, kan nu dawh pawl an ittamh an ittamh i an rat, Salai No Uk le Aan Pau tepawl hla an sak, 'Chan Karlak' tehna an laam, zupu hang kan zuar, tehna.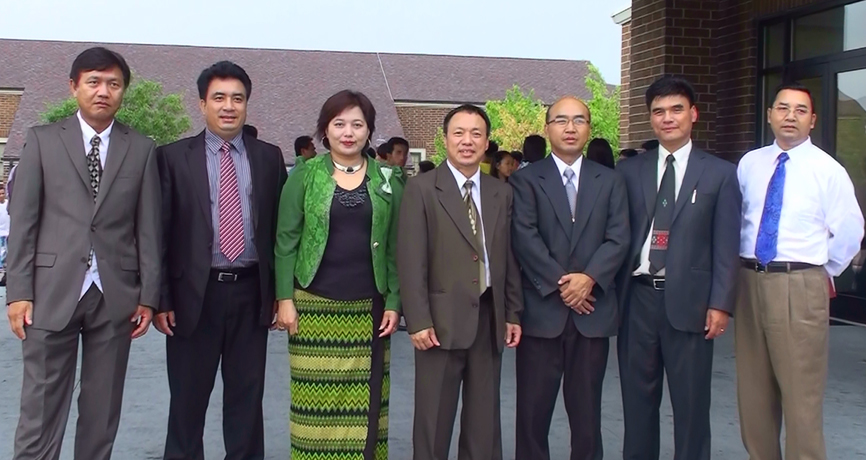 Lai minta lak i kaa chon ngam ve hi cu hruh maw raltthat dek. Ka thisa a chiat tuk lio le ka lu kaa meh ka a si i, kal lai i kaa serh ah, 'mah mui le sam he mibu sin chuah lai hi, hmaan thlak le ka hrih laklawh cang chinchap' tiah ka ti leen. Zeitite'n dek vanmi nih hmaanthla tu kut a tlaih i a si rua, ka mui taktak nak ttha deuh in ka cuang. Maw vantthat! Ka mui taktak cu ngaihchiate. :)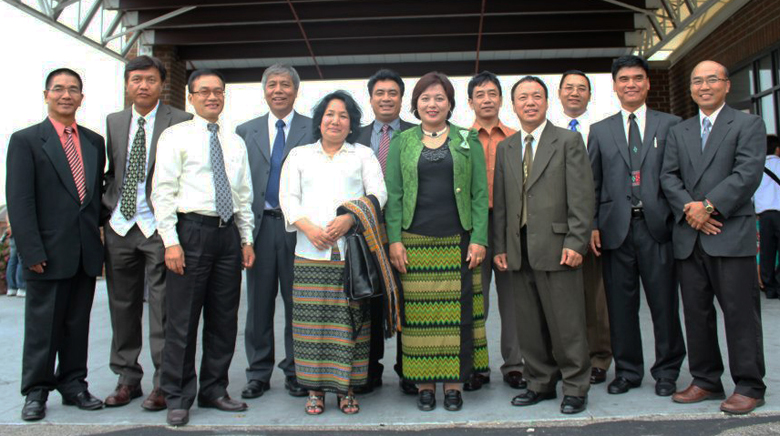 Pu Mang Cung Nung, Pu Peng Thang, Pu Roland Maung, Dr. Lianhmung Sakhong, Pi Run Pen Sakhong, Salai Cung Cin, Mai Lal Cer Lian, Pu Cung Bik, Albert Ceu Hlun, Rev. Dr. Thlaawr Bawihrin, Rev. Dr. Ceu Lian Thang, Rev. Rolin Van Bik.
Pu Mang Cung Nung hi upa bik pawl a si. Kei cu RASU chuak ka si ttung ri lo e tiah a con nawn i ra ko law tiah an auh chih. Institute chuak pawl sawm chih kan rak hngal hna lo.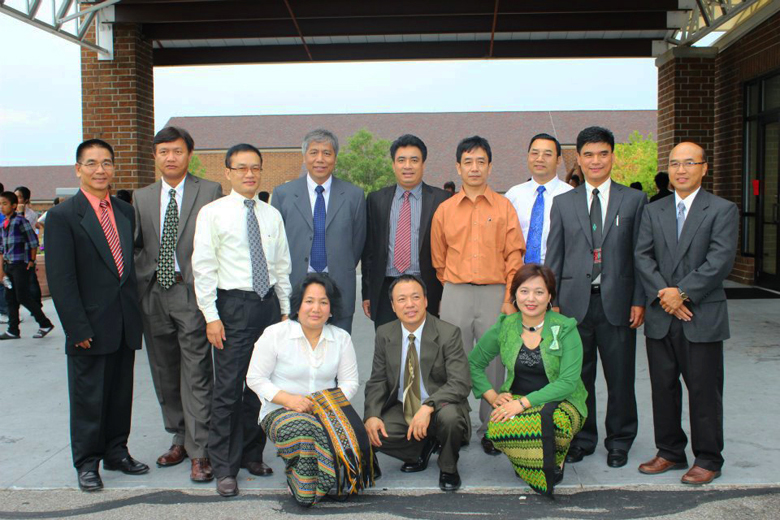 Acung pa hnih hi Ceri kuat mi an si. Ka khuazoh te hi ka rem lo, ziar ngeih dawh ka si, i ka taar lai lo ka ti na'n Ceri a cuan a tthat nak a si i ka taar tthan. Amah ko khi zoh ding. Midang cu atang ah hin.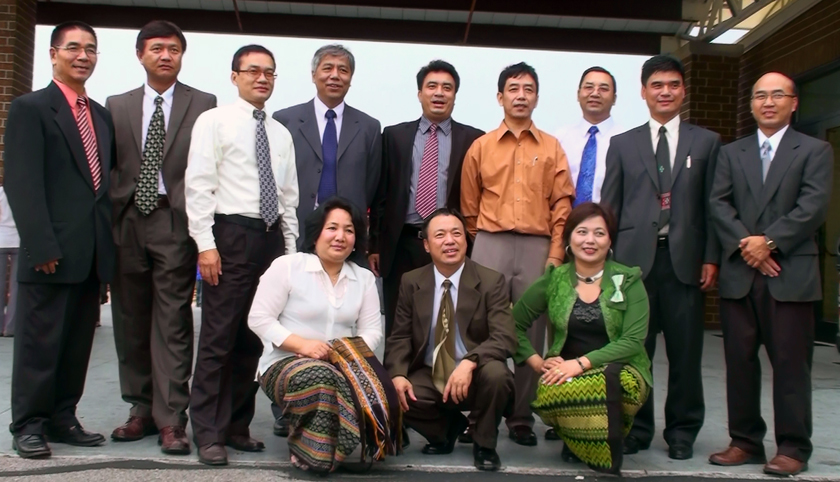 Ka tthut taak hna ciammam i laan awk an ngei ti lo
Civui kong iruahcaih nak kan tuah lio Livestream i nan rak hmuh mi kha. Pu Bawi Uk Thang, Pu Ronald Charles, Pu Mang Cung Nung le keimah kan si. Herh dang ka ngei i tuan ah ka thawhtak hna kha, nan rak hmu dekmaw.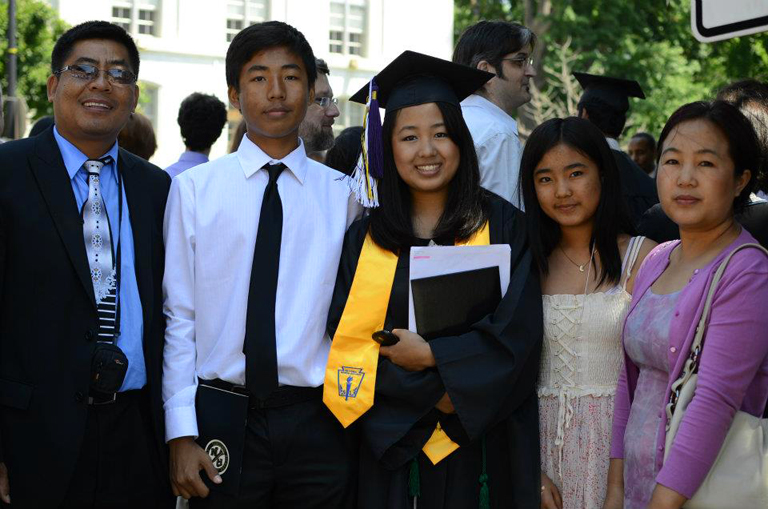 Winnie Thiang nih laksawng T-shirt a ka phorh i ttinlai mawttaw chung ah ka va ithleng zokzok i kan pahnih hmaan kan ithla. Mah angki hi kaadang ah cun a um ve men ko lai nain kan solar system a um nak galaxy chung ah hin cun mah zuun khat lawng hi a um mi a si. It's so unique. Nice 'civui' souvenir.
Civui nolh tiang damte'n!