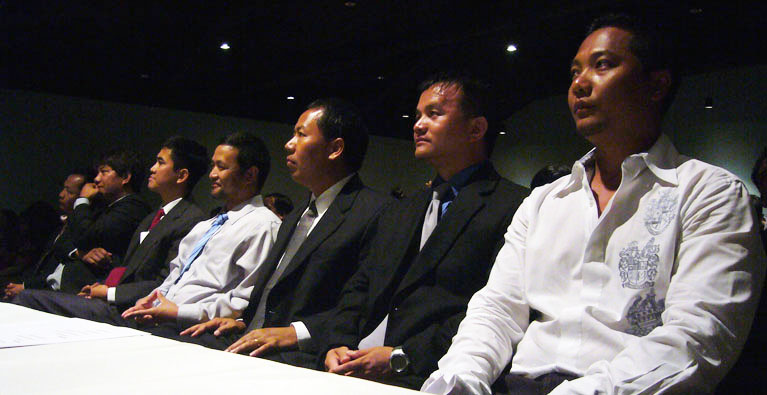 Salai Lairamthang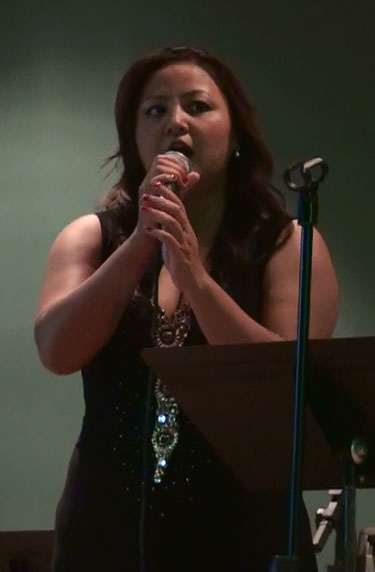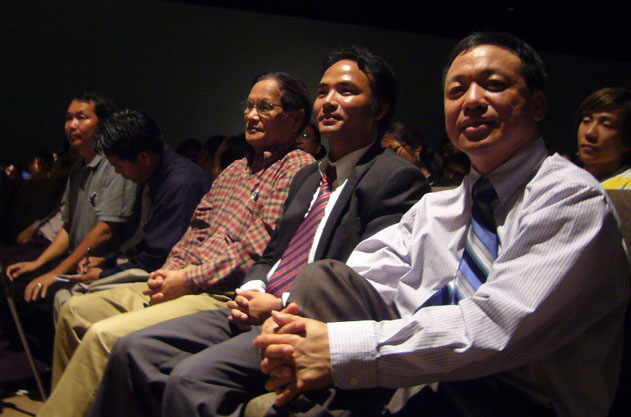 Meriam Lilly Sunday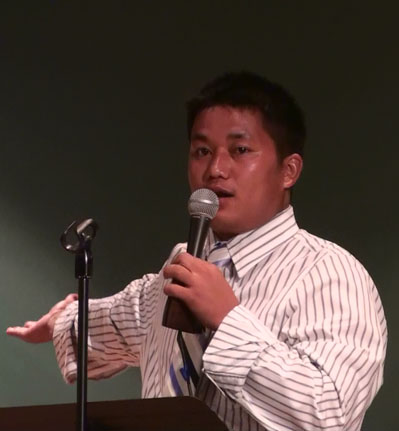 Za Thawng Cin
Van Ceu Mang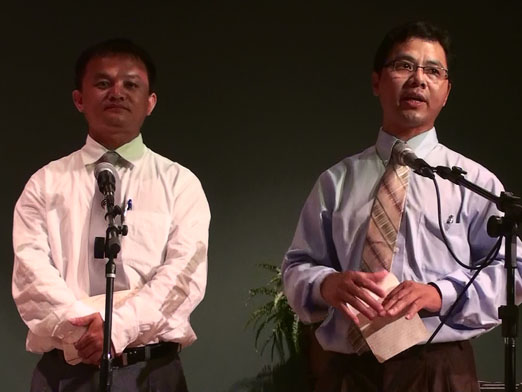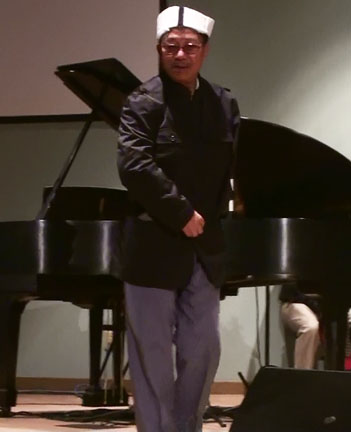 Hlawnceu Tial Khar Lian & Cinzah Bawi Uk Thang. Pu Lian Uk (atu tan ko hi aa dawh)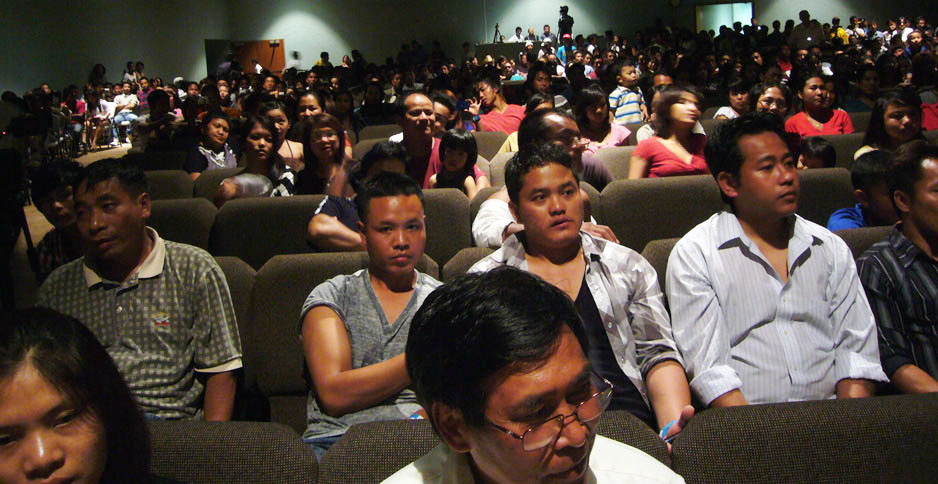 Pu Tial Hu (Salai Vantu), Van Thawng Ling pa, zong a ra kho ve. [A nau he an ilo ngaingai cang.]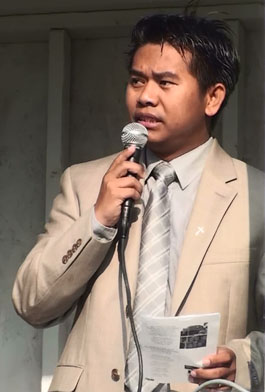 Van Thawng Ling, Secretary
[Atu cu President a si cang. Sibawi a si]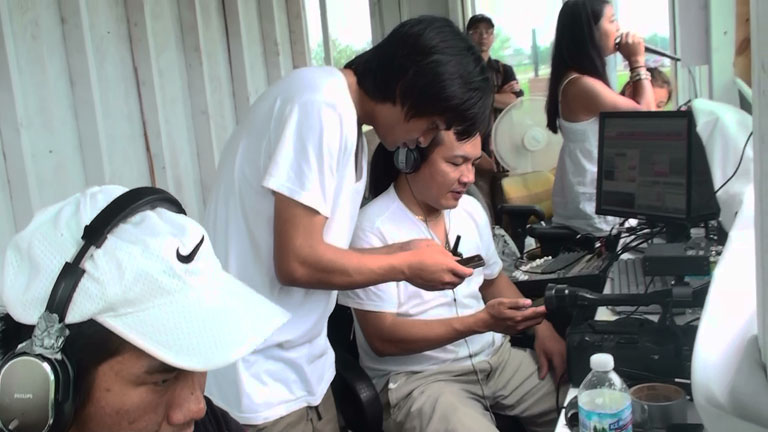 Cin Mang & Ram Lian Sang, Livestream a ti tu
Ram Lian Sang (Sangpui) hi hmaan thlak, video thlak, computer, internet, zei zong ah kan rinh mi a si.
Kan computer vialte a remh dih. Mibu thilti ah media lei amah nih a khaan dih. A thilri ttha ttha mibu ca ah a hman.

.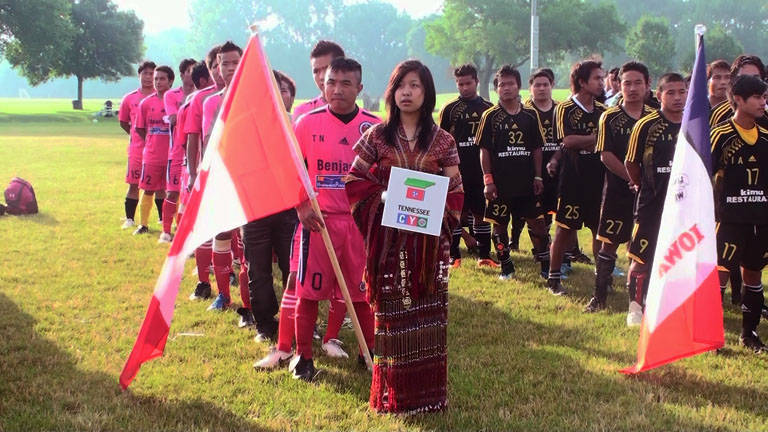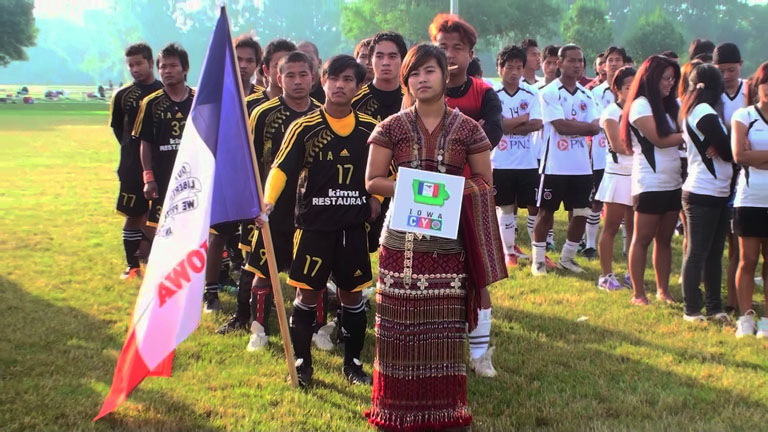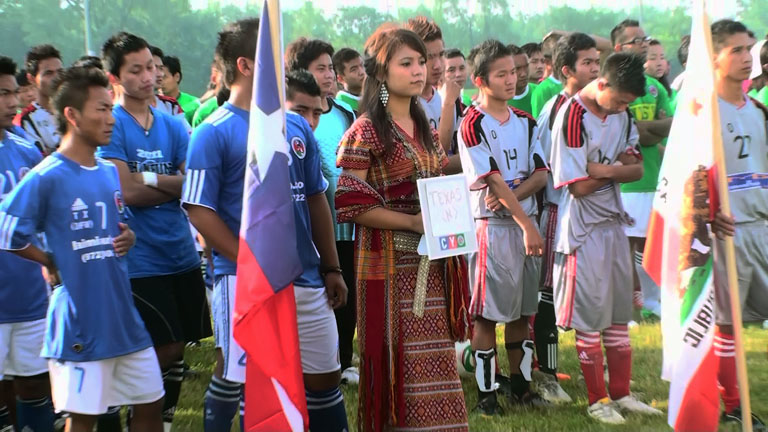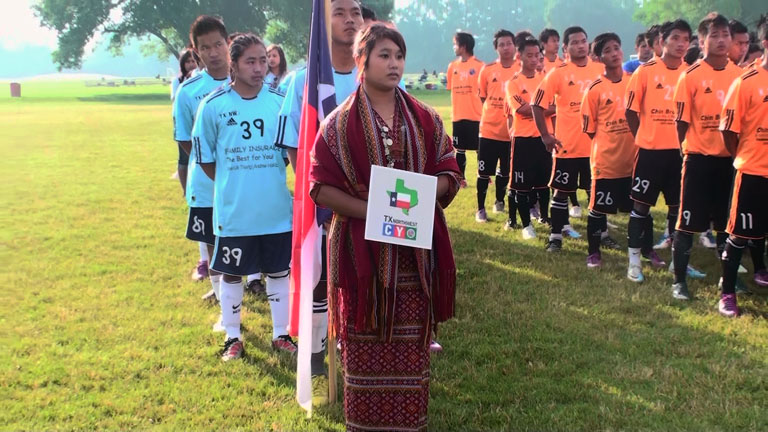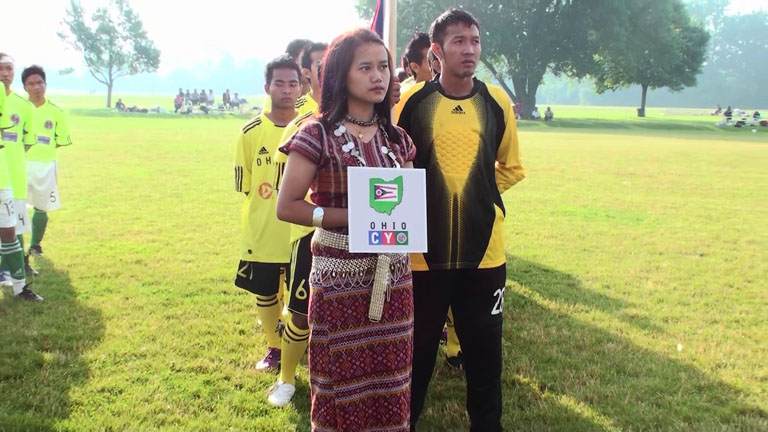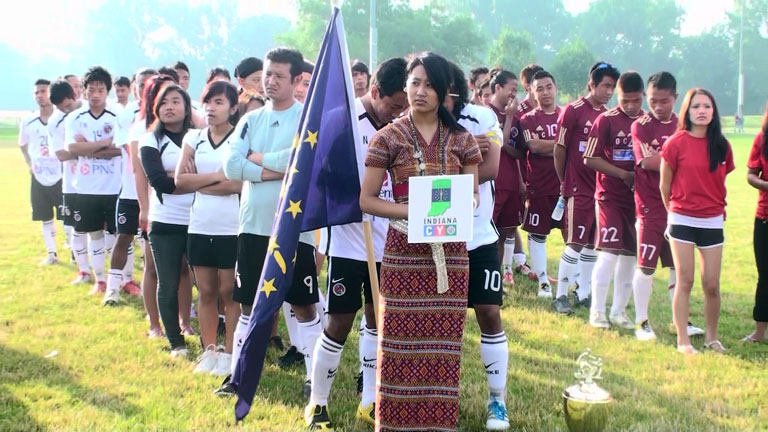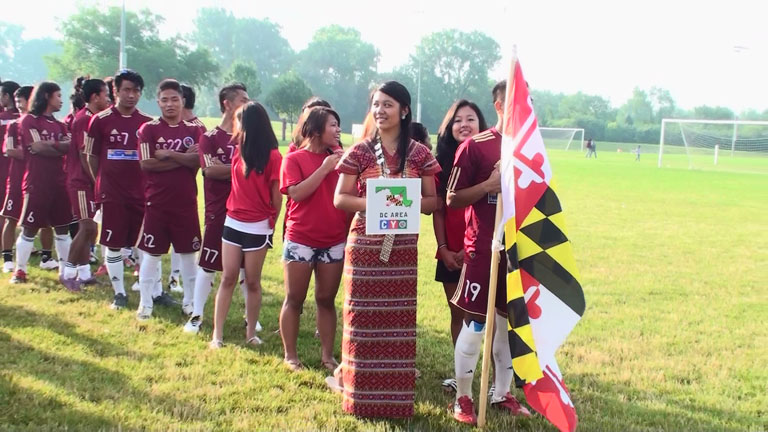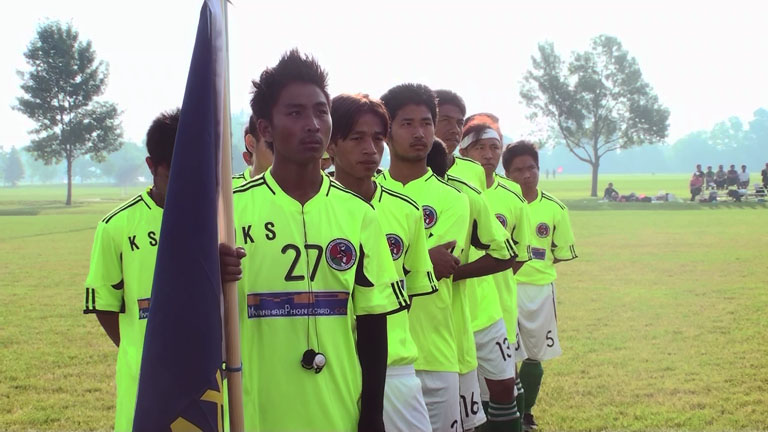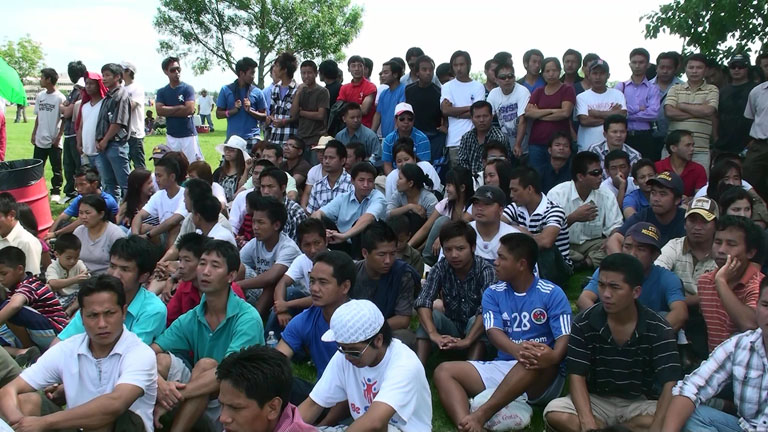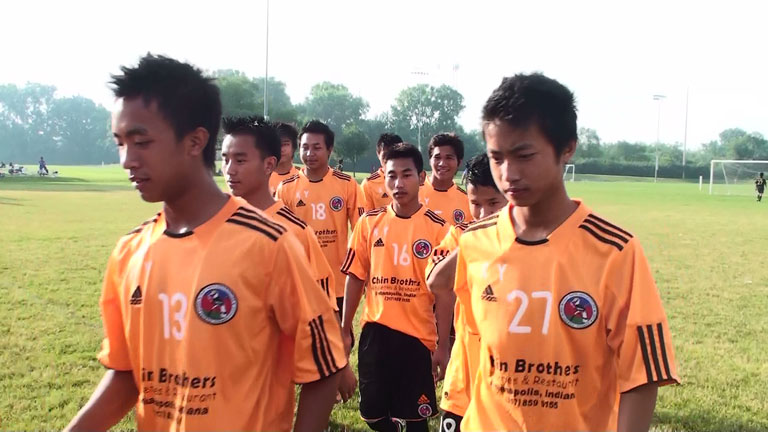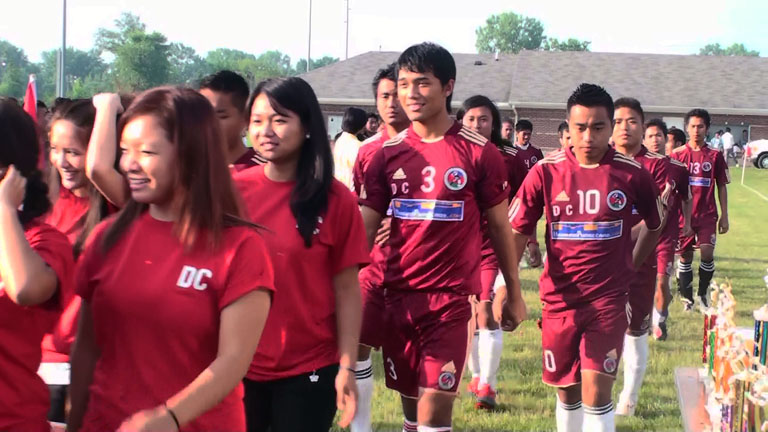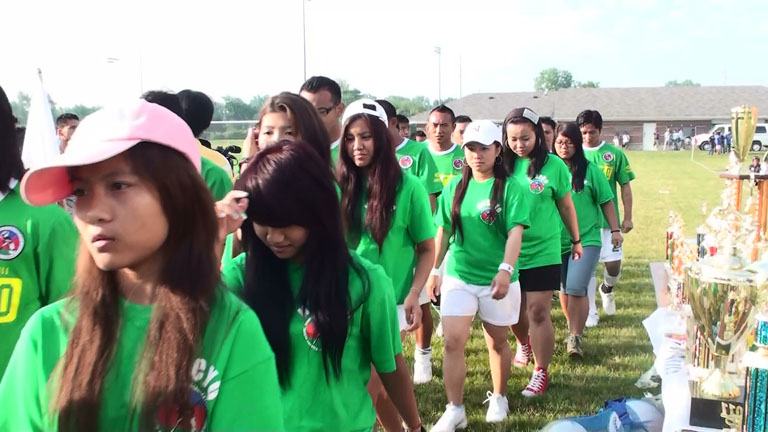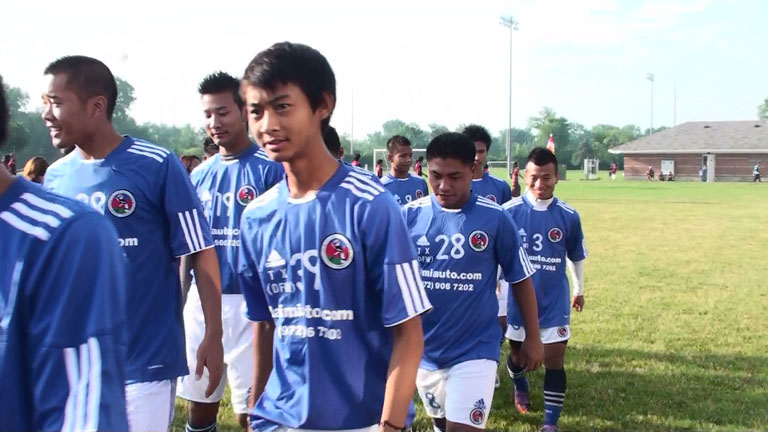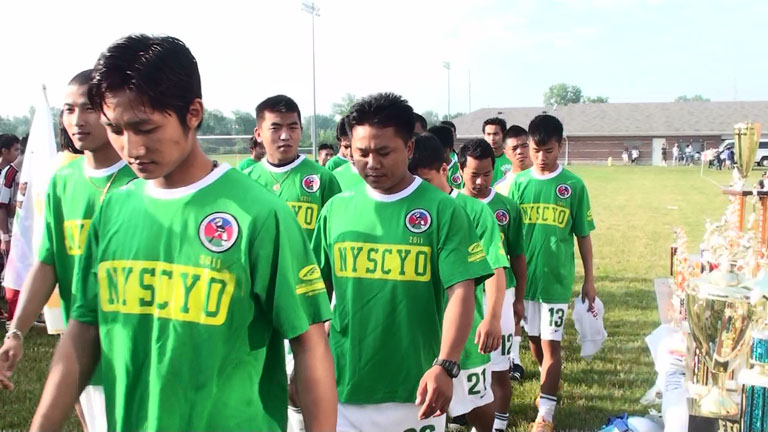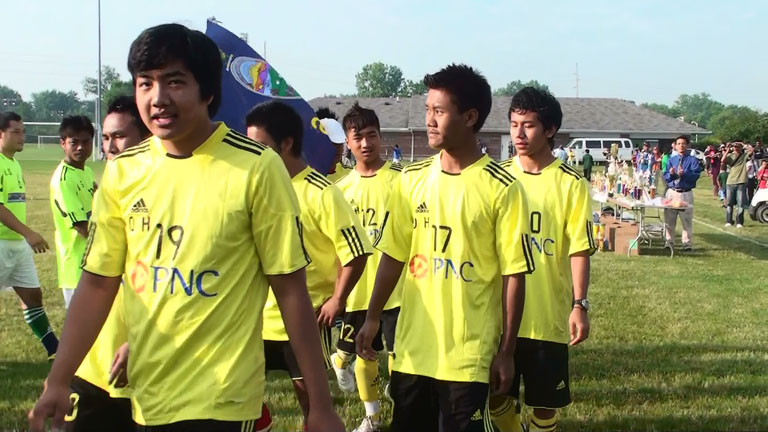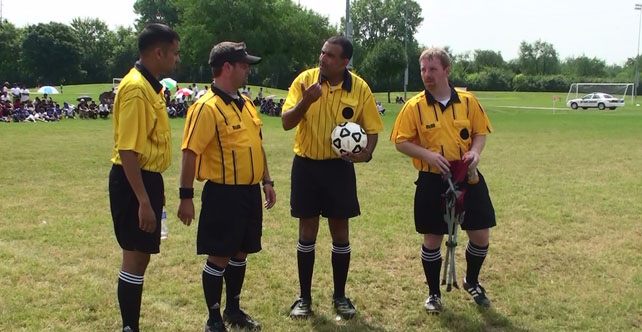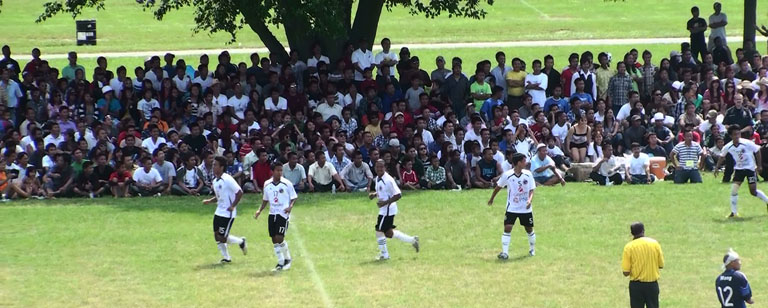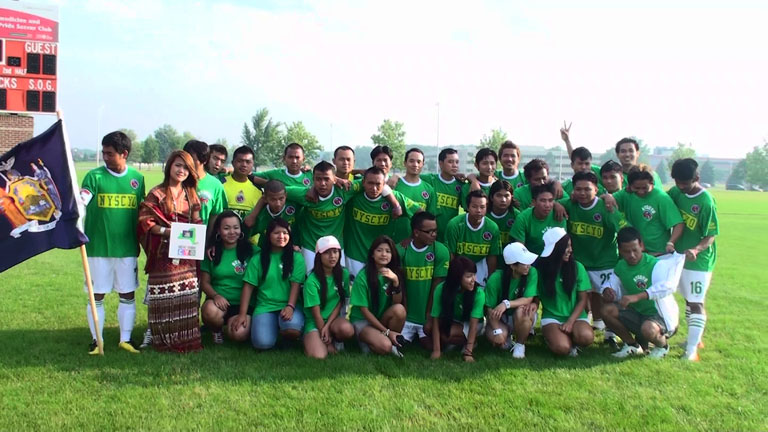 Atu hi hmanthlak 'save' kan siang rih lo; rak hngak rih u. Hihnu zarh tlawmpal ah cun kan hon te ko lai.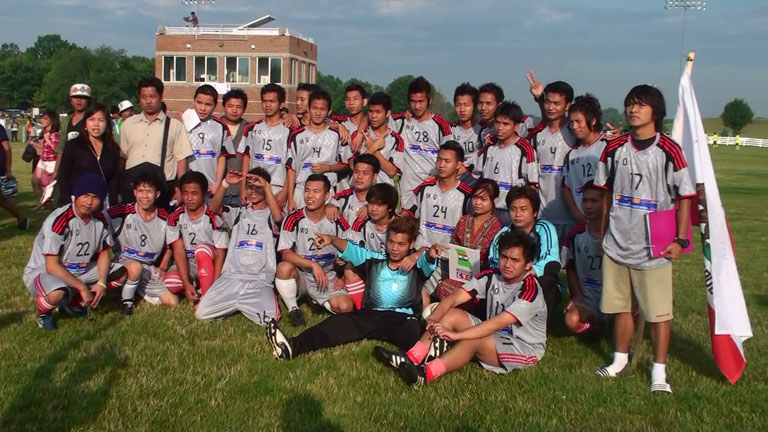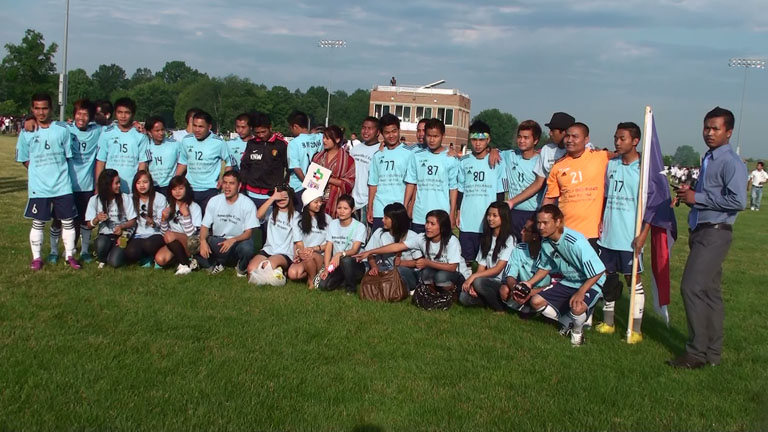 'Kei ka lang ve hnga maw' ti i mah hmanthlak kawl i itel lai lo kan ruah ah kan lung a ttha lo i
mah puai i a ra mi mino pohpoh nan zukthla telh kan duh ko nain mi aa terual i a lang lo sual mi nan um ko lai dah. Kan theithiam ko u.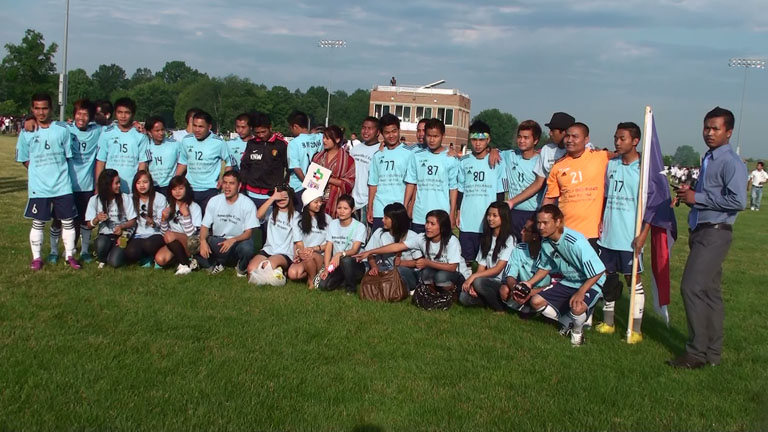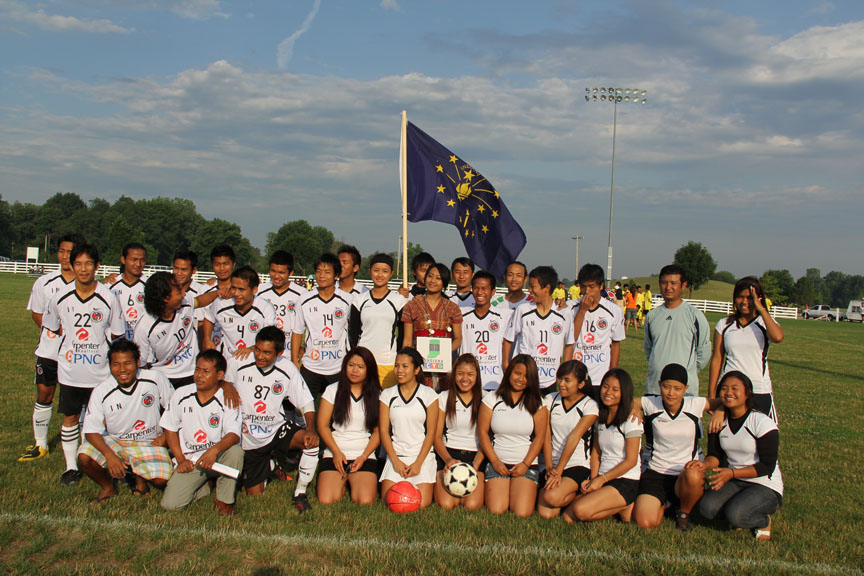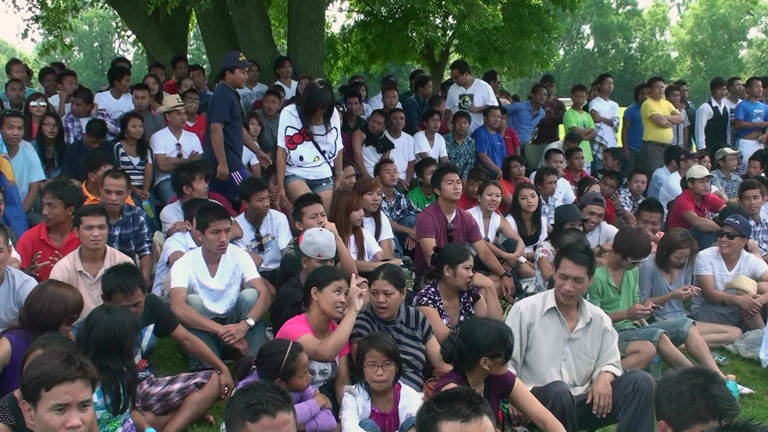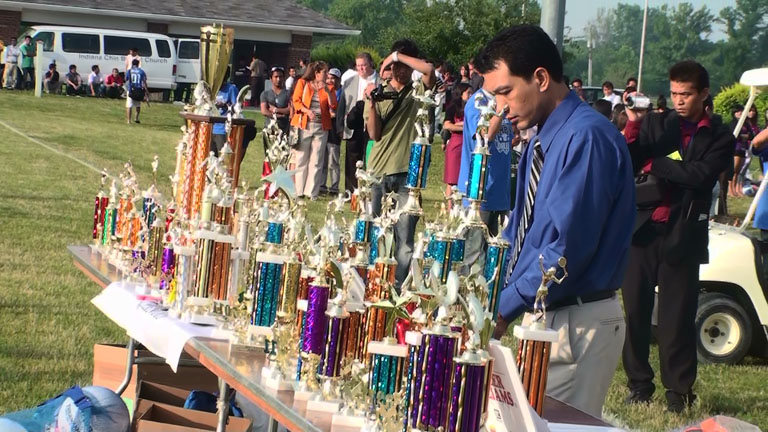 Kan thiamchuang an idawh ngaingai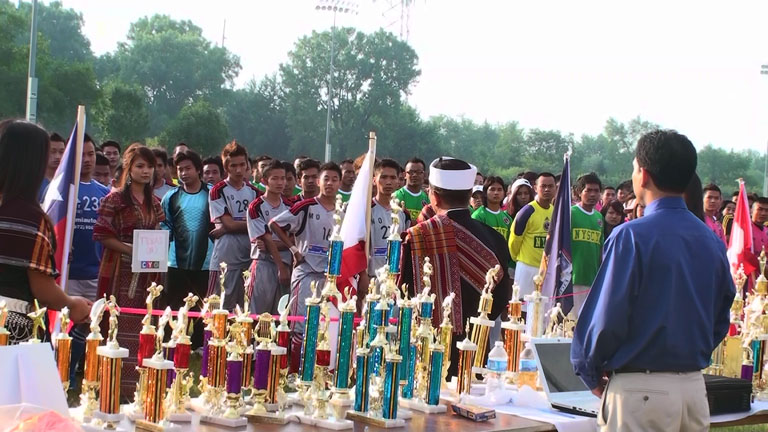 Pu Lian Uk lupawng he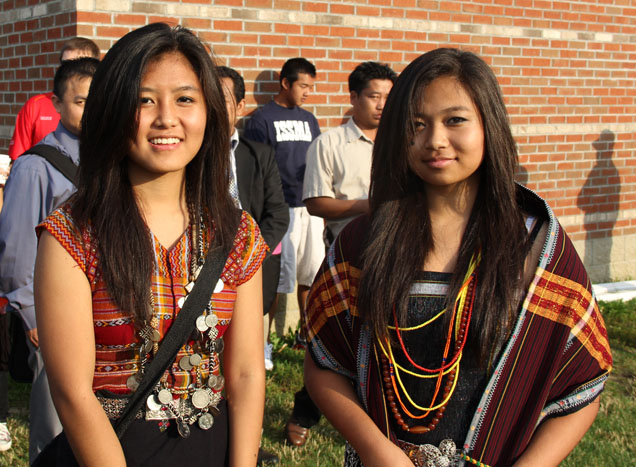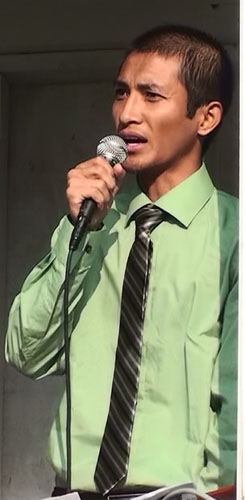 Thawma, Sports Director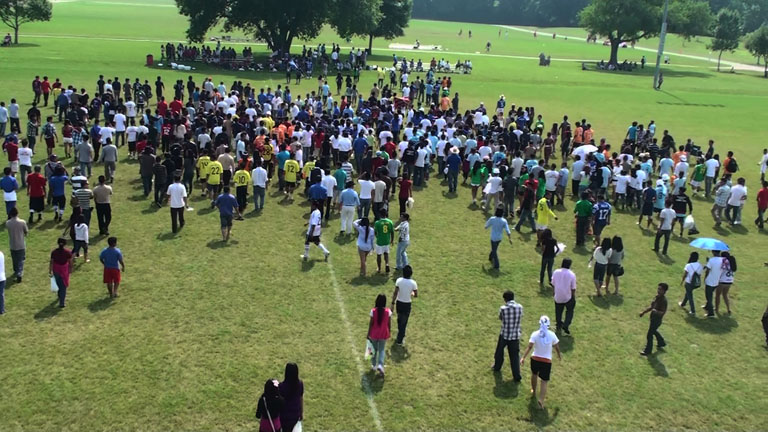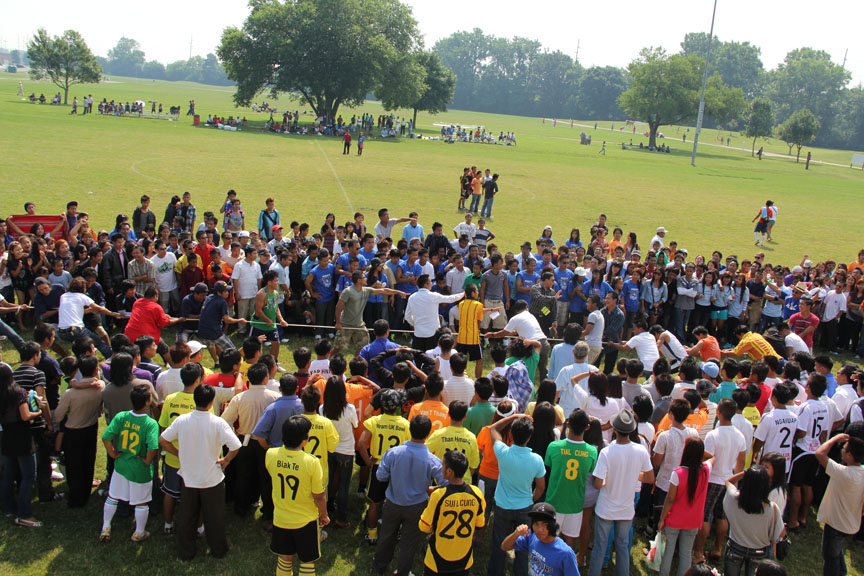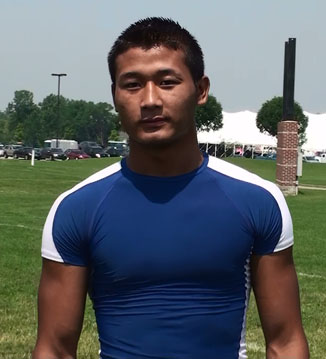 ..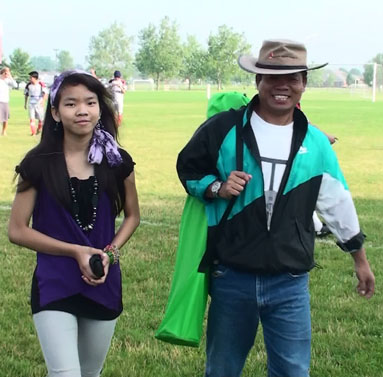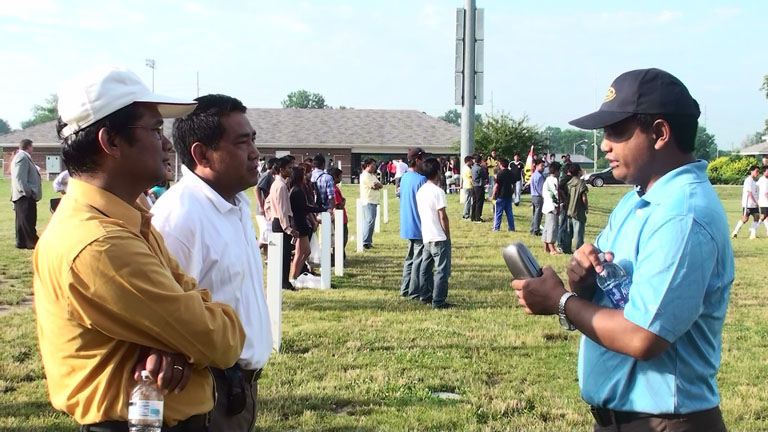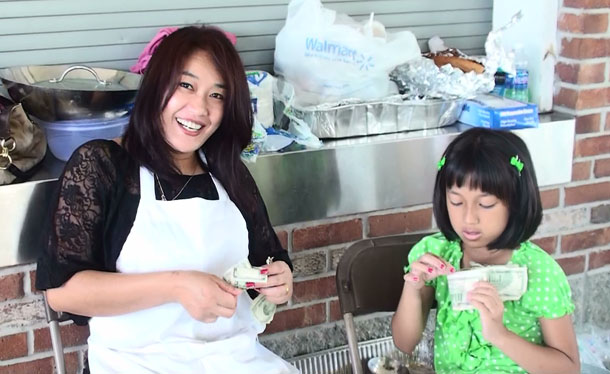 Lairamthang inchungnu le an fa. Pangpang hi kan Pyidawtha midawh a si.
Bawlubawl bengh nak ah hin ka va kal ve i, midawh an um lo ning cu!!! Lungdong le vansang.
'Mah khi aho dah a si hnga' ti i von ngiat awk koko um hna hlah.
Mi fa tete, mi niam cetcet tete, refugee kan ihngalh nak ah. Atu lio hi Lainu dawh hmaihngal awk an tlawm lio a si rua ka ti.
Facebook ah hin ka vaak tawn i, an hmanthlak ṭha bik bik an taar bu ah, kan nifarle bantuk cio an si, zaangfaak tete.
Nah nih an nak. Niam nih an niam. Mitnawn ngei hna hlah. Mit ṭial riairuai cu pawpi nakin an har deuh.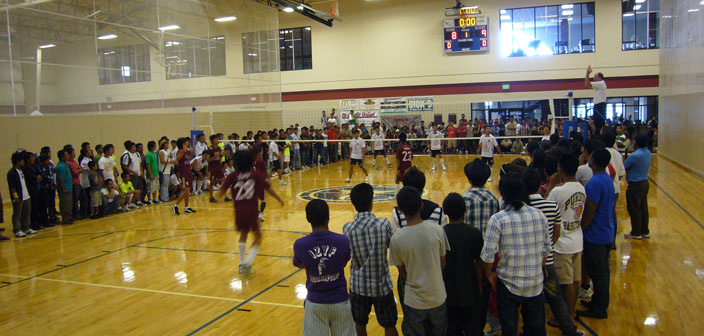 Pa tu cu an za ko. 'Nangmah in na tah hna i a si' tiah nan ka ti hnga. A si lo. An dingdawng, an titsa, an muisam, an iang-aam, ka zoh dih.
An za hin ko, Laimi ah cun. [Lai pa cu zei he kan si bal i?] Cataang lawng an bau. USA chinchin ah cun cataang ngeih cu har tuk kaw a si.
Anmah USA (Mirang) lak hmanh ah cataang ngei cu zachuah tlawmte khi an si ve. Mah cu Laimi ca'h cun a har tuk si!!
Amerikan lak ah B.A awng an tlawm ning. M.A awng chinchin!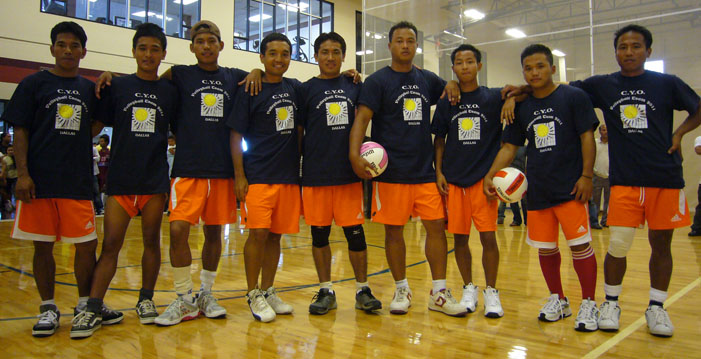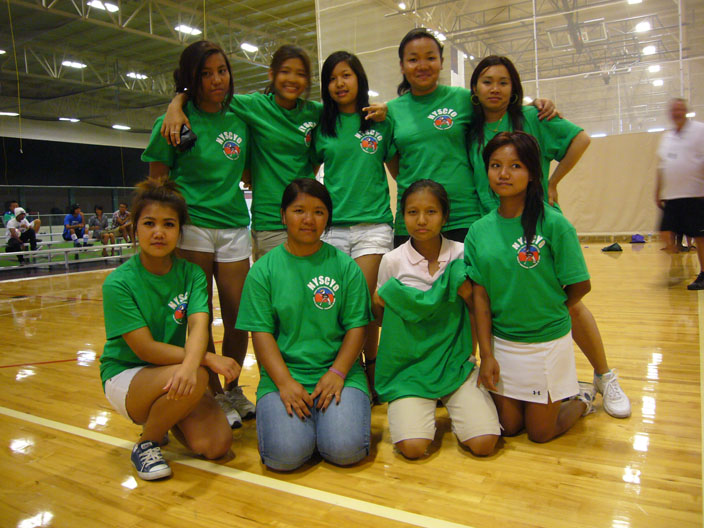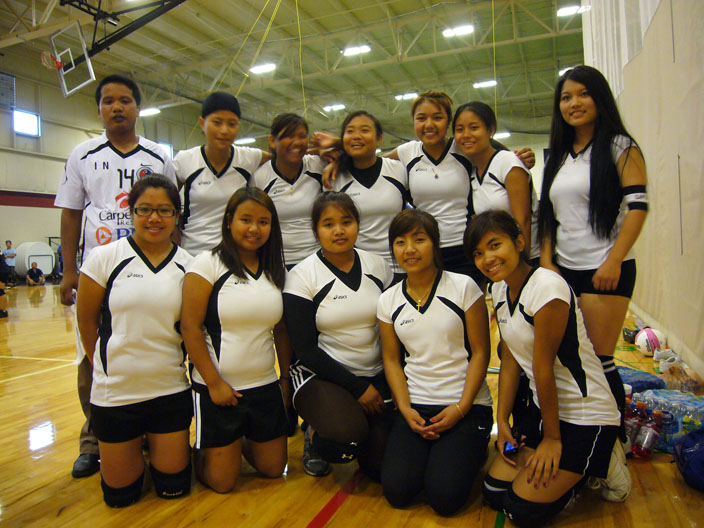 Laimi cu zoh setset ah kan idawh lai. Zoh hlauh cun muichia kan lo.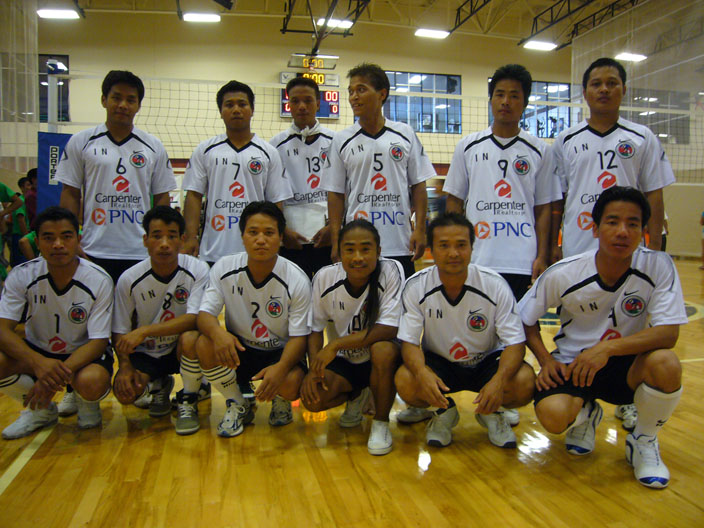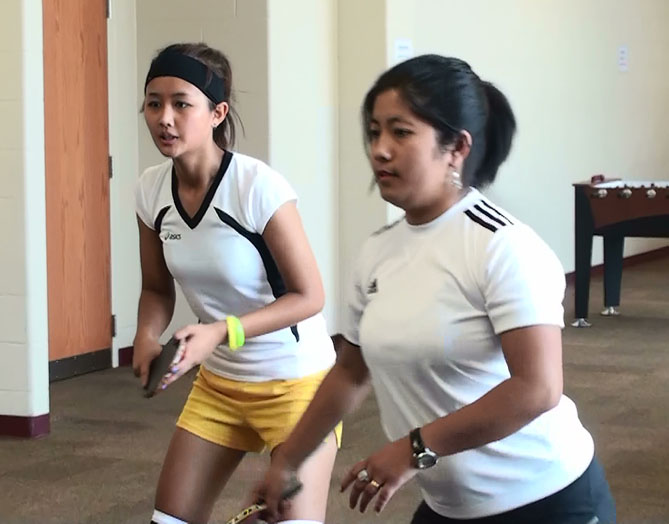 Double ah pakhatnak.
Janice, chanpian. Sumh nga in lawmhpi ding.
[A hnulei i ti a ding hnek mi khi tennis ah an ngamh lo, khual nih. A tanpawr bel a zor pah cang.]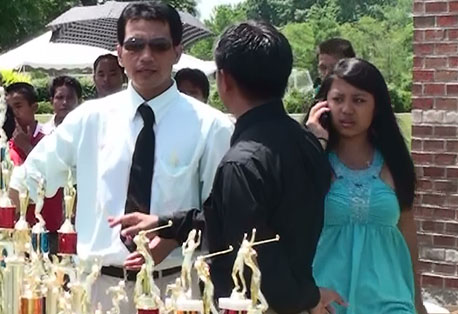 Van Tha Par, na sam hi itan law na thil ithleng tuah.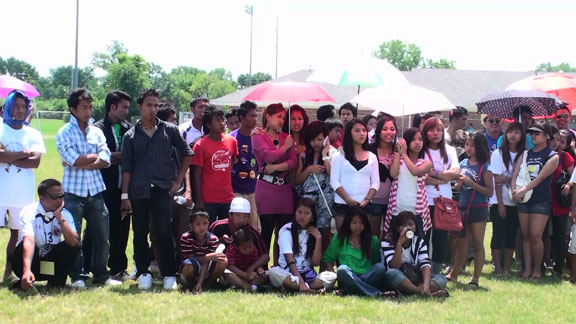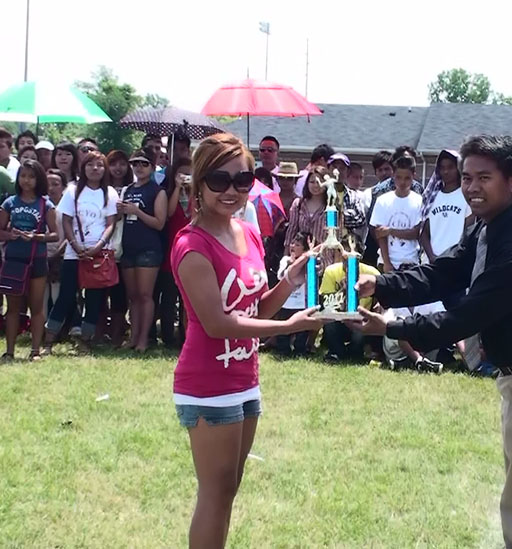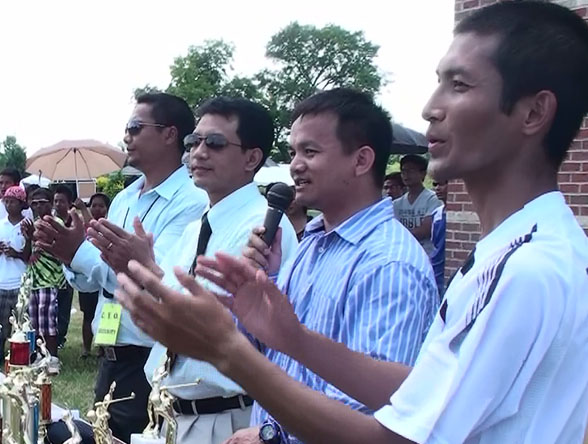 Lai pa nan idawh ning. Lai nu zong an idawh pah ve ko ning!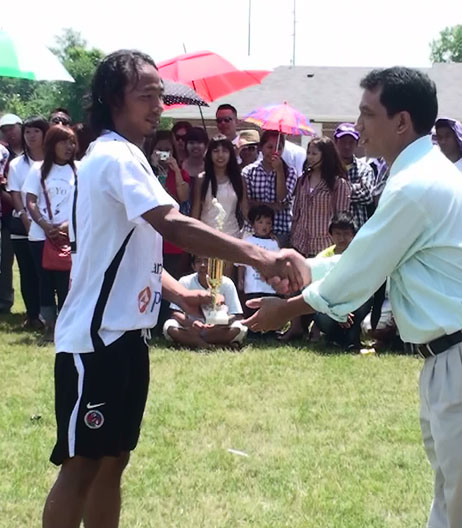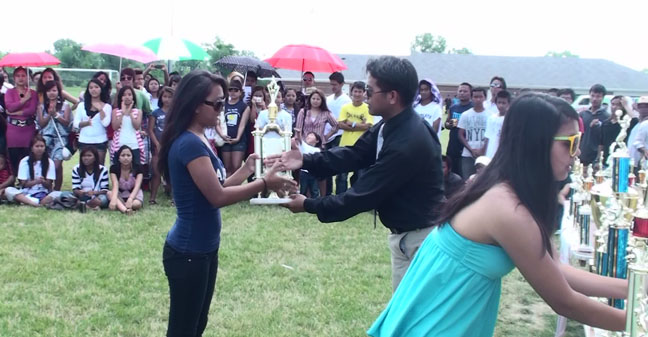 Nu cu hnuk tthat, ttawk tthat, iang-aam tthat. Pa cu dingdawng tthat, cunza (balah) tthat; iang cu siangpahrang!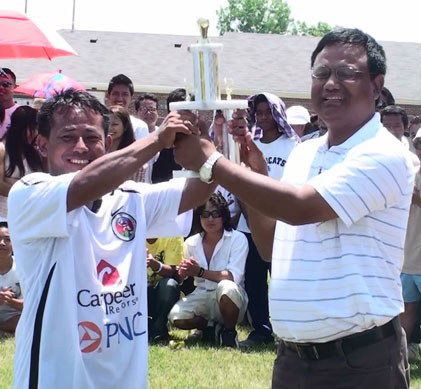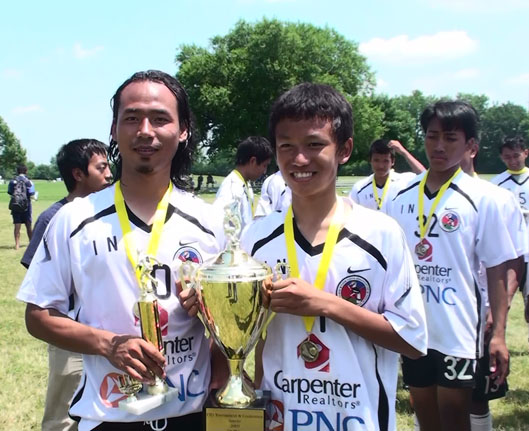 Nan nu ka ti loh! Nan thiam tuk.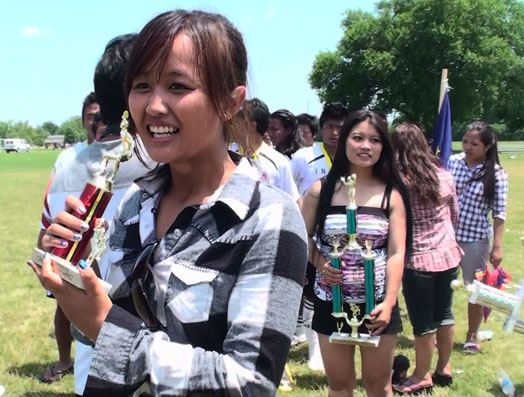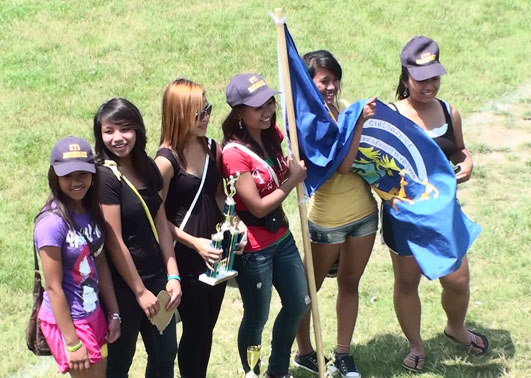 ...
Hau kulh in an kulh ko! Sa nih la kho hlah seh an ti rua.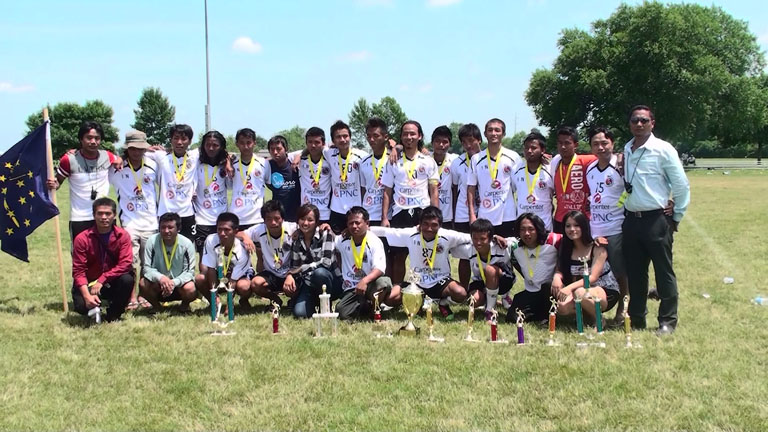 Indianapolis minung mah vialte i nu fang hnih khat lawng langh. Ataktak ah cun midang kan hman hna lo ca'h a si; an tampi ko na'n.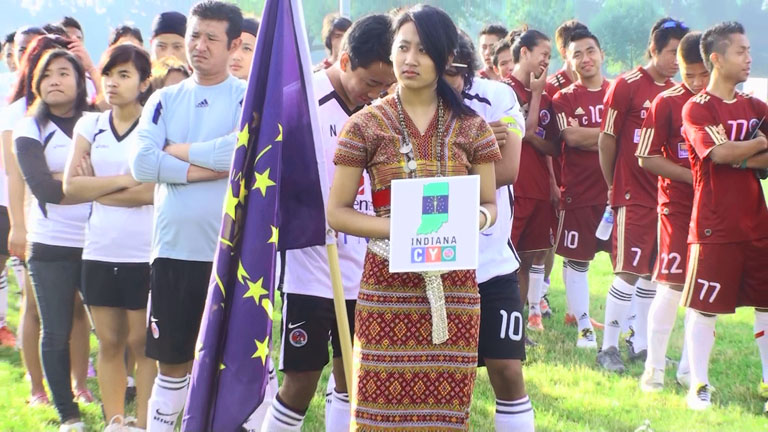 'Ceu Hlun' a ka sak tu hi "tall, dark, and handsome" ti mi pasal dawh a tlinh mi a si. Zai Tha hi mah hrinsor cu a si.
Atutan ah hin Lenghleicuang ah izuam ve law ka ti leen i a duh lo. Laica ka thiam set lo i ka ngamh lo e a ti.
Hmual ṭhat a ngei ti a ka hngal lo.
Hlawnte ka ṭanh i Miss a chuak. Ngun Hlei Tial ka ṭanh i Miss a chuak.
Kap Tawng le Peng Awi ka inn ah an tlung i bual an hnin.
Dawh le ṭhawn hlei zei dah kan herh?
State pa khat in minung pa hnih cio chuah a si. Texas belte in phu hnih.
State 6 in an chuak. An dihlak ah pa hlei hnih hrawng. Champion cu Indiana.

A donghnak bik ah cun:
Heavy weight pawl: Tha Biak Cung le Peng Awi
Tha Biak Cung hi Halkha pa tthawng a si i 2008 Indianapolis champion a si.
Ngakchia nganpi Peng Awi hi Kap Tawng nu nau fa a si i, kahnulei CND Dallas ah khan paih a chuak ve.
A chuah hmasa bik si kaw bual a ngamh lo i, "Zeiti i ka cawl zong kaa hngal lo" a ti. Atu hi a voi hnih nak aa paih a si.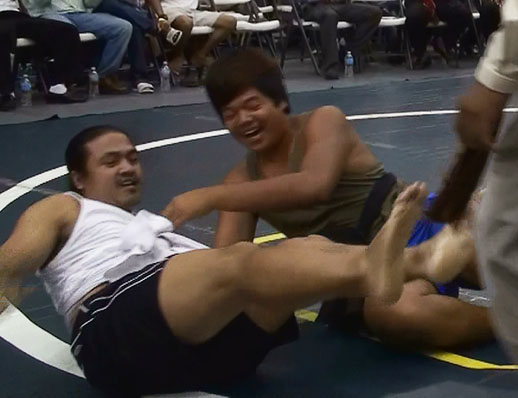 Tha Biak Cung nih keh vangkhen in fiangko in a vuak. A nuam bak. Nih bute'n an tho.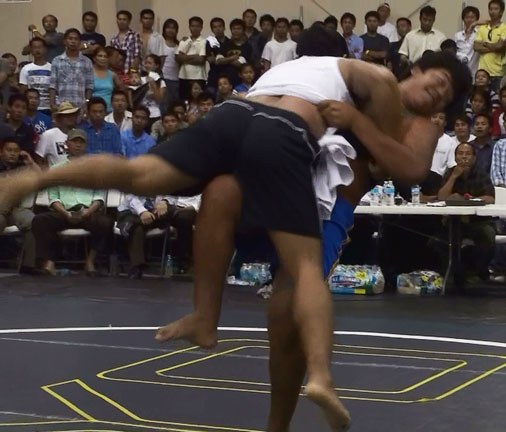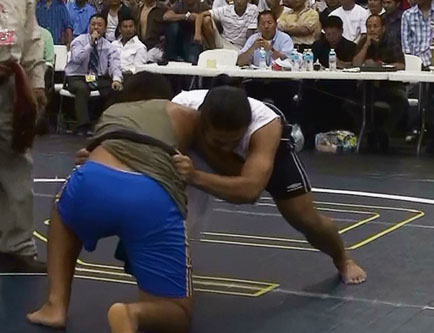 Peng Awi nih vangkheen veve in kheel hnih a vuak ve.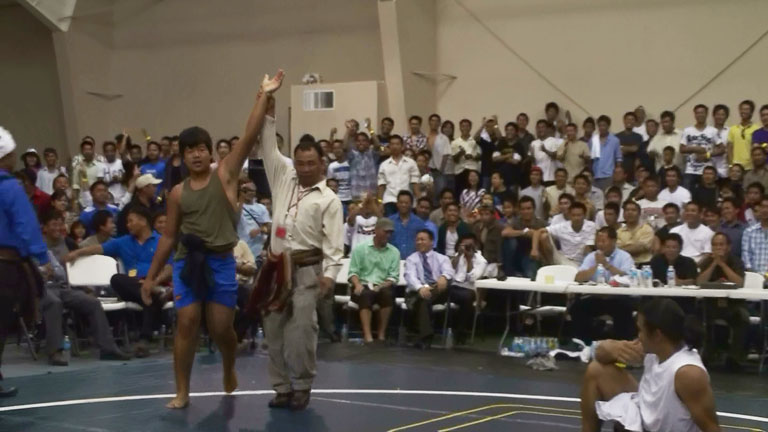 Tha Biak Cung cu a ni. A arr ko. Tai an fahsak lo ning le an paih aa dawh ning!
Paih a dih.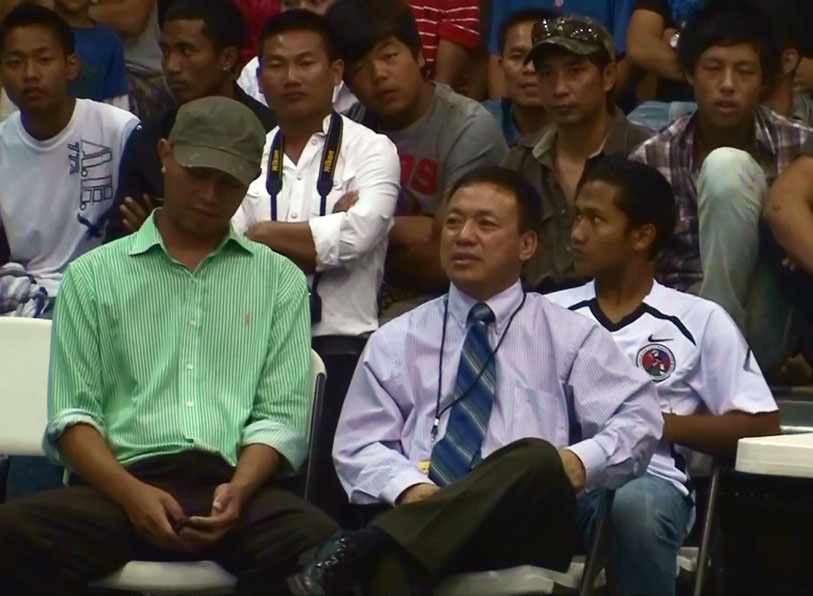 Ka orhlei i mi sang pi hi Dallas paih kawmitti hruaitu Pu Van Uk (Simon pa) a si.
Peng Awi cu Dallas mi si kaw, Indiana champion hlun Tha Biak a tei cu aa nuamm tuk i lungtho bik a lo.
Atu tan ah hin Pu Van Uk cu golf ah champion a si an ti. A hmanthlak dang a um an ti na'n ka hmu kho lo.
[Ka kehlei i hi Van Thang a si. Indianapolis Laimi ah bawlung chuih a thiam bik ah an chiah. Atu tan cu a chuih kho lo]
Zan
Za Thawng Cin hi Chin Christian College chuak a si. Soi awk a um lo. [Velh tu cu ka velh te lai.]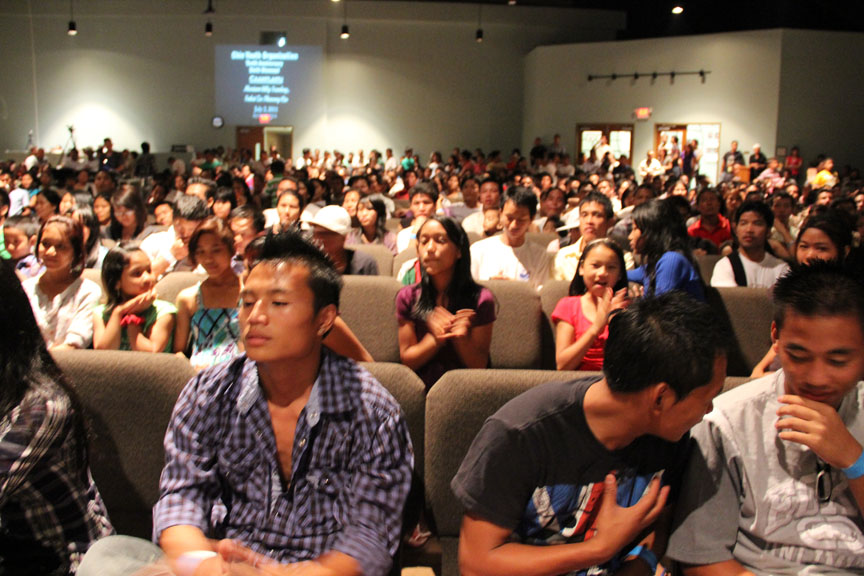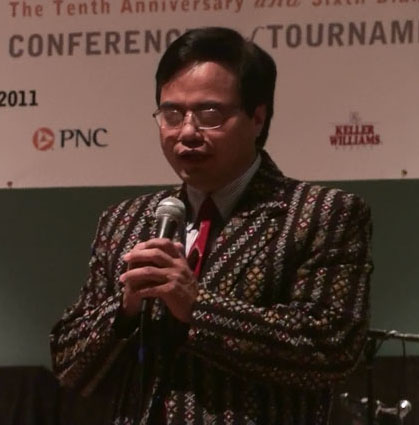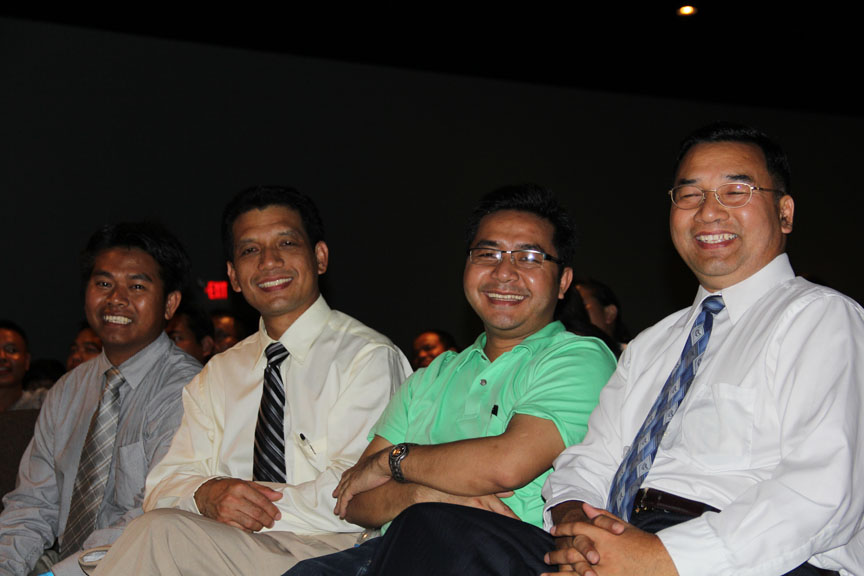 Lai thuam ah coat a um lo fawh!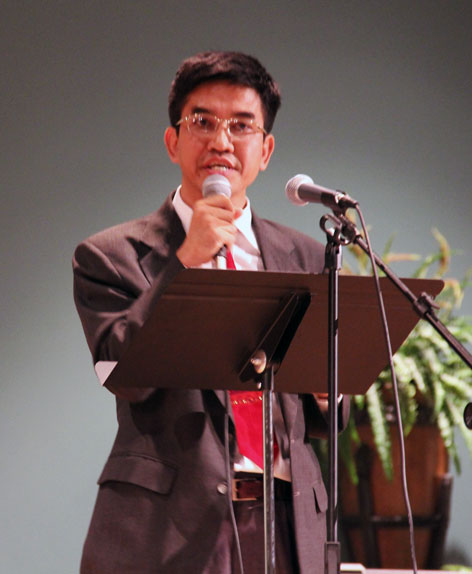 ...
Pu Zing Cung, Pu Victor Biak Lian, Pu Ngun Cung Lian, le Pu Zo Tum Hmung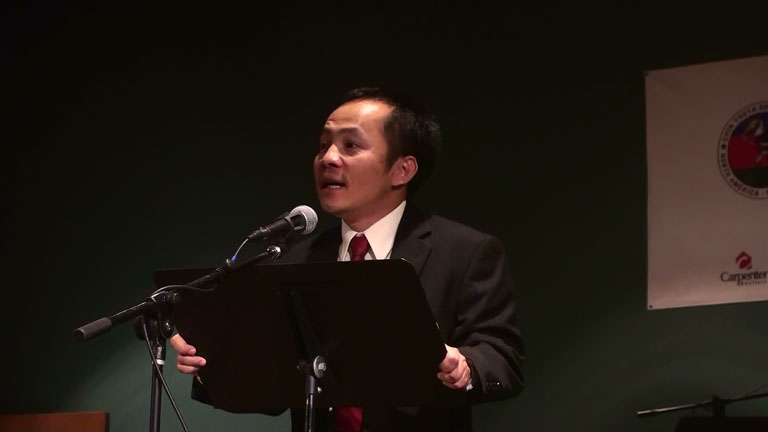 .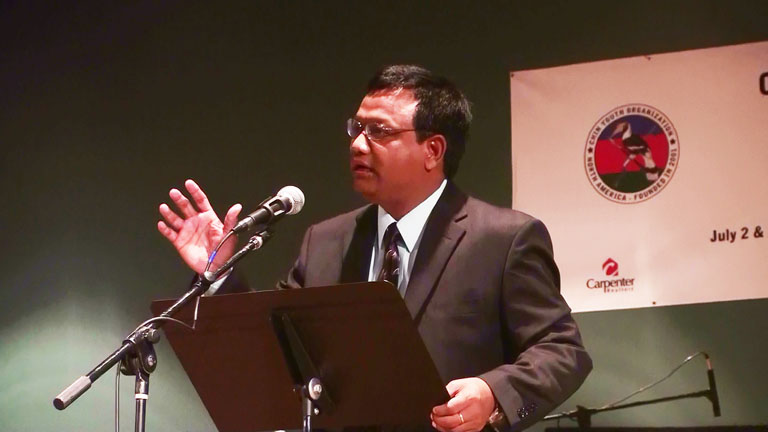 CNF le CHRO cu CYO nih aṭhin an ci taktak hna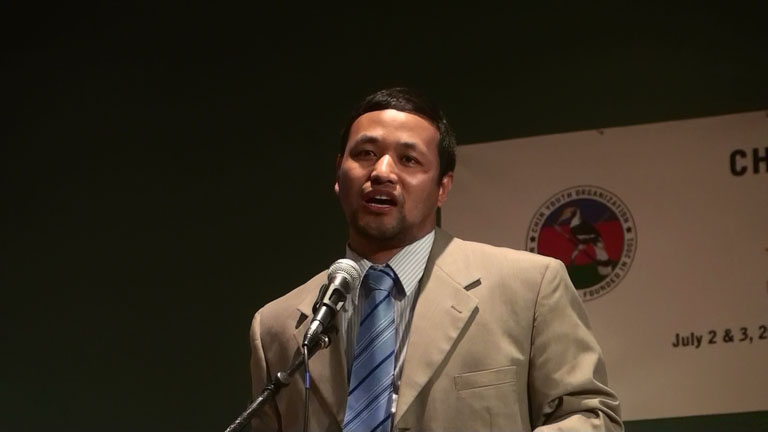 CYO's Chin Person of the Year, Salai Thla Hei
[Kum tanṭim ah an thim awksawh]
Hla zuam nak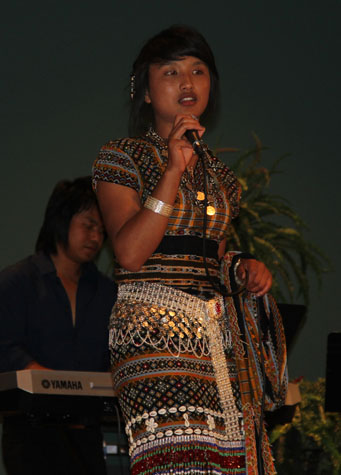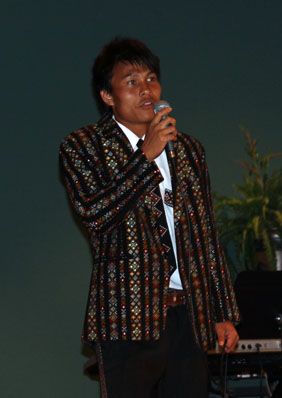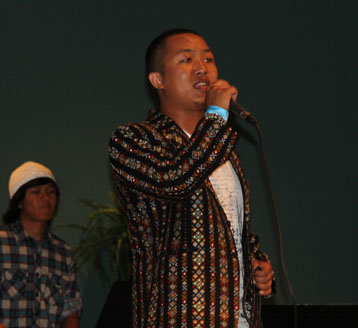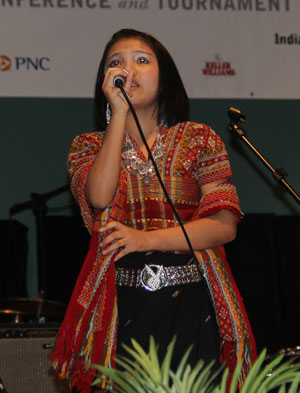 Music a thang tuk tawn i an hlabia ka thei tawn lo. Mah cu zeitin dah hmah tam ka pek khawh hna lai.
Hmah 10 chung ah hmah 6 tehna ka pek hna. Tthate'n ka ngaih ko i ka theih lo leh cuta.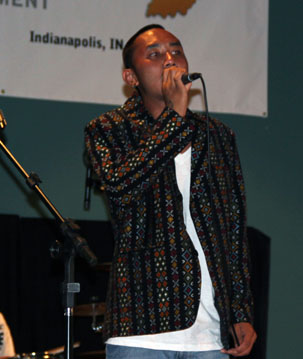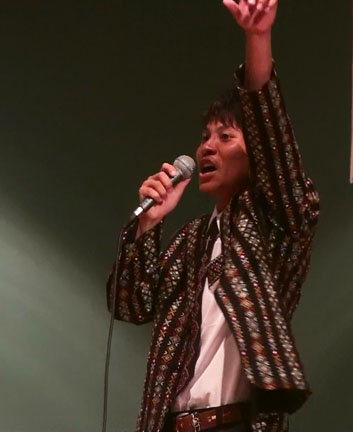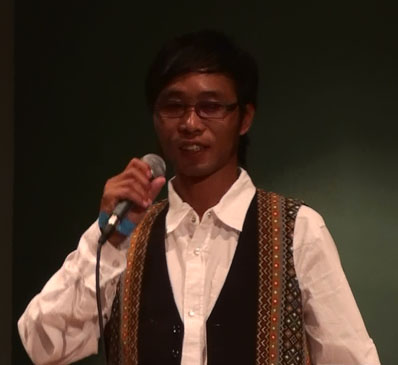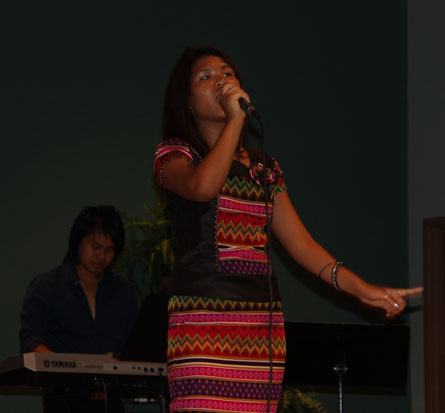 Mah hi pakhatnak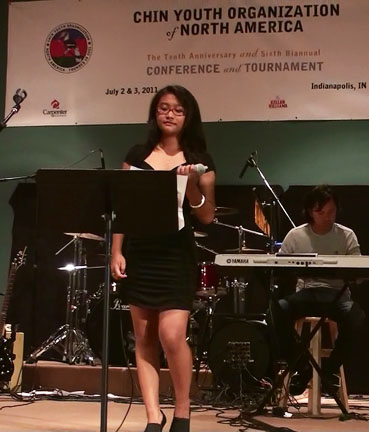 Van Tha Dim (1st, 2009)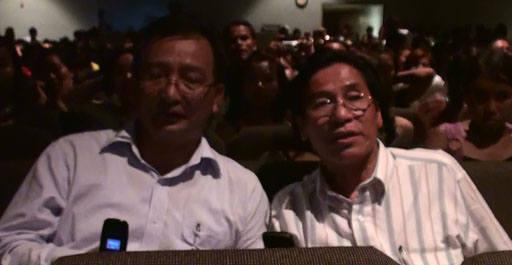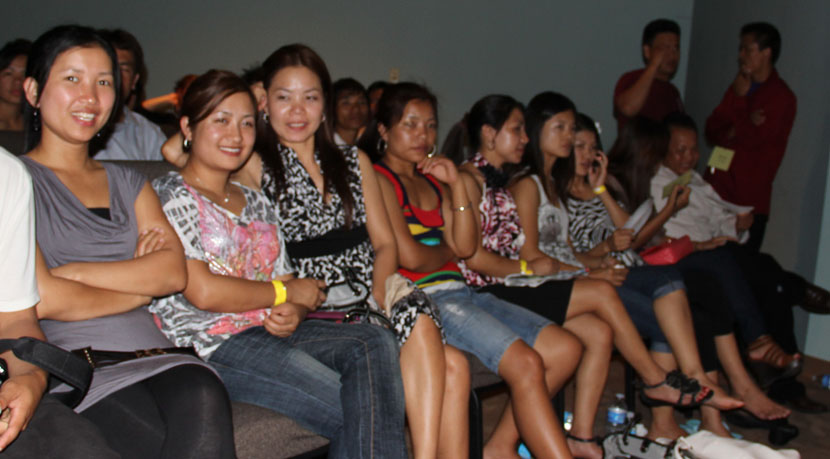 ICBC pawl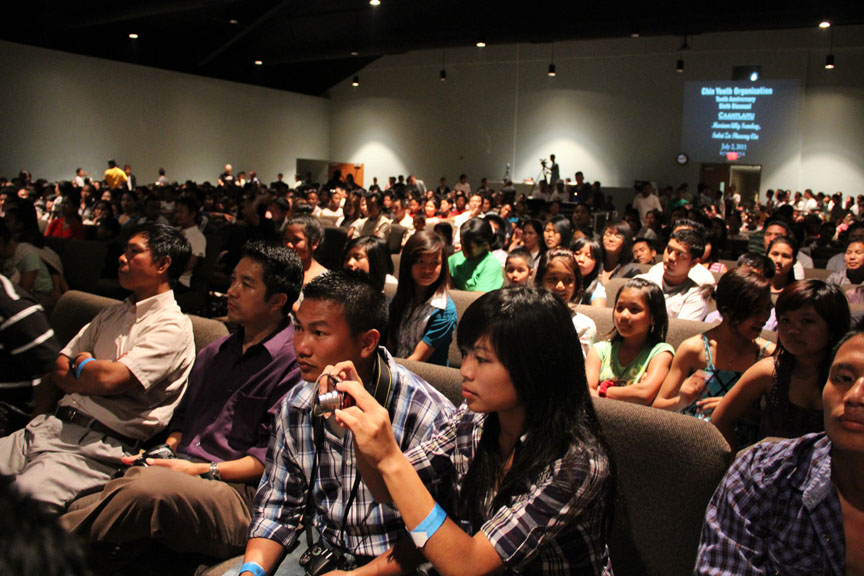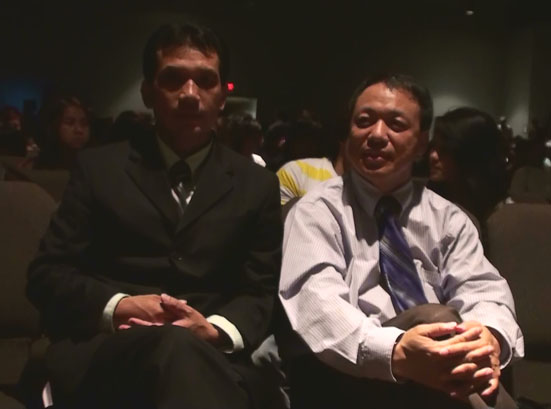 CYO President Lairamthang le Advisor Ceu Hlun; lungsi ngai in an zoh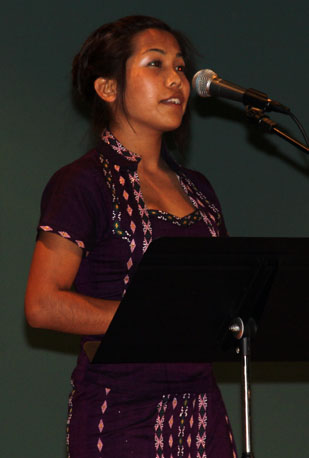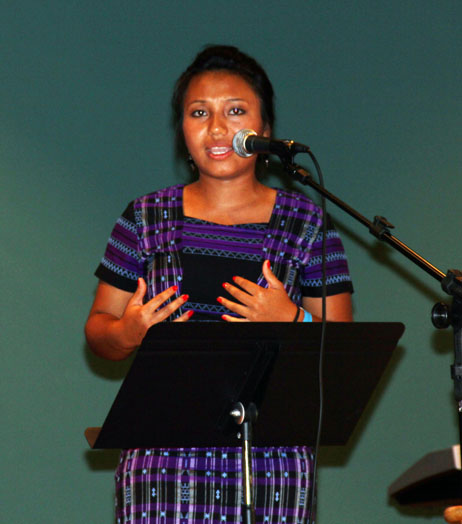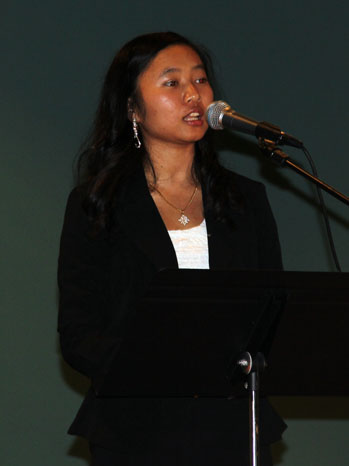 Biachim zuam nak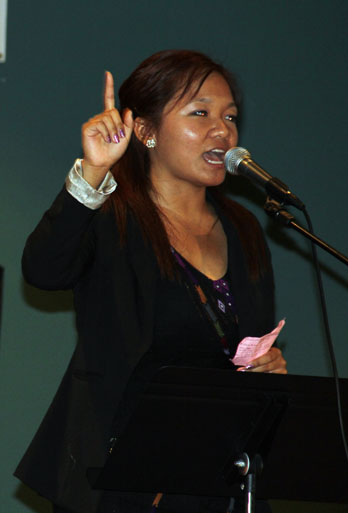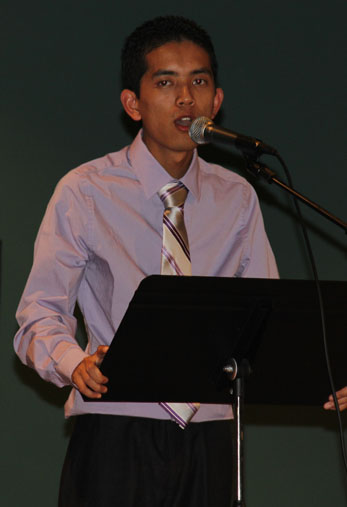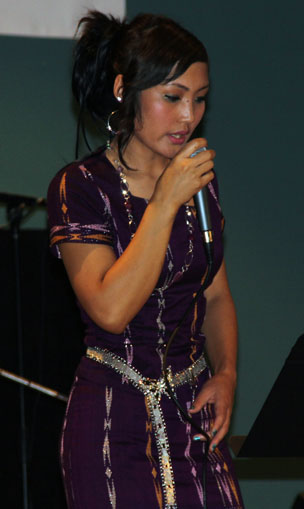 Biachim an thiam bak. Aho dah hmah tam bik ka pek lai ti kaa harh nawn. Pa hi tam bik ka pek.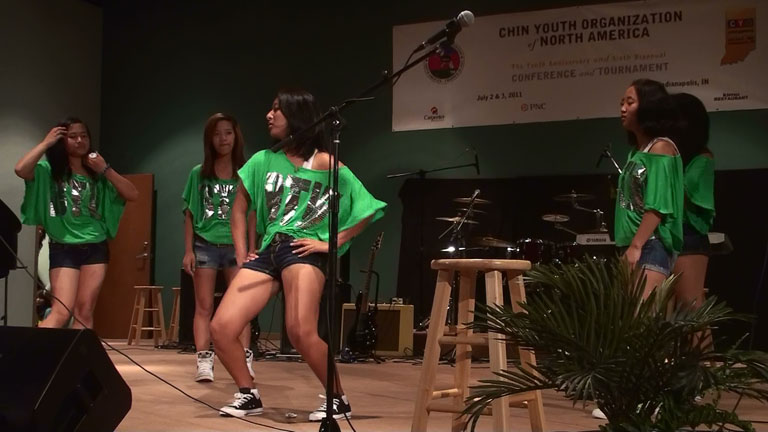 Pheitan mahtluk tluk. Tiko, Zatin pa?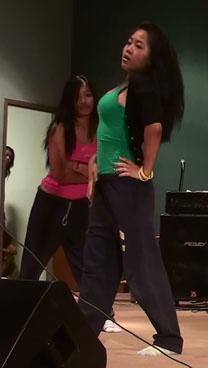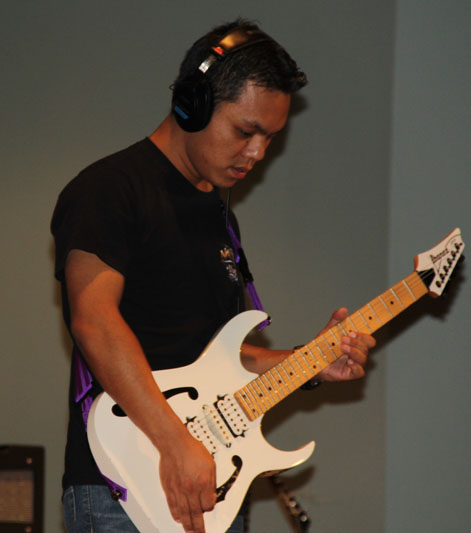 Hrang hmuhsak nak. A thiam taktak. Pachabel tehna a tum khawh [Pachabel cu Laimi nih nan hngal hoi lai lo, nan ṭaw tuk ai]
Fashion Show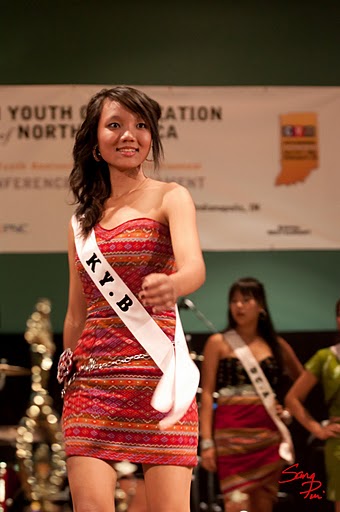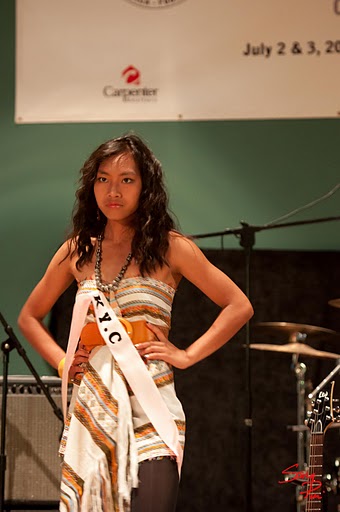 Fashion Show cu ka huat tuk i hmaan thlak zong ka zuam hna lo. Cun an ichok tuk. Ka lung an mit.
Fashion Show pohpoh hi Sangpui thlak mi an si (a min a thut dih ko). Midawhte lawng hi keimah thlak mi.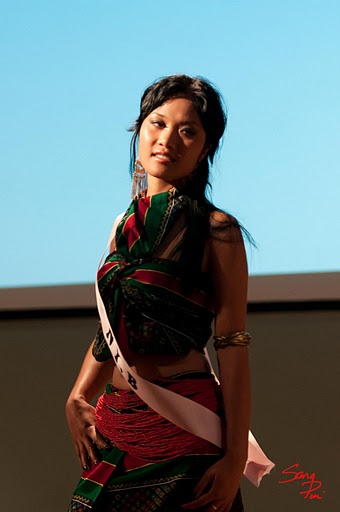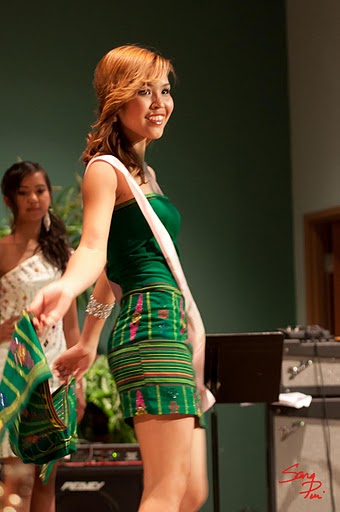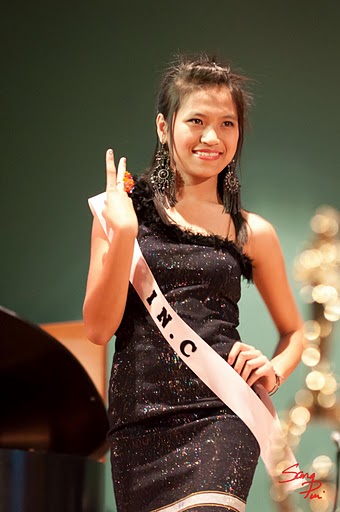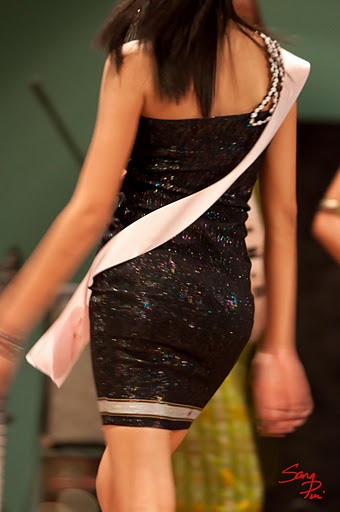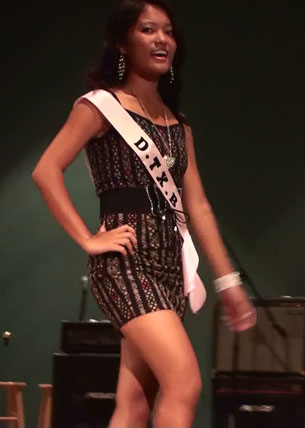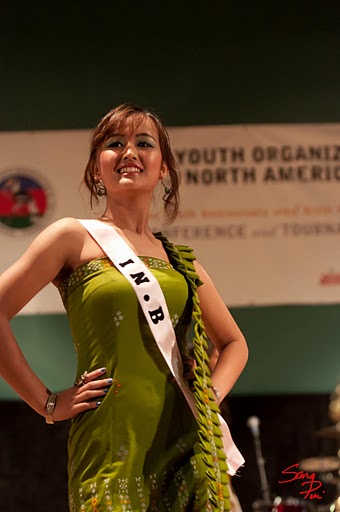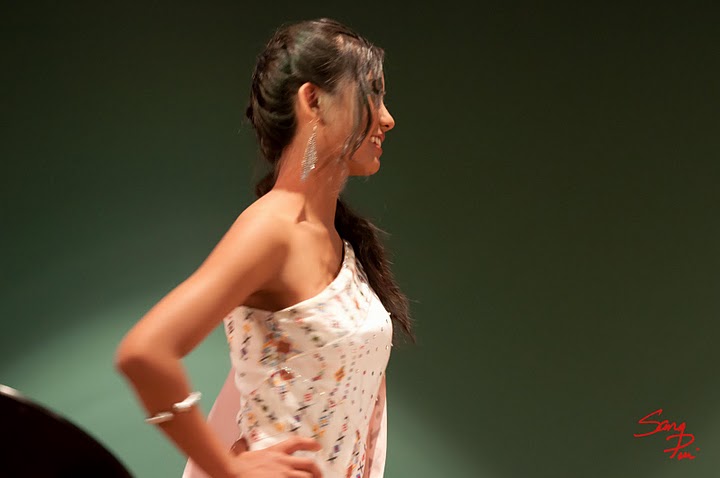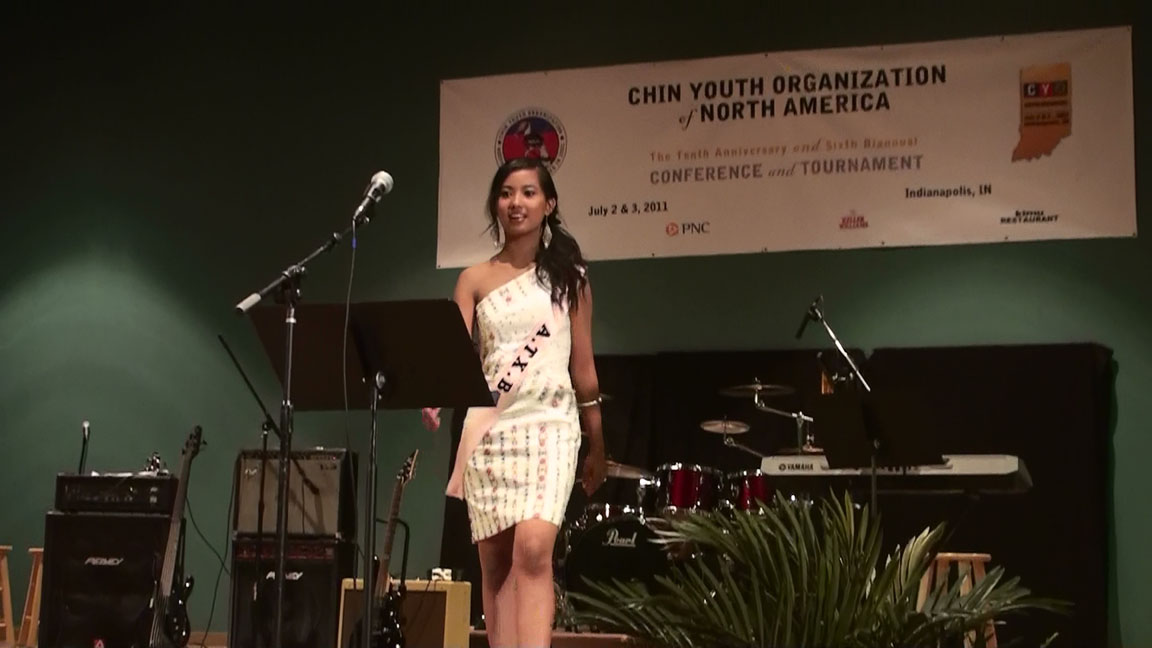 Dawh cu mah hi. Aho a si ka hngal lo.


Lilly nih a zan hnih te'n angki nak veve. Sentulul zong ihruk pah awk.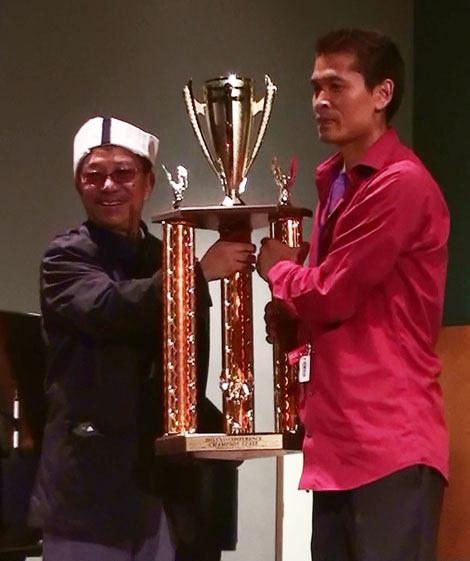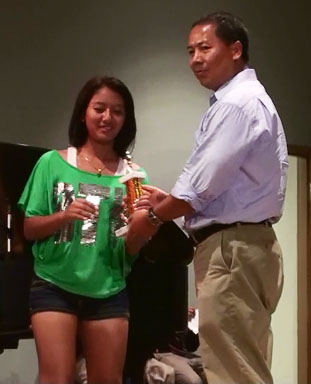 Fonh dih pakhatnak ah Indiana. Hnukvamh laam laksawng. Mah tluk phei dawh!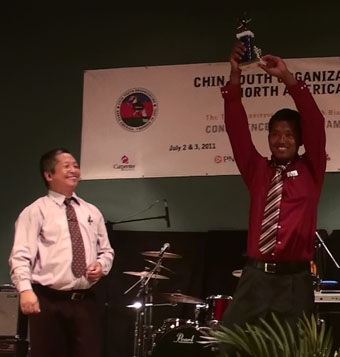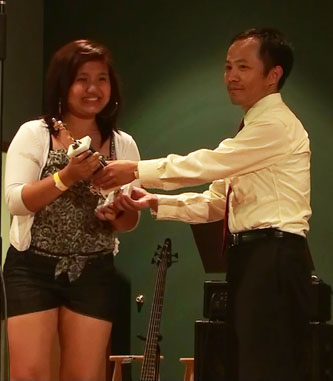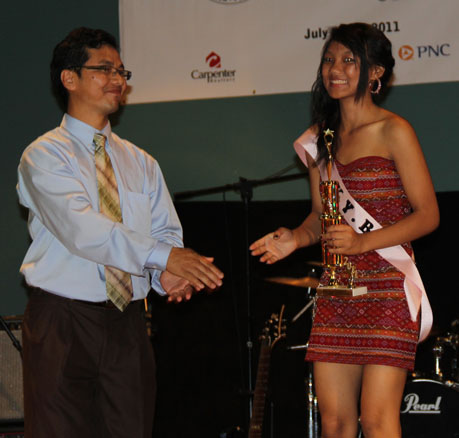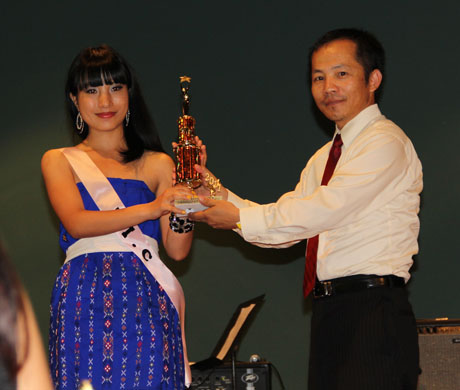 Nu zong an idawh, pa zong.
Fashion show pakhatnak Dawt Tha. Iang a ngei set lo na'n a ruangram te aa dawh i fashion show he aa tlaak.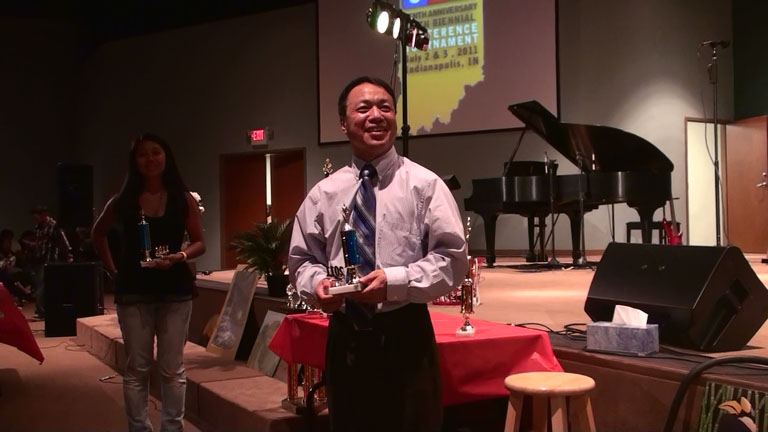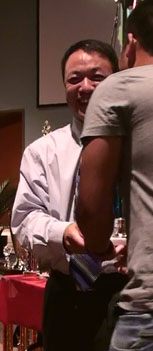 Caṭial thiam laksawng pe ding ka si i, aho an chuak lo. Hnupi ah Bawi Sang Cin a ra, mi zaka ah.
Atutan hi Essay 30 le Biazai 25 a chuak. Caṭial an thiam ngaingai.
Thate'n rel dih i a ṭha deuh cu oi 2 oi 3 zong rel nolh hnu ah hmah pek hau kaw, zan khuahnu tiang ka ṭhuthnawh tawn i puai hlan in ka mitkuh a fe cia cang.
Puai ca i angki thar zong icawk nalak ah mi he aa veelka ka lo ai.
Hla a sa sawhsawh mi hna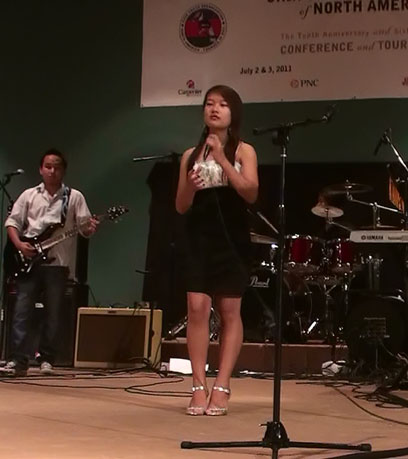 Mah kan naunu muisam le titsa ko hi kan mit a khat. Kan paampheng a si.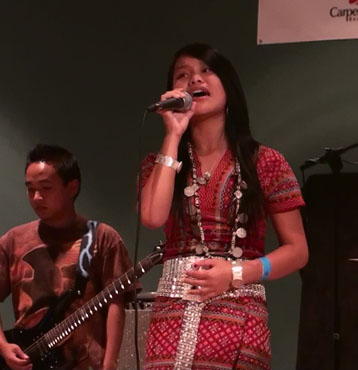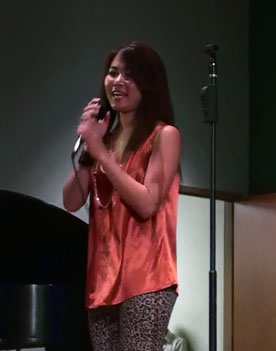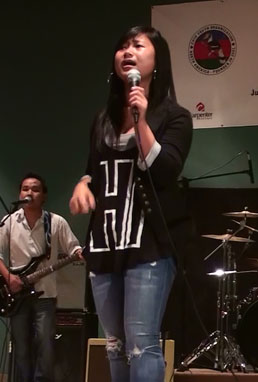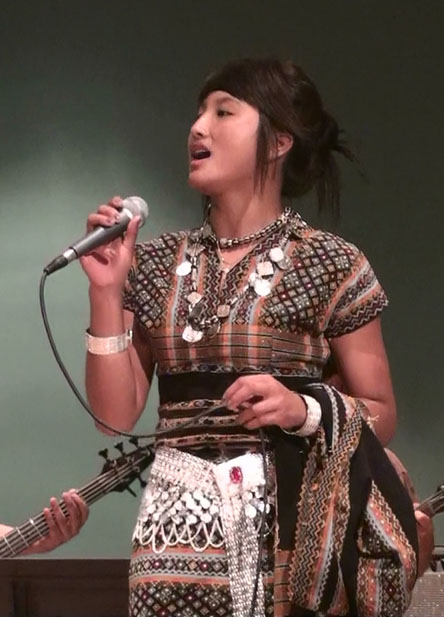 Lenghleicuang Thimnak
Conductor: Meriam Lilly Sunday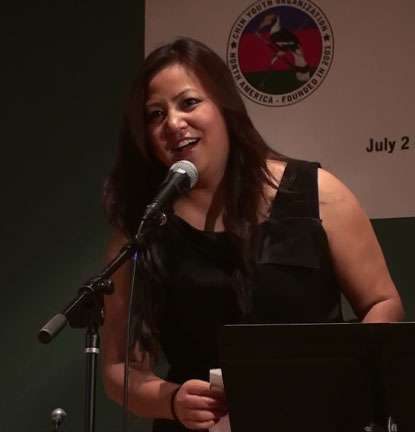 Meriam Lilly Sunday hi Miss crown pa hnih aa chinh cang mi a si, Mirang lak ah oi khat, Lai sin oi khat.
Ca nih a thiam, hlasak ah le a za, a holh cu Halkha sattesen holh a si i Lai Holh le a thlau lo.
Zei poh ah aa biatak fawn. Confident ngei tuk in a kan hruai. A kan kilhkamh taktak.
Kan itonka ah, "2004 kha nan ngai maw?" a kan ti i "na na na na" ti hla khi ka lung ah a chuak hrulh. :)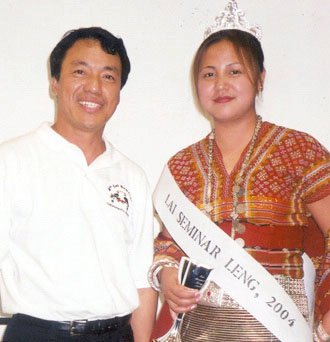 An izuam cang hih!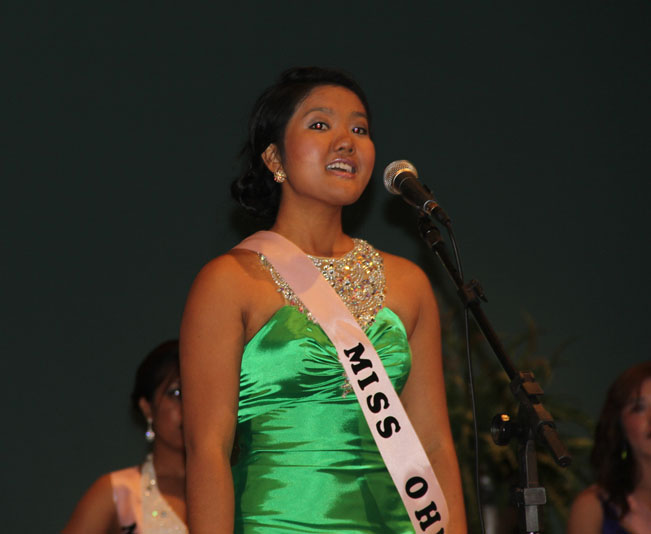 Hlasa Hnianghniang a si lo himu! Par Tin Tial a si. Angki hring te zong hi a za ngaite ve, a laihring ah cun.
An kawm ah ka va lut i, an panh-lau set lo bang a ti i, ka lung an si setsai lo.
Mah nu hi aa chok lenko i, a nihmerh le a hoiher ka zoh ah, 'Mah hi cu Miss pek tlak a si ko hnga' tiah keimah le keimah kaa ti.
'Ra' ka ti i a calpadar in hmaan ka thlak. Midang cu an "ṭaw" tuk deuh in ka hmuh hna.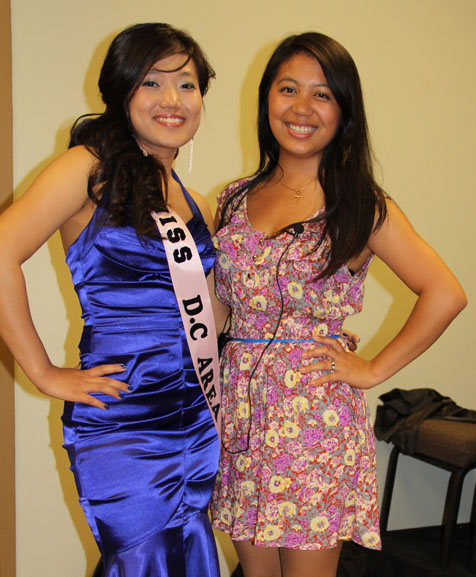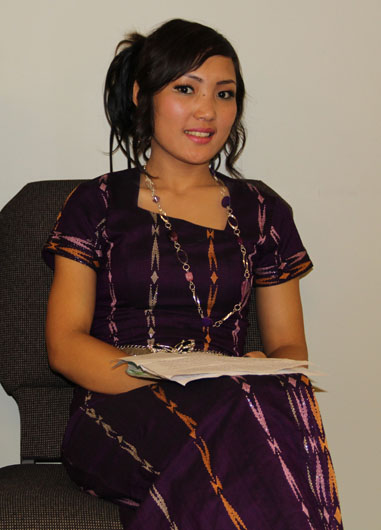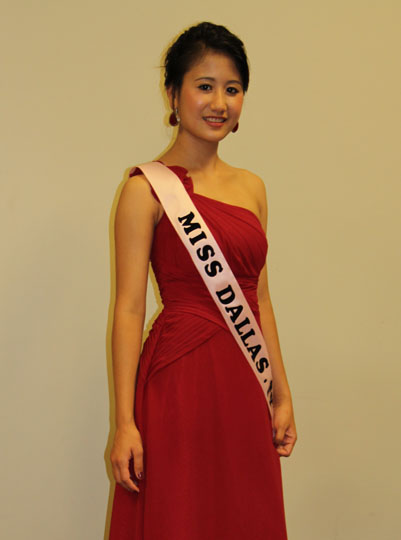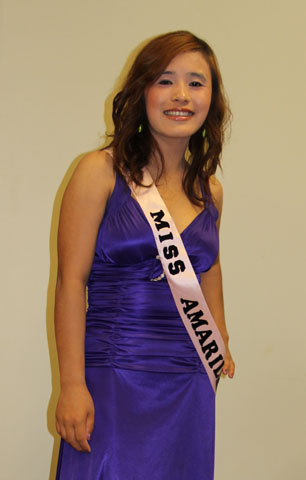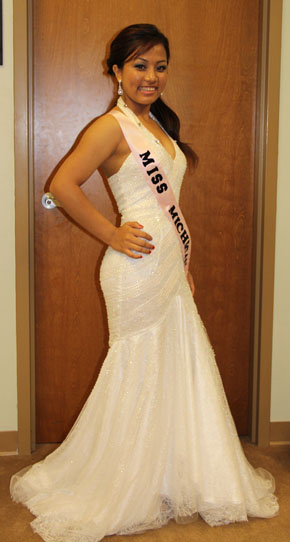 Mang Hniang, Par Tin Tial le Par Tin Tial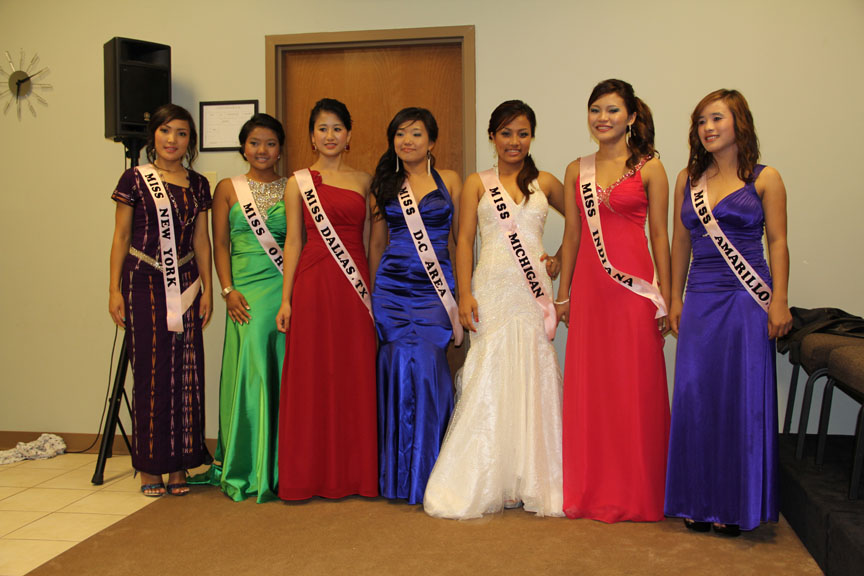 Kei cu New York nu ah ka mit a fu bik lengmang, leng dang hngan lo. A fim lai ka ti.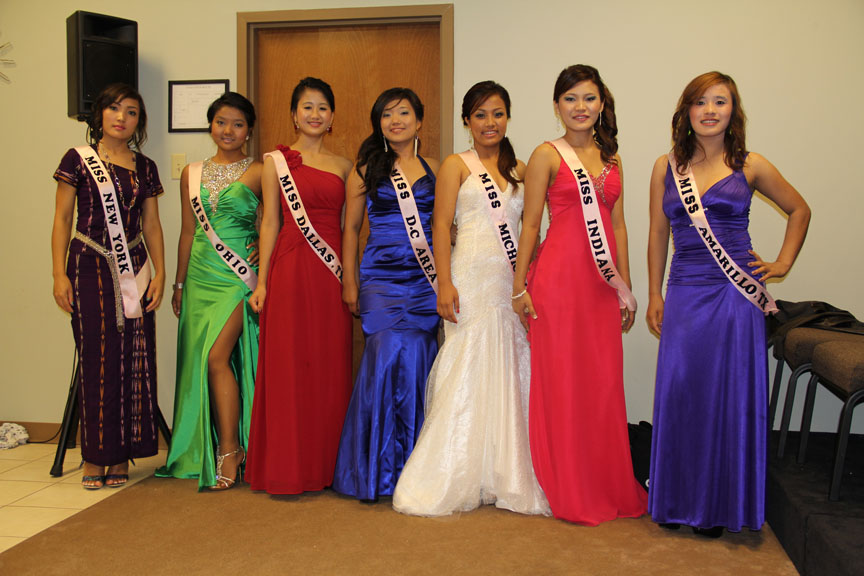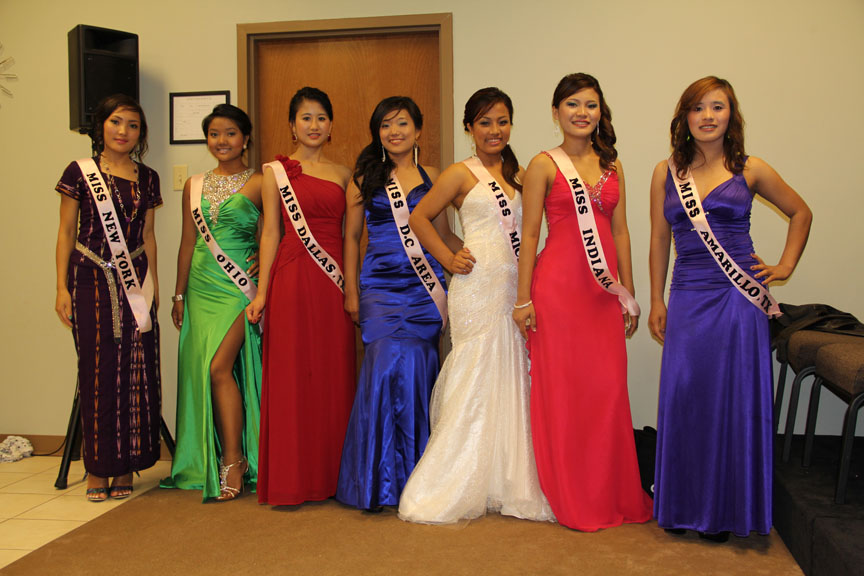 .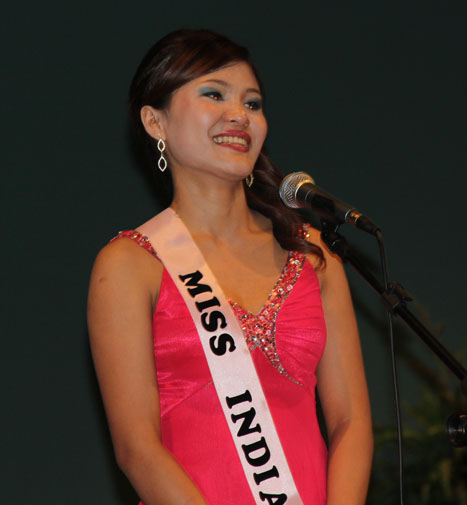 Dawt Meng
The writing in their banner should read, "Miss CYO Indiana", "Miss CYO New York" etc. They are not the real Misses of their respective states.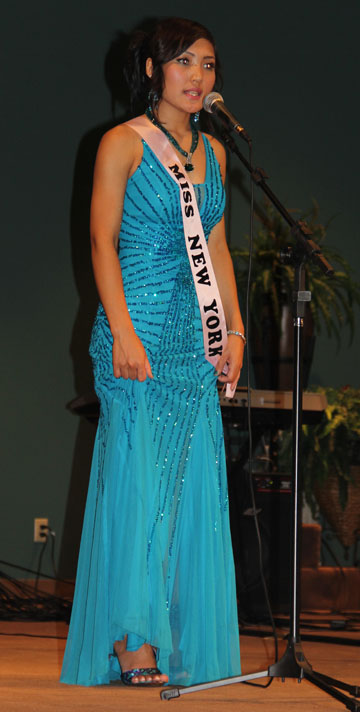 .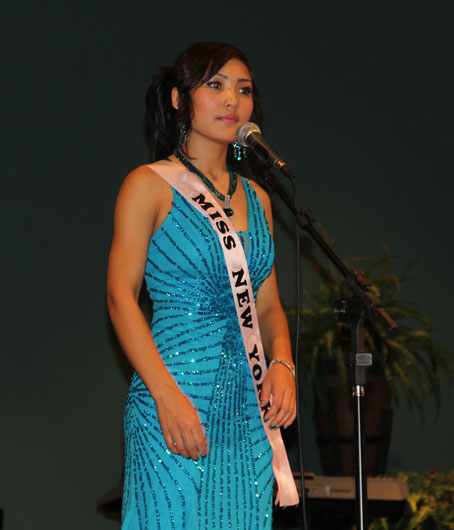 Esther Biak Tin Tial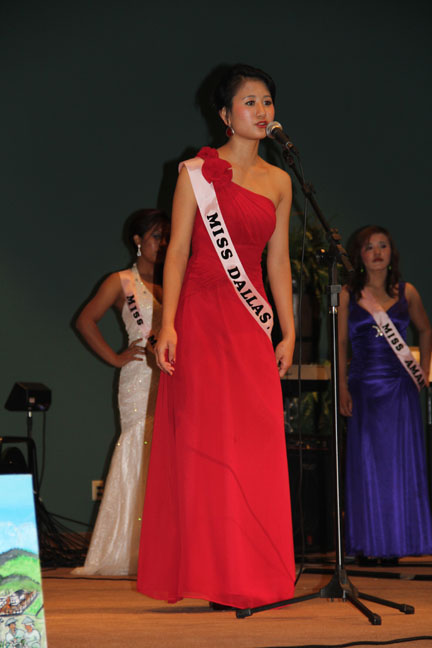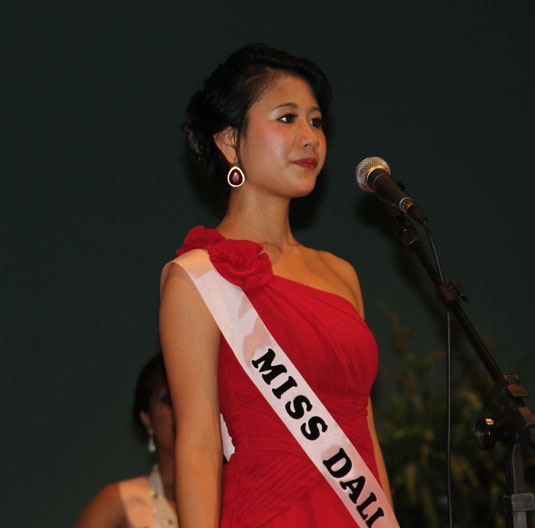 Mang Hniang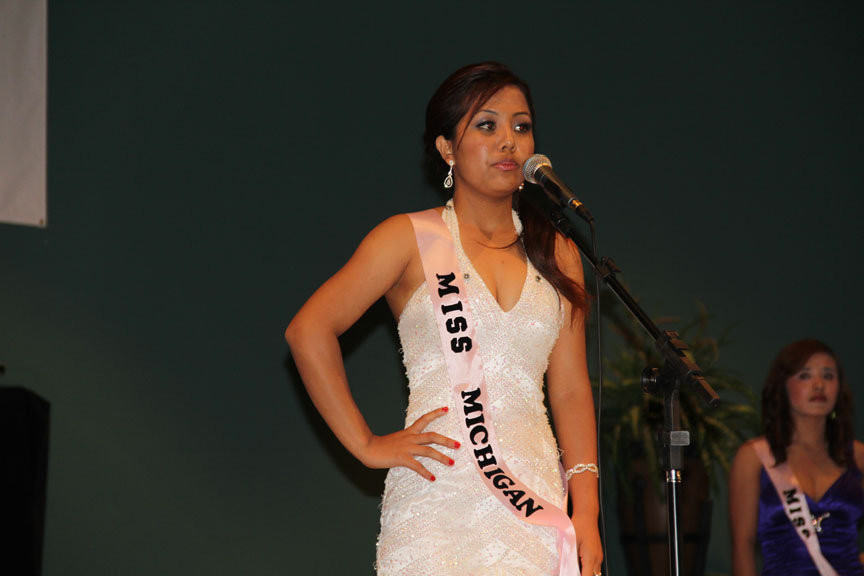 Par Tin Tial hi a putar (a nu pa) a lo. Tingtang itum in hla a sa kho, biachim a za fawn i Hniarlawn si khawh nak quality a ngei ko.
Asinain, "Ka nu cu Hniarlawn a si" ti chim duh hlah kaw, Hniarlawn huham nih a humzual lo. A phu a der i an tei. "Na pu zawm hlah..."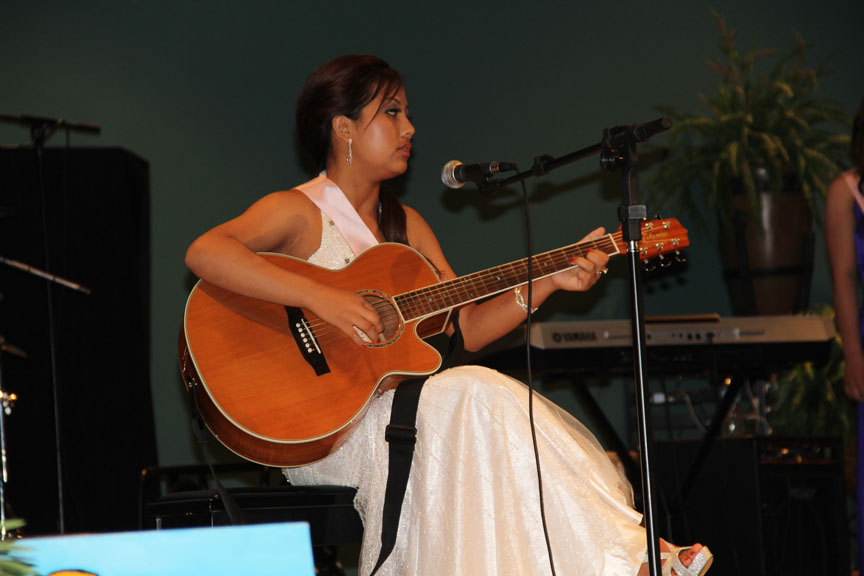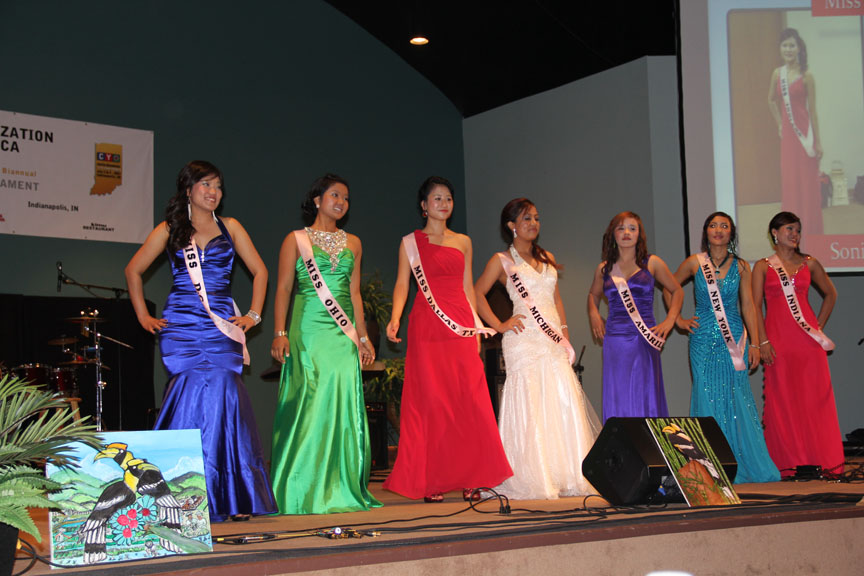 Mui dawh ah hmah khat hmanh a um lo, atu tan Miss thim cu.
Kurbungbel far hmanh biachim a zaat le hrang a ngeih ah cun Miss a si kho ding a si.
Kannih chung vanchiat.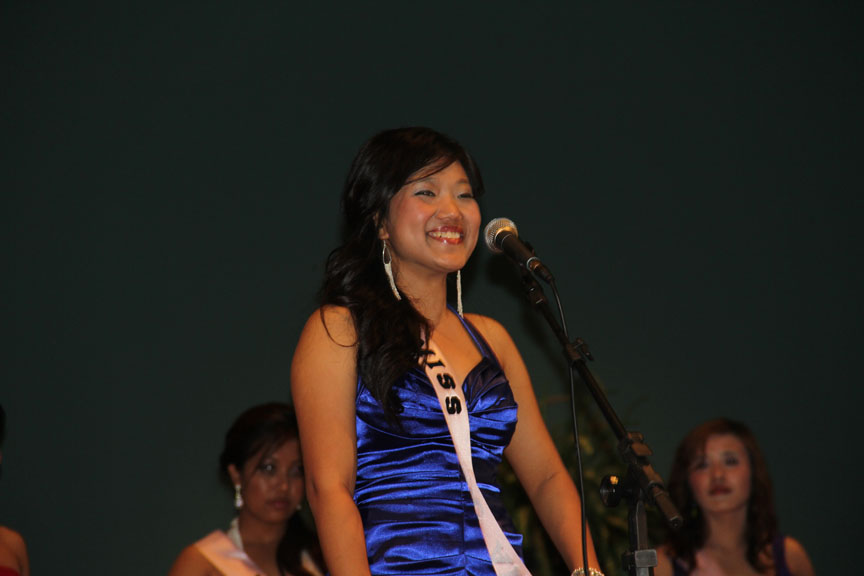 Anih cu a ni thluahmah ko, hlanlio keimah bang in. Aa nihter mi zong a si lo; a miau a si. A thinlung a ṭha tuk an ti.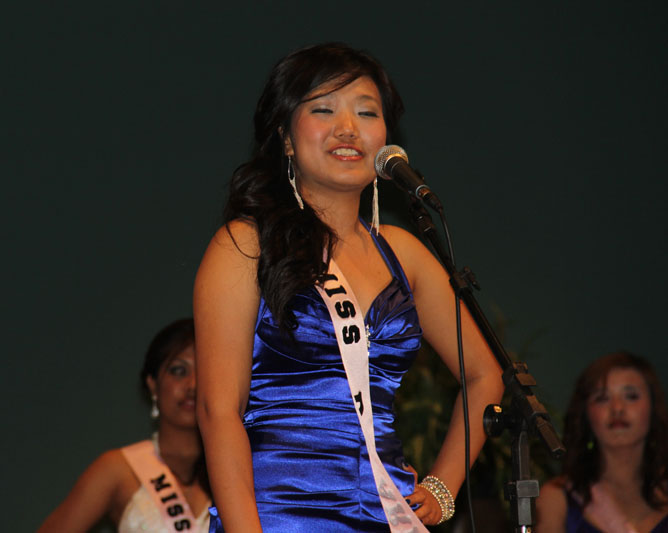 Ngun Hlei Tial cu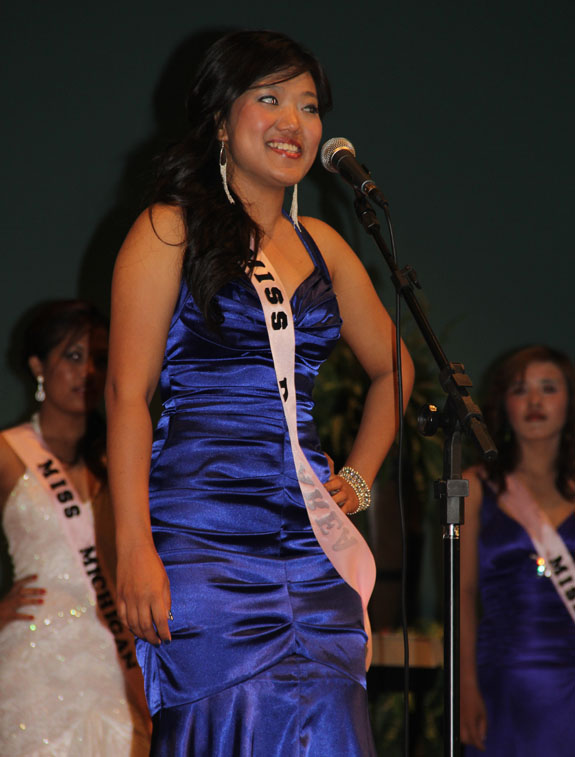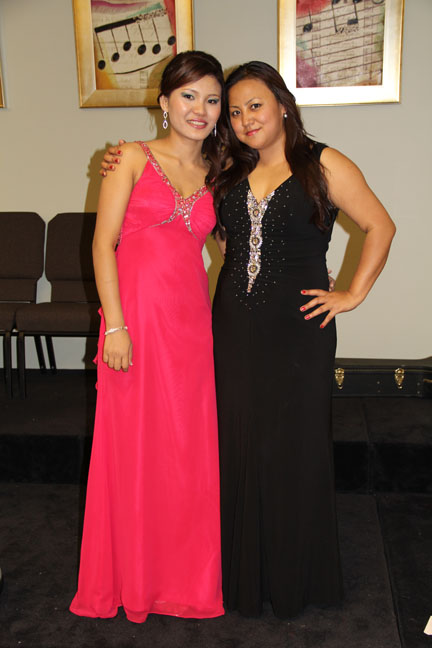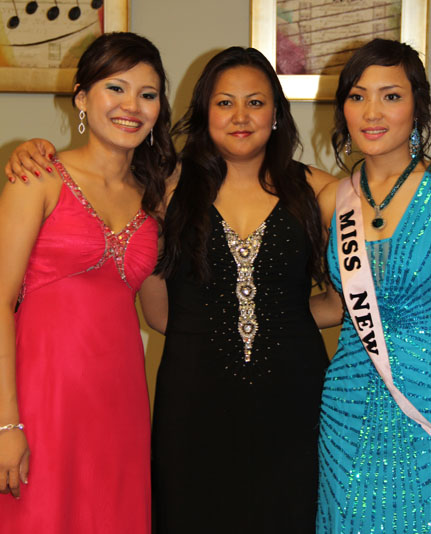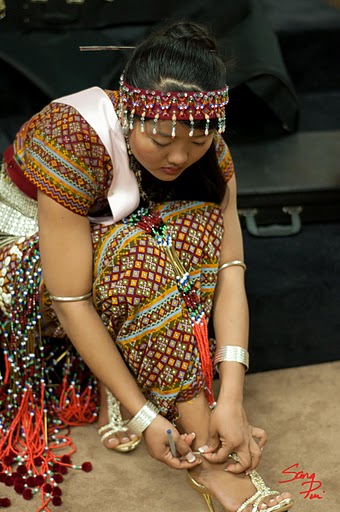 Lu i mah bantuk ikhimh hi muichiat nak fawh a si!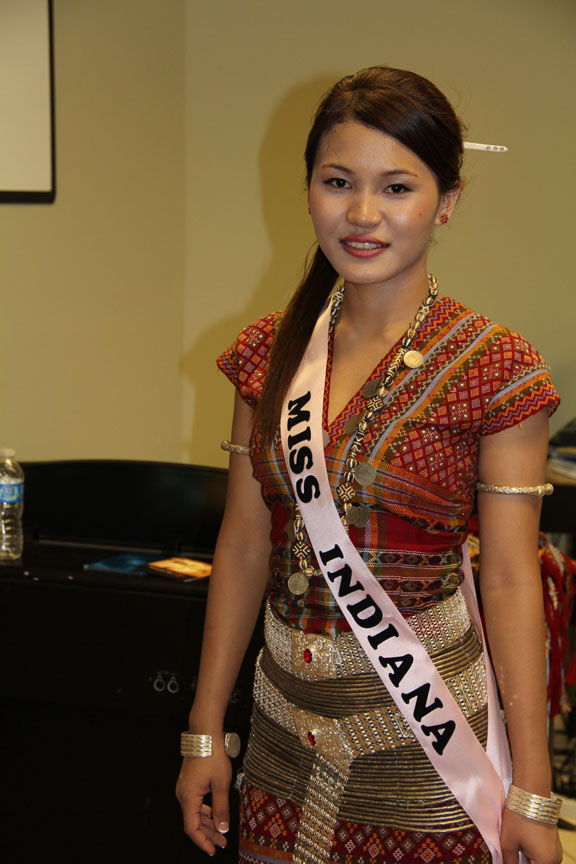 Dawt Meng
Lai thuam cu mah vial hi a si ko. Tthihni le lukhimh tehna a hau lo. Mah vial aa hruk ah hin cun full mark pek ding a si cang.
Ngunkharvar hmanh hi pa khat a za. Baannaal tuah khat a za. A baanpawr i khi cu a hau ti lo.
A tumbul zong khi a hmaan bak. Lai kan nule tumbul bakte a si.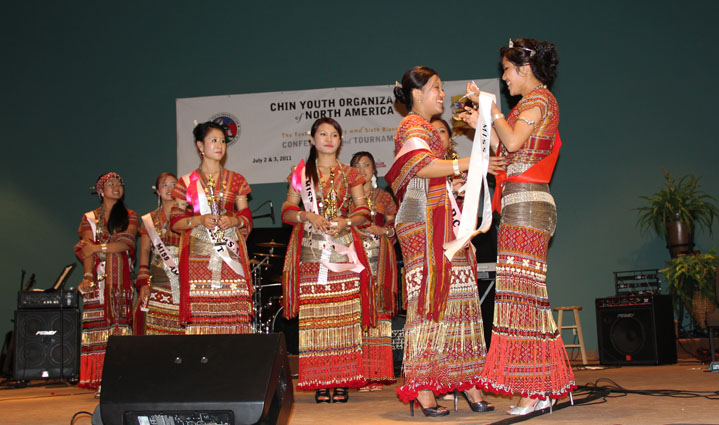 Miss hlun Hlawnte nih hin Miss a hmuh zan ah hmaan ka thlakpi ve law a ka ti i, pacancuh in ka thlakpi i,
anih kedan sang cung in dir chinchap kaw a ka laan/lawnh tuk rua ta,
kan hmanthlak a hmu mi poh ngaknu sin hmanthlak an ttih dih cang. Zei ko khi dek kan lawh, zoh nemmam ka duh lo.
Cawngnak puansen le hnittial hi kan thuam dotla a si e kan ti lengmang hi hiti hin a si.
Burma ram uknak a tthat/hmaan lio te hin cozah hrimhrim nih milubenh an rak chuah i Lai nu hrukpi tonh le Lai pa lupawng ponh an rak cuang.
Cawngnak puansen le hnittial sen le kor sen an rak iti. Mah cu cozah dotla bakte i do an tlakter mi kan miphun thuam a si.
Mah lio cu Chin Affairs Council a um lio zong a si i mah zong nih cun a rak cohlan/hrih a si lai ti aa hngal.
Kan miphun nih thuam phunphun ngei ko hmanh usi law, kan identity thuam cu cawngnak puansen le hnittial hi an si. Dawh zong ah mah tluk an um lo tiah ka ti lai.
Rampi cozah i "Chin Costume" a ti cang mi zong a si. Hnittial nak tehna, hnittial hring tehna cu do an tla lo. Kan pile ro zong an si lo.
Kan pipu ro cu asen mi hi a si. Atu i nan hmuh mi hi kan miphun thuam dotla cu an si. Ataktak ah cun hnittial a za ko.
Tthihni hi cu lukhimh sang he iti ding khi a si. A hau theng lo. Acung i Miss Indiana i aa ti mi khi a za (ngunkharvar khi pahnih a hau lo, pakhat a za).
Cun, cunglei (kuin-phunh-puai) i Indiana Zai Tha Par le DC Van Tha Par i an iti mi zong khi an za ko.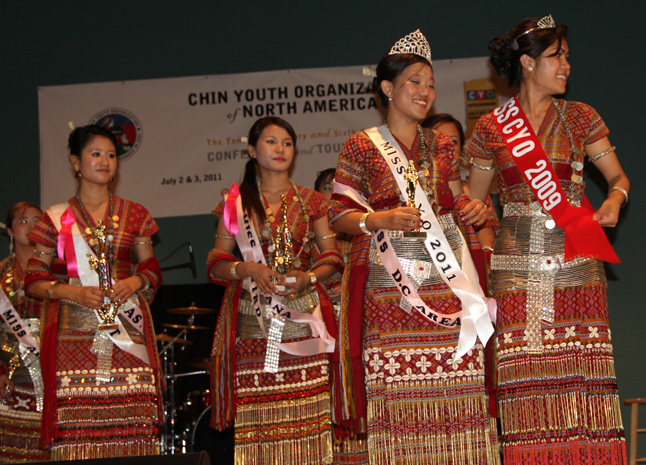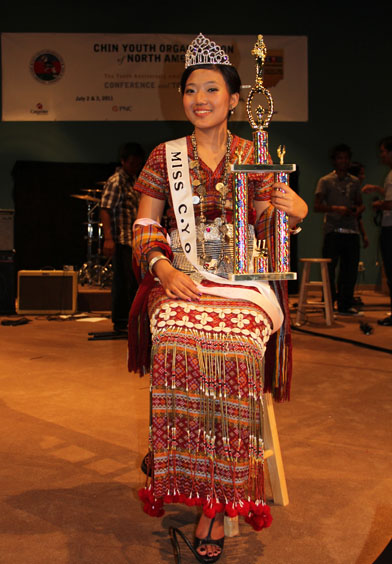 2011 Miss CYO Ngun Hlei Tial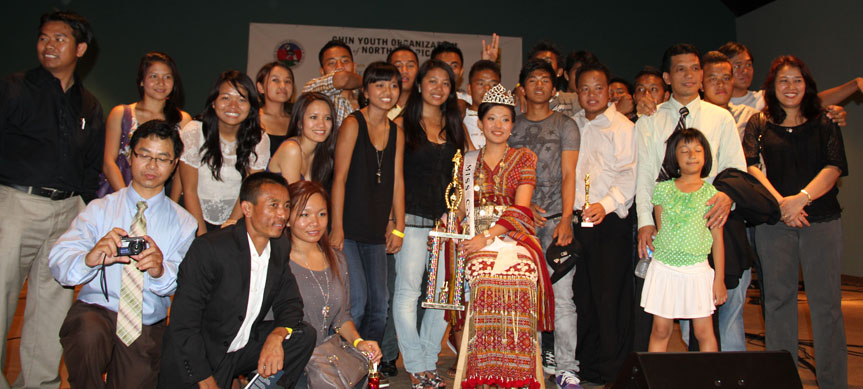 DC pawl hi nu hri hnuh lawng ah mi an tei, thiamnak aa tel lo mi ah. Atu cu Miss crown te he an tlung lai. Pawpi lu he tlun tluk.
Vok zong thah phu. An ha lawng a lang cang ko, mi pa khat thawng sa pa khat thawng tiah.
Angki raang pa khi Hoilopar muvi fitlaw a si i, atu khi thiamchuang a hlei mi aa hmuh i Hoilopar muvi akedami ah kan rinh lawlaw.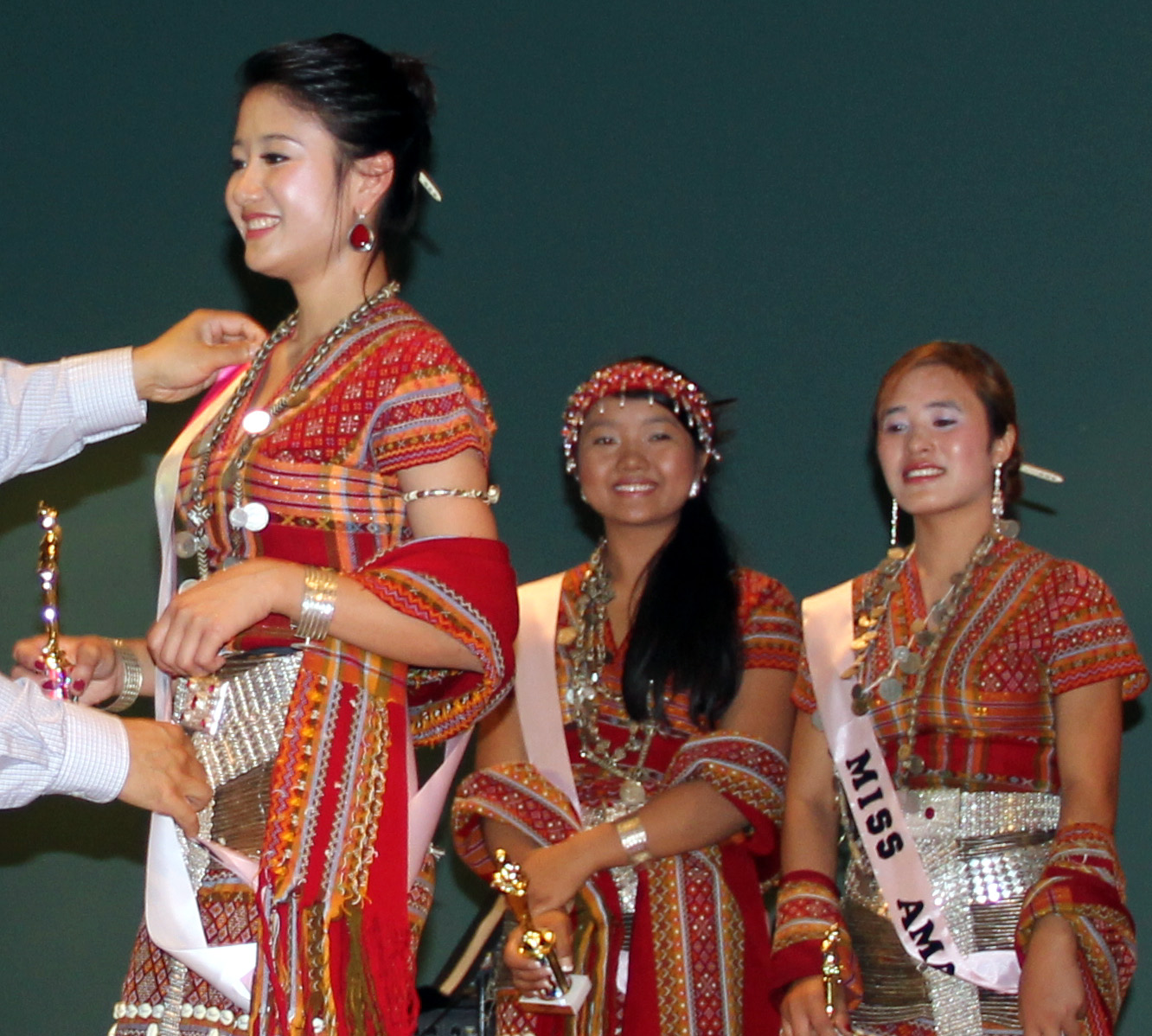 Dawtnak kut le leng no ṭaang nem
Zungzal Lilly nih pakhatnak laksawng pek a ka voh i, "lungthli ruah lo vok ke" co in ka co. Ka hnaar lai ka ti. Lakphak ka cinter lio hna.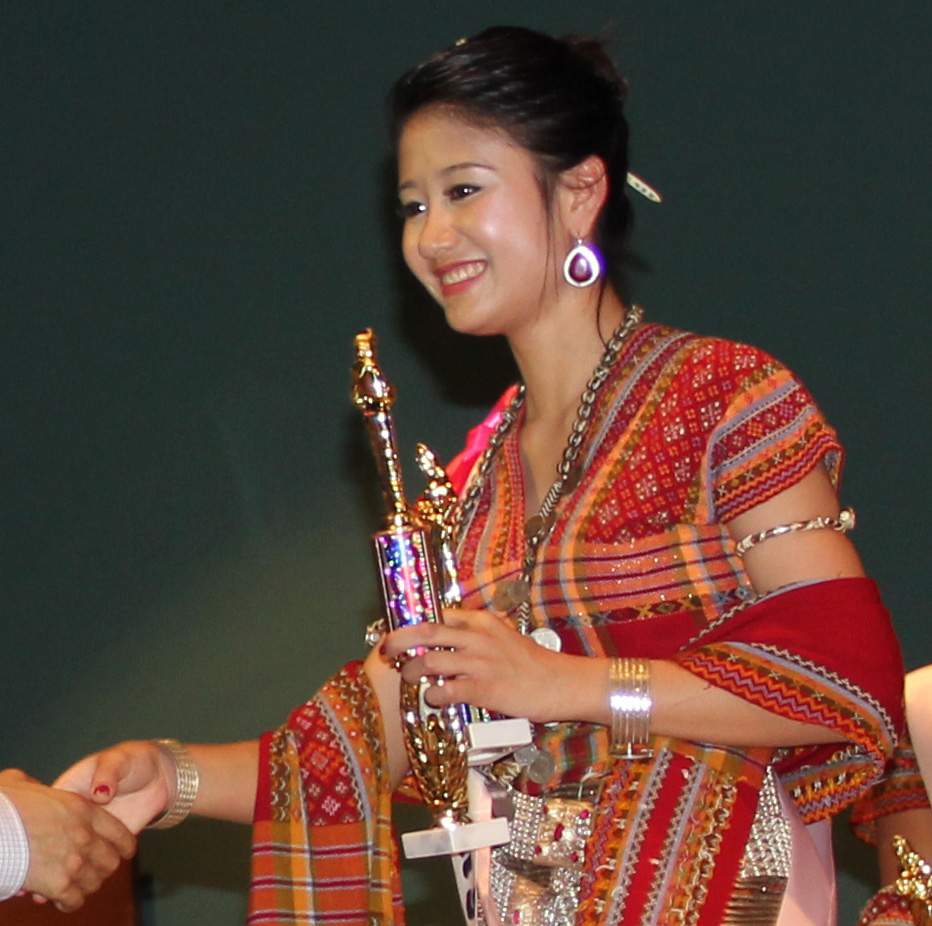 A mizoh a thlum ning hi! Mizei ko dah a zoh hnga ti awk in.
Aho nih keimah cu nan ka zoh bal lai lo tiah kaa langhter lo.
Leng dawh pawng ah Cinzah tam hna -- Phungthluk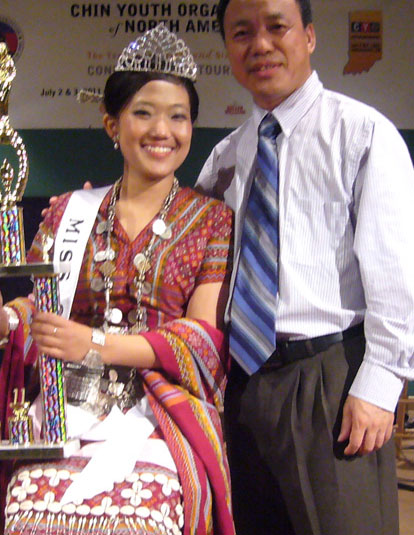 Zo Tum Hmung mifim nih khua a khaan rumro i Miss he hmaan kaa thla kho.
Benduai nih, "Na hei doh nawn bang, ka nau?" tiah ka ti te lai dekmaw, ka bawngbi a tolh i a si.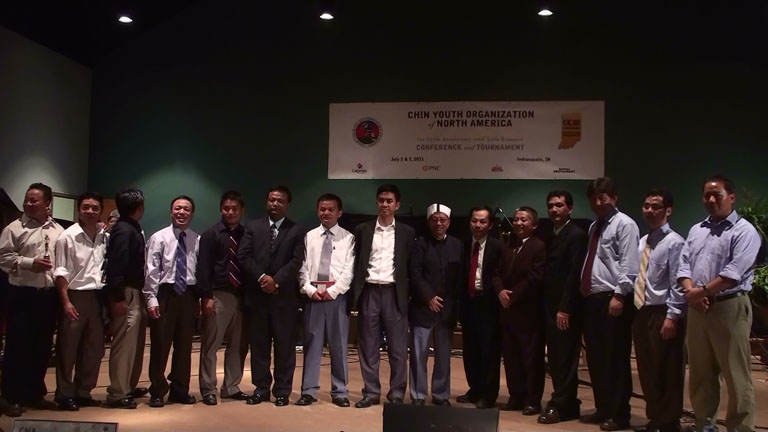 Nun Uk Cung, Van Ceu Uk, Van Thawng Ling, Ceu Hlun, Za Thawng Cin, Tum Hmung, Tial Khar Lian, Zing Cung, Lian Uk, Ngun Cung Lian, Thla Sui, Lairamthang, Victor, Bawi Uk Thang, Daniel.
Iceer hna seh law aho dek a thiamlo bik hnga.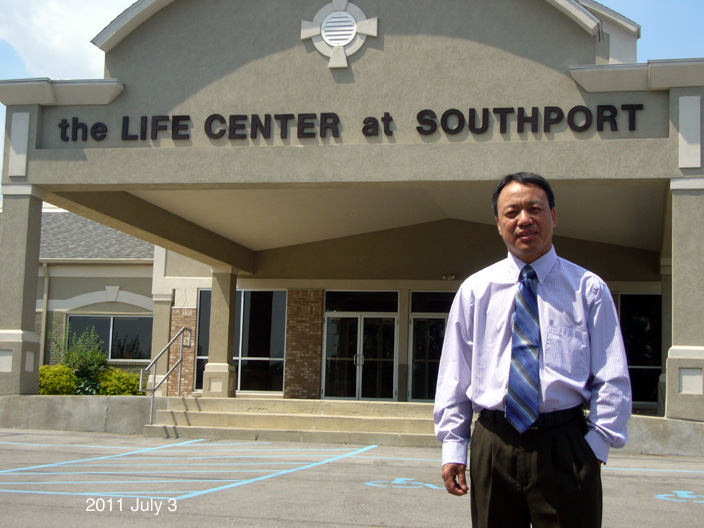 Overall champion Indiana Team
Championship lawmh hnianghrawm
2011 July 30
Monroe Lake, Bloomington, IN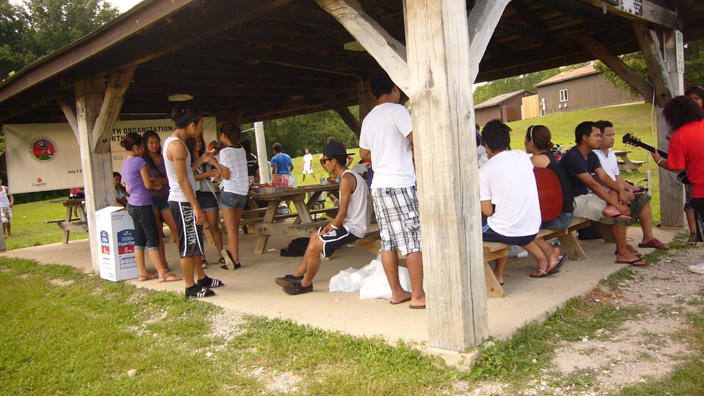 Tukum cu a kal mi kan tlawm. Chief Guest ah an ka ruaih i zing ah kaa manh lo i, chunhnu in ka va kal ve.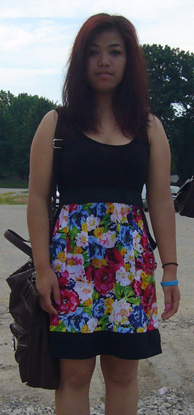 aNgun nih anthor voksa hang khamhhmuai paih a so. A thawt ning cu,,, hrai li ka din.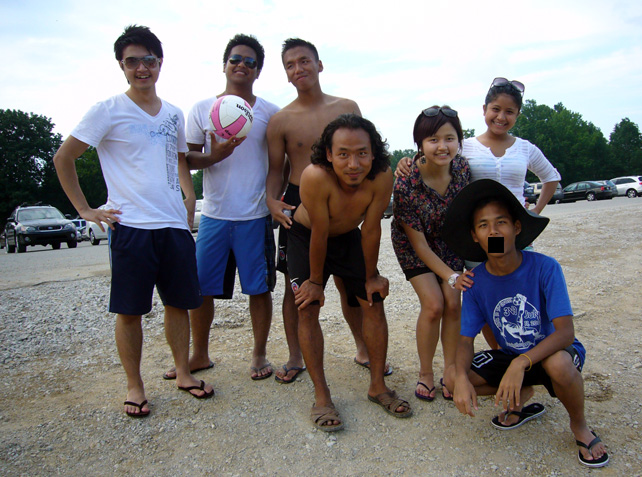 Germany in ṭa-far pa thum ICBC i tipil iin ah an ra i mah zong cu an kan kalpi kho ve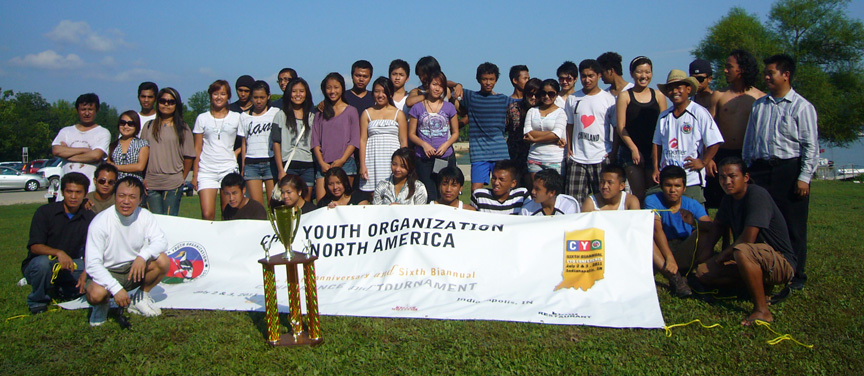 CYO President Dr. Van Thawng Ling le keimah lawng upa no kan si. Amommom lak ah kan ichong ve ai lak.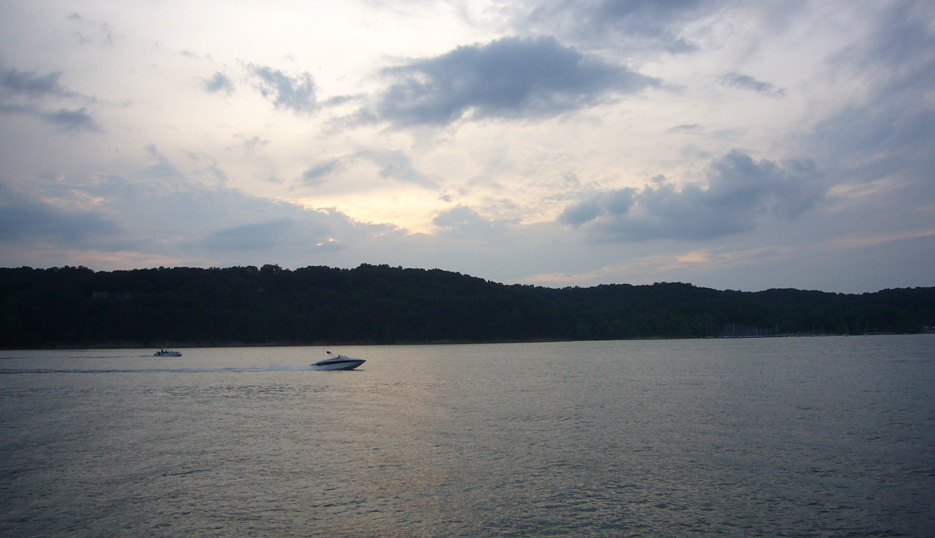 "Bae pa-chi yay loh ma-hmi"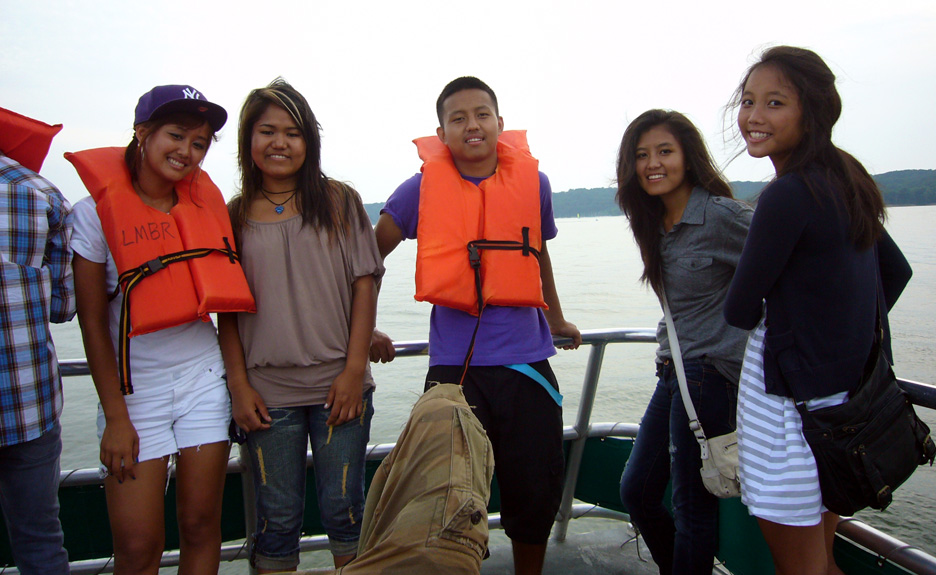 Chun ah ti ah kan tlong. Zanlei ah tilawng lawng li kan hlan i kan icit sawhsawh.