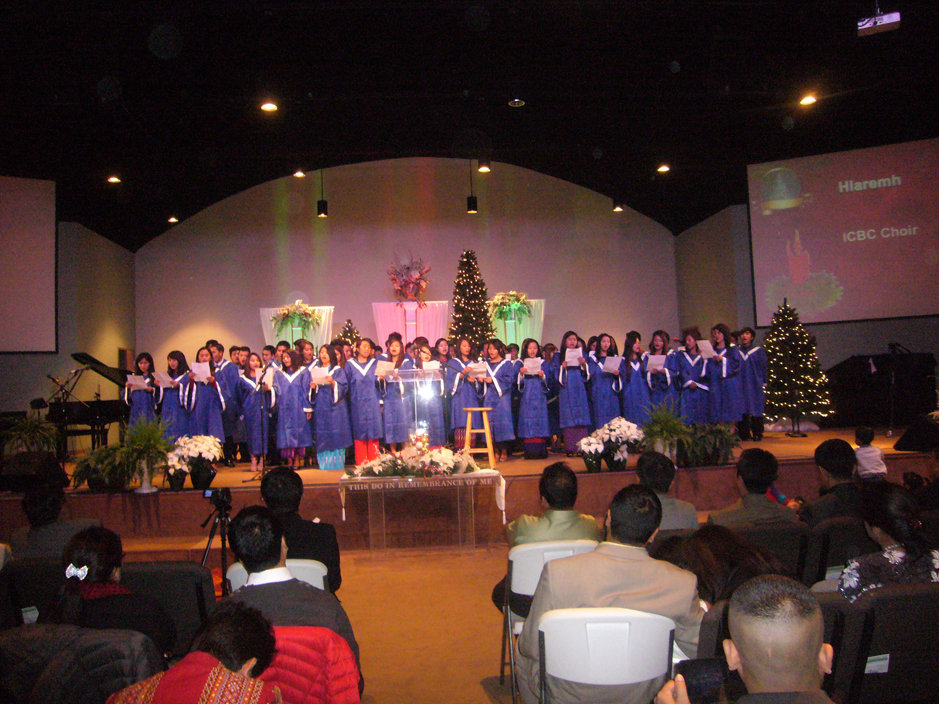 Indiana Chin Baptist Church, Indianapolis, U.S.A.
Christmas 2013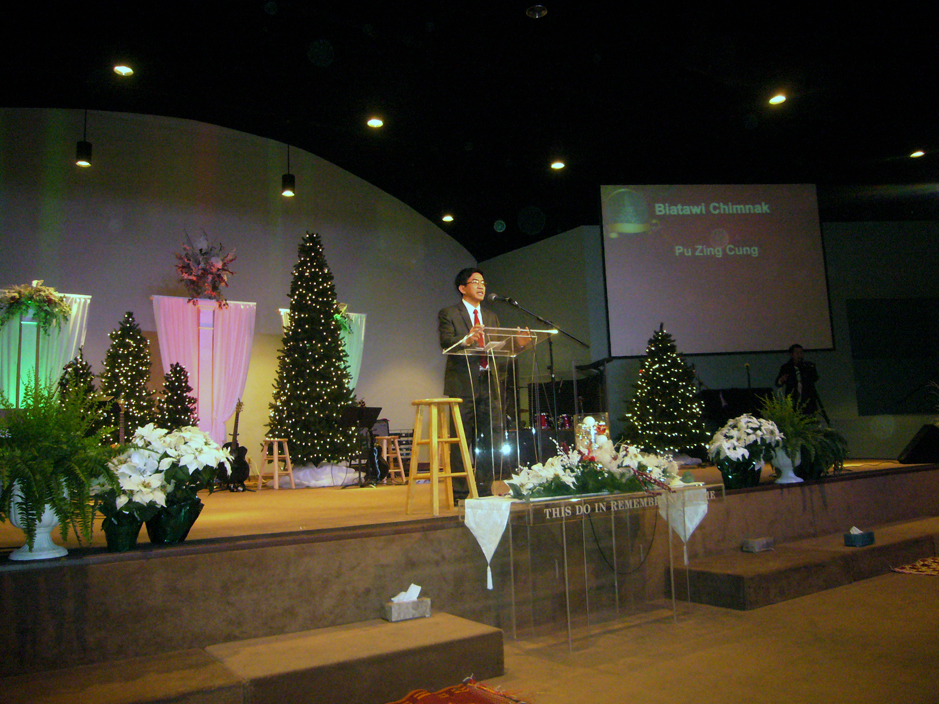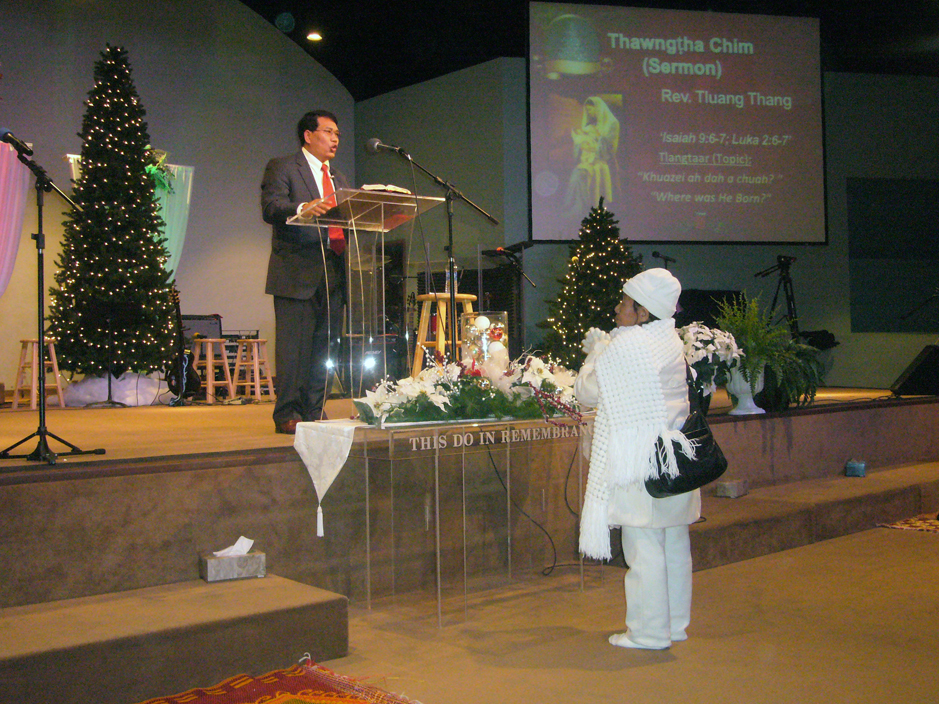 Suite nu nih hin tukum cu caw caw hnih zo in tangka $2000 in ka thawh lai e a ti i, a ngei dih rih na lo in Krismas a kan donpiak. $1900 a kan pek chung. $100 cu hman awk ka ngei ti lo i kaa hman chung lai i ahnu ah ka'n pek te hna lai e a kan ti. ICBC ah Krismas a dong hmasa bik a si. Chawlut a ngei lo mi a si i mi inn i thlacam a kal i an rak pek mi tete hin ICBC biakin sak nak zong ah kum khat cu $2000 a si rua ka ti a pek. Mi tam tuk a kan tei. Kei tehna hrimhrim cu a kan tei tuk ah hin tlanglawng mawttaw pah khi kan si ko [tlanglawng i mawttaw a pah lio video rak zoh te hmanh u].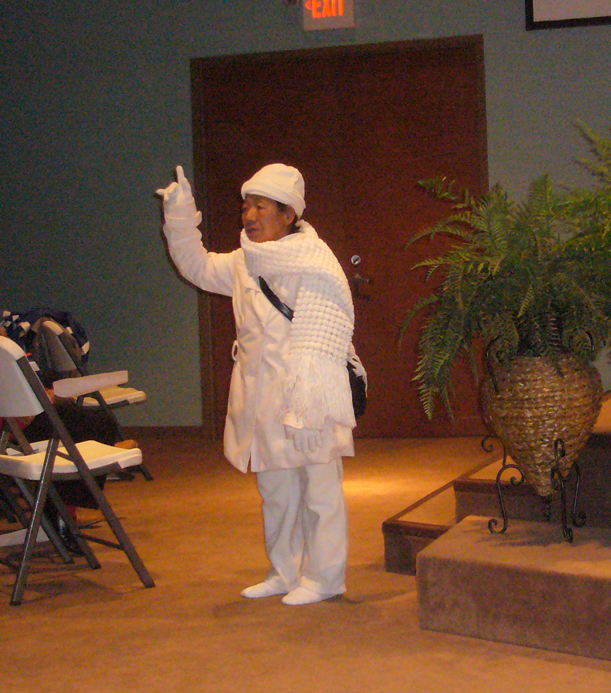 Luka 12:41ff Jesuh cu Biakinn tangka chiahnak pawngah a ṭhu i tangka a sanhmi a zoh hna. Mirum tampi nih tangka tampi an sanh lengmang. Cu lioah cun a si a fakmi nuhmei pakhat a ra ve i pia hra tluk a man a simi dar tangka pahnih a sanh ve. Jesuh nih a zultu cu a kawh hna i, "Hi a si a fakmi nuhmeinu nih hin tangka kuang ah midang vialte nakin tam bik a sanh. Zeicahtiah a dang nih cun an ngeih hlei an sanh, hi nu hi cu sifak ngai a si ko nain a ngeihmi vialte a sanh dih — a nunnak ca i a hman dingmi a thawh dih," tiah a ti.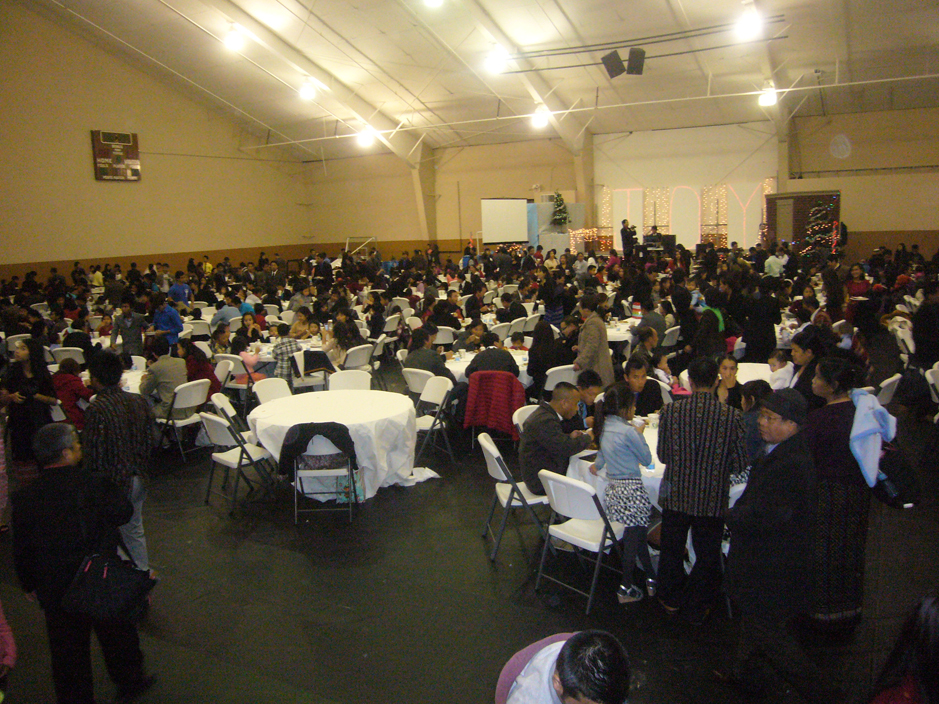 Milu rel hi Pathian nih a duh lo na'n ka ngaithiam seh law: ICBC hi bawhte relchih in minung 1750 hrawng kan si i, tutan Krismas hi a chuak lo an tam. Asinain khual zong kan ngei pah ve i rawl ei cu kan tam ve ko. Hall mah tia kan khah dih ning zoh tik ah vawleicung ah Krismas rawl aa hrawm mi a tam bik kan si lo hmanh ah a tam pawl cu kan si lai tiah ka zumh. Zeitin tiah miphun tampi hi rawl in Krimas an tuah lo. A tuah mi cu Laimi le Mizo ko hi kan si rua i Laimi cu Halkha hrawng hmanh ah minung mah vialte rawl ihrawm a um lo. Khuate chinchin cu chim um lo. Mizoram ah bu ngan bikbik khi rawl-ei 1000 an tling hnga dekmaw. Kanmah hi a tam bik kan si kho men.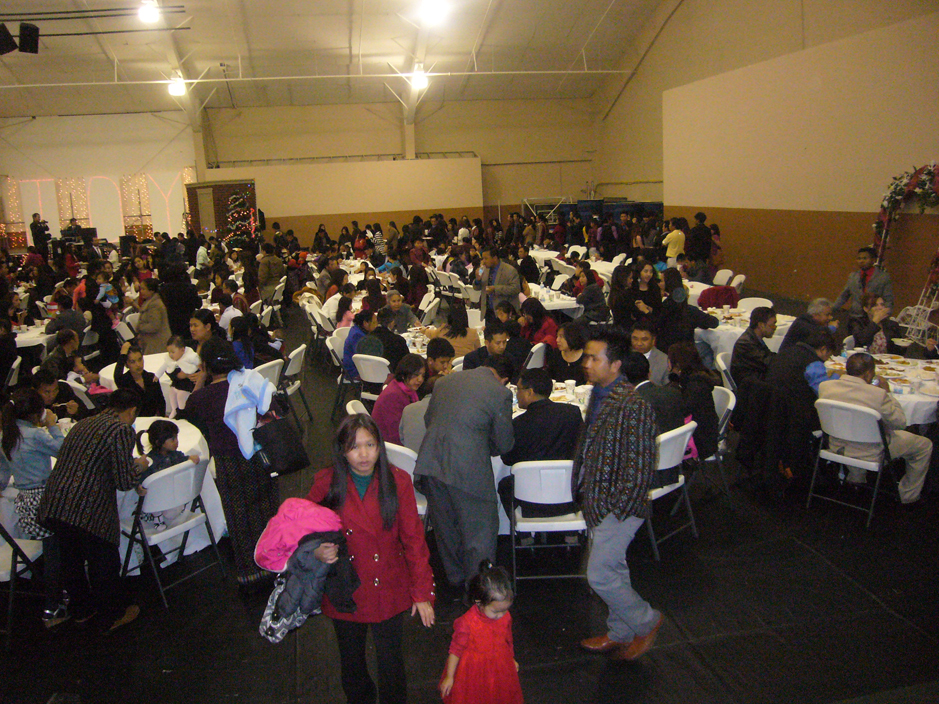 Cabuai mah zat kan dum hlei ah ttuang-ei an tam rih. An rawlchuan zong a thaw ngaingai e an ti. Kei cu ka ei lo.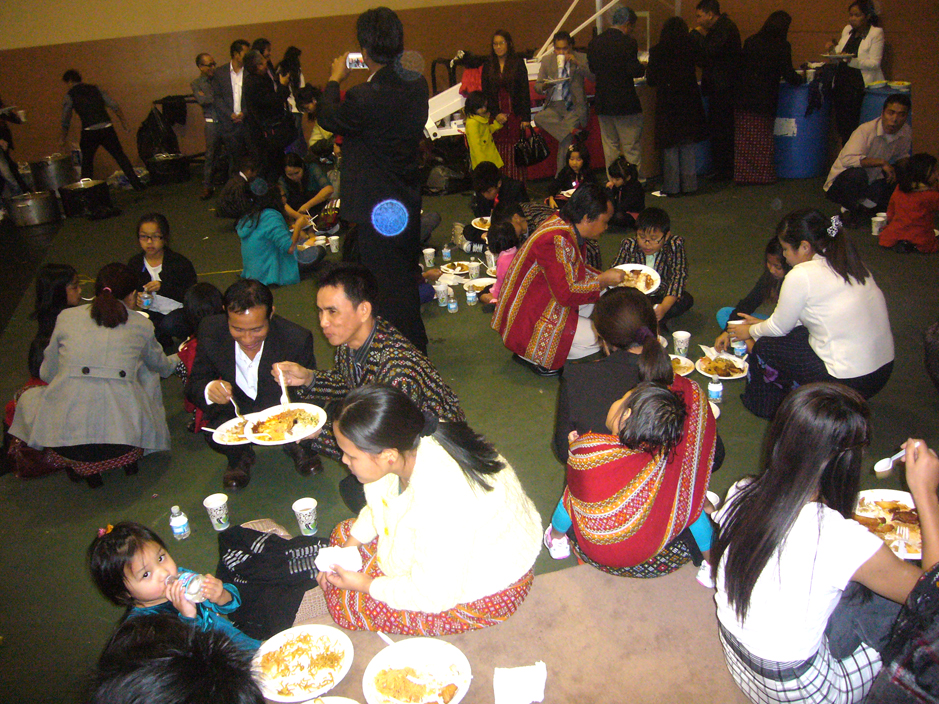 Ka ei lo nak cu hiti hin a si: Rawl ei aa tam pah tik ah, rawl izaat lo hawihna um sual seh law... mi ei hmasa rih ko hna seh ka ti. Kei cu mah chung ka si i, mah chung cu hnu bik ah rawl a taan a si le ei te ding tiah ka ti. Atu i a chuah kan lawmh mi he hin kei cu chungkhat tuk (ro aa cheu te ding) kan si cuh!
Rawl ei caan lo pi (4:30 pm hrawng) ah cun torlaklak an tthuat ko, an duk a ttha taktak, hawi hi.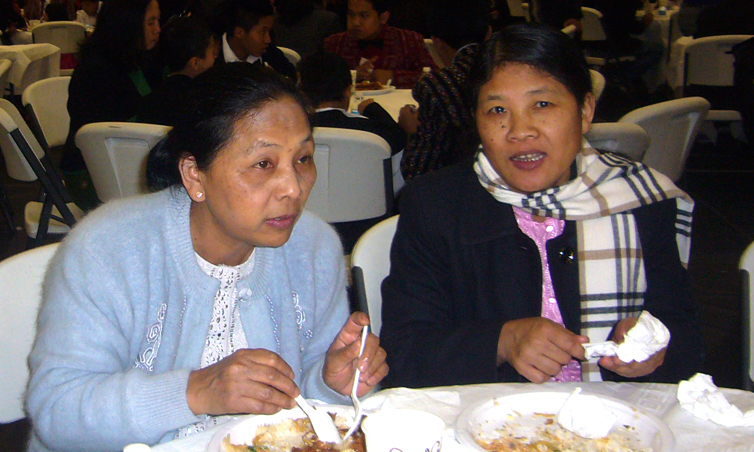 Rawl hlei bawh lo in inn ah ka ttin. Nikum X'mas lai ai inpa laksawng chuah awk ah wine thawl 7 kaa cawk. An lo dih i thawl nga kaa kirh. Dawr i kherh sian lo in, April thla hrawng tiang ah cun aa ding dih te ko lai tiah kaa chiah ka ti cu Kumthar an phaan lo. Mah hnu cu wine cu a zoh te hmanh ka zoh ti lo, a pawng i kaa chawh hmanh ah. December thla ah kaa cawk tthan te lai tiah ka ti cu a lan deng hoi. Krismas zaan hi Mino sin i aa tel lo mi ca ah um a har tawn ai tiah X'mas zan din awk ah cun thawl khat kaa cawk. Ka duh mi a rak um hoi lo i a zuar tu pa nih pakhat a ka chimh i a thawt lai le thawt lai lo hngalh lo in kaa tlunpi. Cawsa man faak kaa cawk cia i rawl sin ah ding hnek nalak ah a phongh nak hmanh ka hmu ti lo. Rumro in ka kalh. Umharpheng (X'mas hla ngaih nak) te cu a si ve sawk. Atang i nu-pa hna tal hi rak sawm hna awk ka si na'n a luan ai.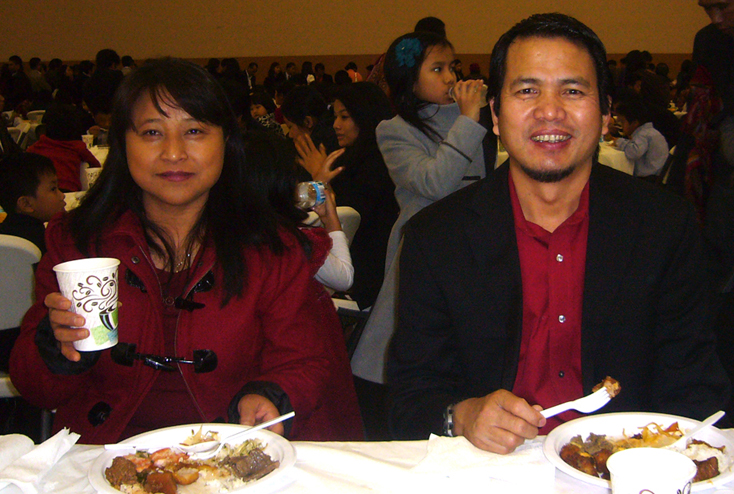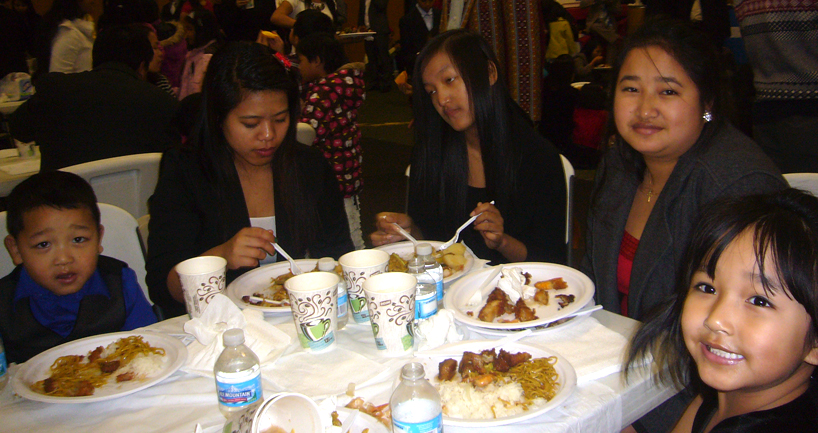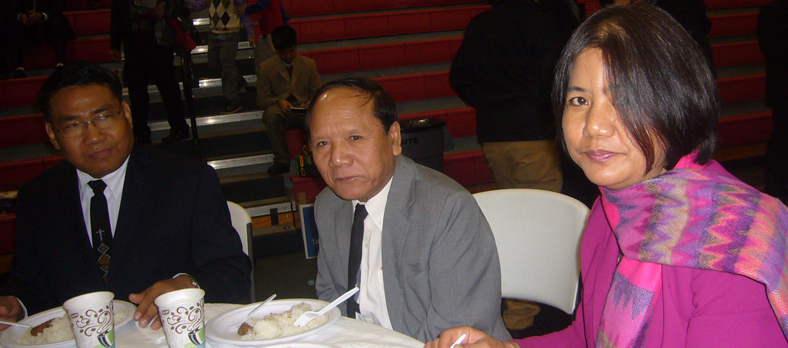 Tutan kan chungttuan pawl ka fak hna nak cu, upa le khual ca ah adang in rawl an ser i siarem in an eiter hna. Ti le rawl cu a sunghar tuk ko nain rawl pei khat ruang i tar le upa pipi mi za tam sin itian ve le rawl dawnh ve cu zoh ah lung a nuam hrimhrim lo. Kum khat hawihna Rev. Hre Kio zong aa tiang ve. Atu cu tha a dam cang. Keimah zong an ka serpiak cia ve. Kaa lawm.

"The most dangerous phrase in the language is "We've always done it this way."
"'Mahti cun henpei kan tuah lengmang ko cu' ti hi holh i ttih a nung bik mi a si."
--Grace Hopper (Computer Scientist)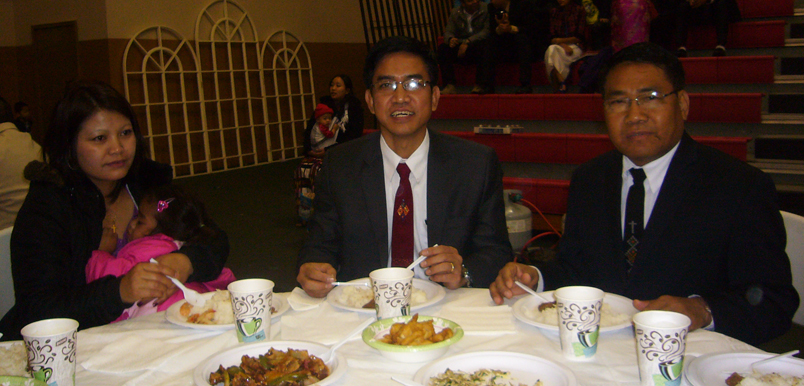 Pu Zing Cung le a chungkhar zong an kan hmanpi ve, tukum cu. Kan ilawm ngaingai (kan ngai pah hna i).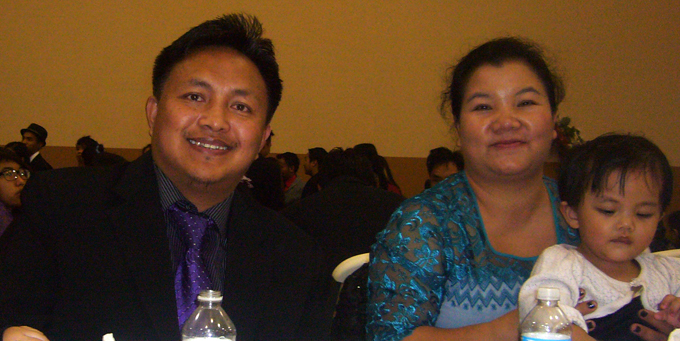 Rev. Al Hre te chung an iredi ning hi!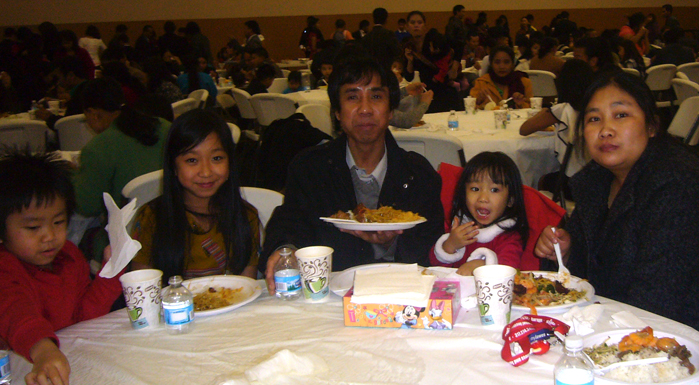 Iangku te chung, ka inpa hlun. Kan ngai tuk cang hna.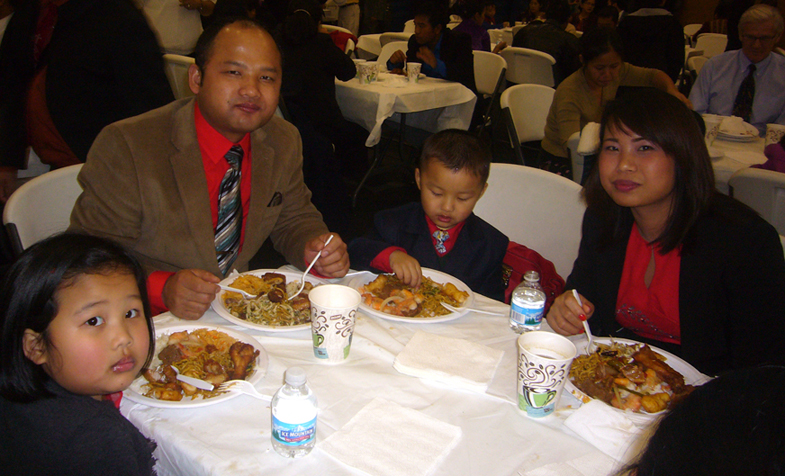 Tthua u, tthua u, Vanni Lian.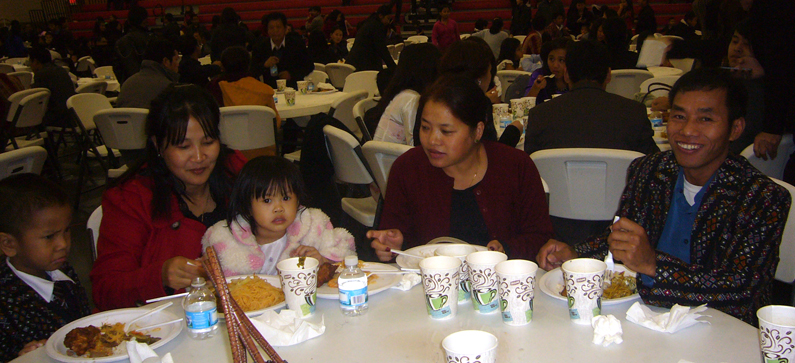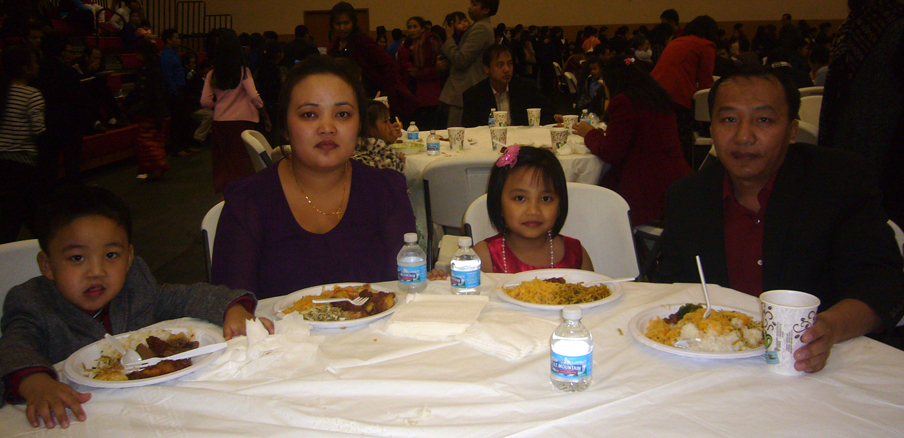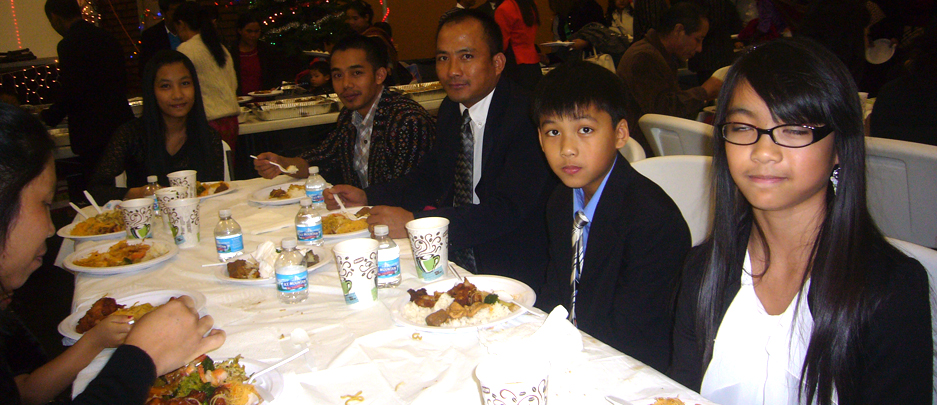 Ka khemra kut-tlaih te ka hmang ko nain, CYO puai lio ah a settings ka thlen mi ka remh tthan ti lo i tutan ka hmanthlak hi snap a nuar deuh. Ka duh ning in ka thla kho deuh lo. Ka tlolh mi zong an um. Cun hmaan thlaak kaa thawh a hnu i micheu nan ttiau cang. A um vial tlawmpal lawng ka thlak.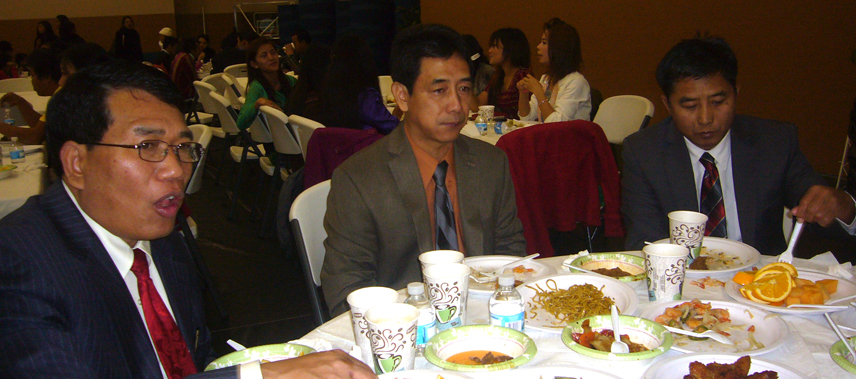 Nunning: Work, go home, rest, repeat. :)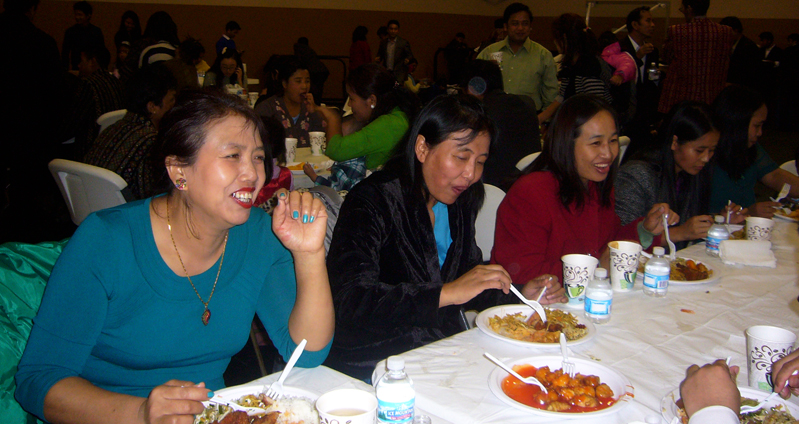 Krismas ah cun mahti hin hawikom he nuamte'n eitti ding a si cuh, chungkhar he si lo in.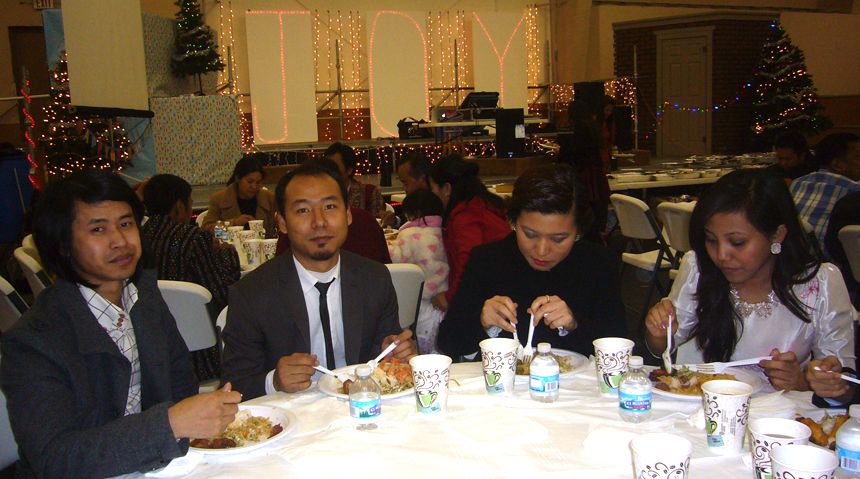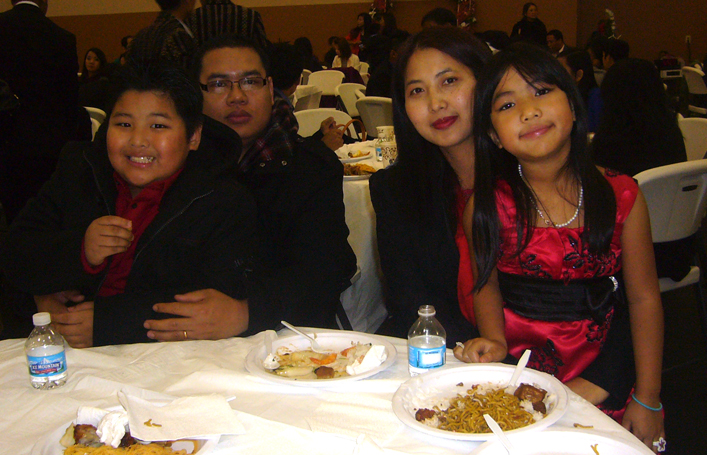 ICBC Mino cu Carol an vaak i dahkaw $10,000 deng te an hmuh cu! 9870 hrawng kan hmuh an ti rua ka ti. Van Lian nu (Pi Tlem Cin) khual a tlawn kar si hlah sehlaw $130 a beet hnga i 10000 a tling ko hnga tiah ka ti leen. Kum dang zong ah tam pipi an hmuh. Minhngal ah a kal bal lo belte.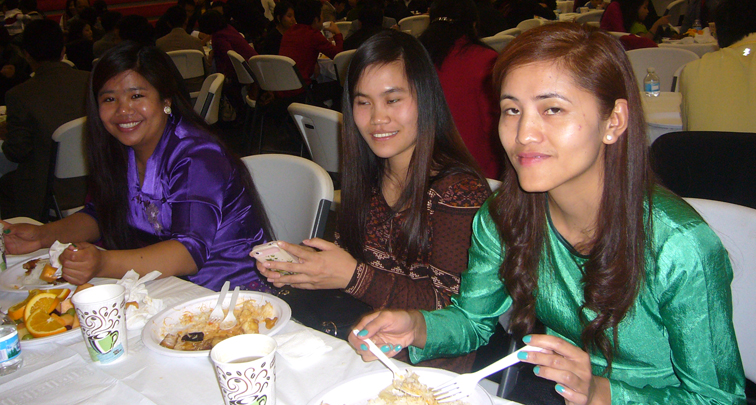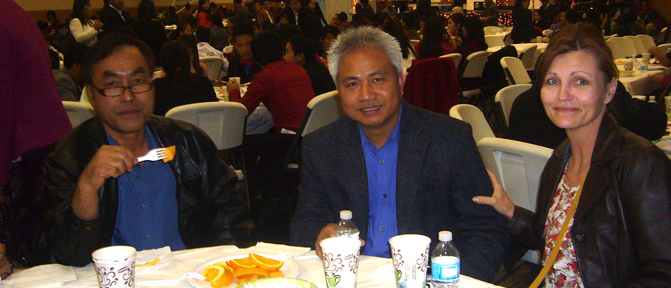 "Think big thoughts but relish small pleasures."--H. Jackson Brown Jr.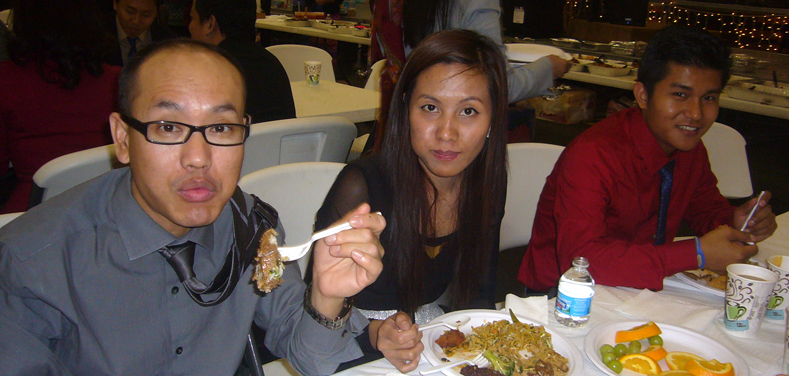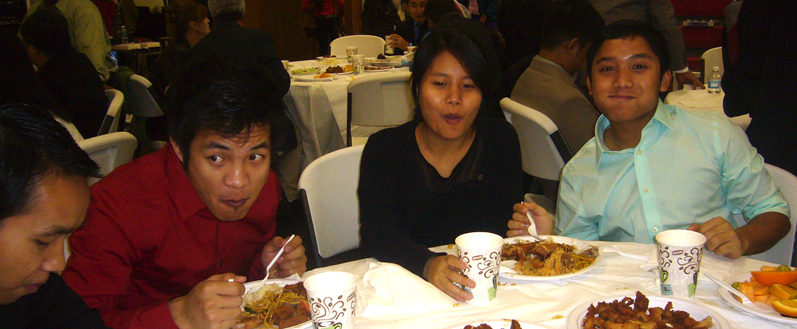 Ngaknu le tlangval tthut-tti hi a ttha.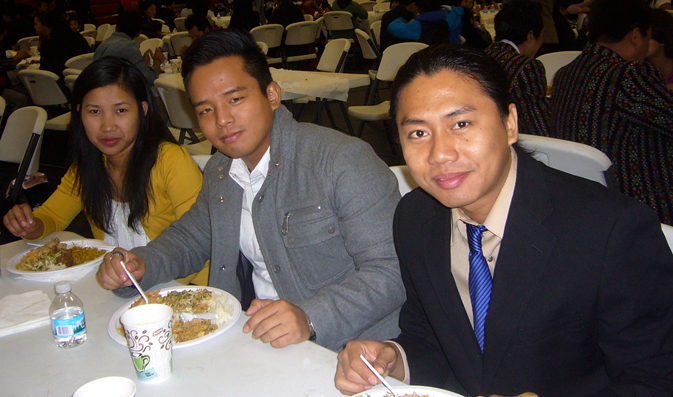 Mi zuangzam itlaih sual belte tleu nak.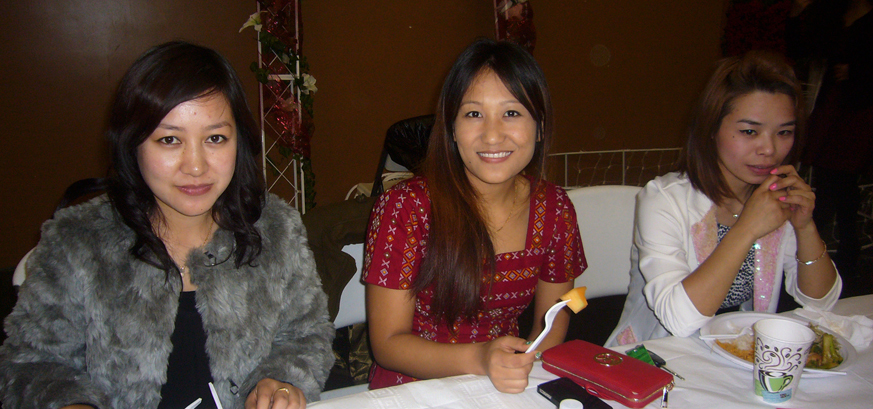 Tthialtaak ding nak cun nu hawikom asilole pa hawikom he tthut-tti hmanh a ttha deuh.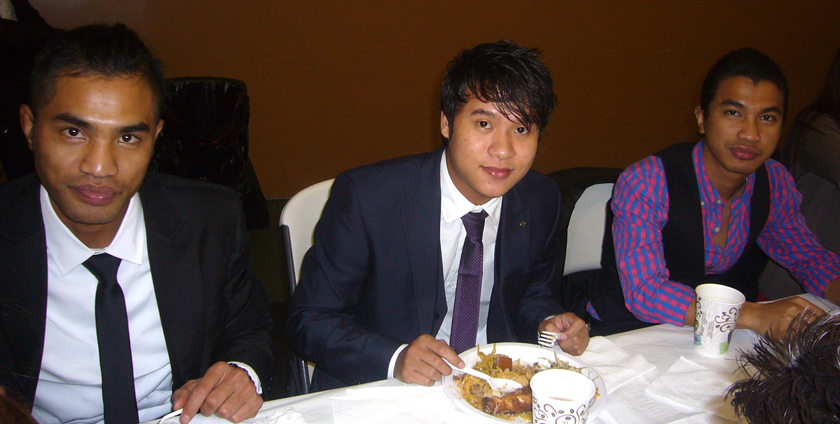 Kaltaak mi nih zaangfaak, kaltaak tu hmanh ngeih lo nih dangkhat.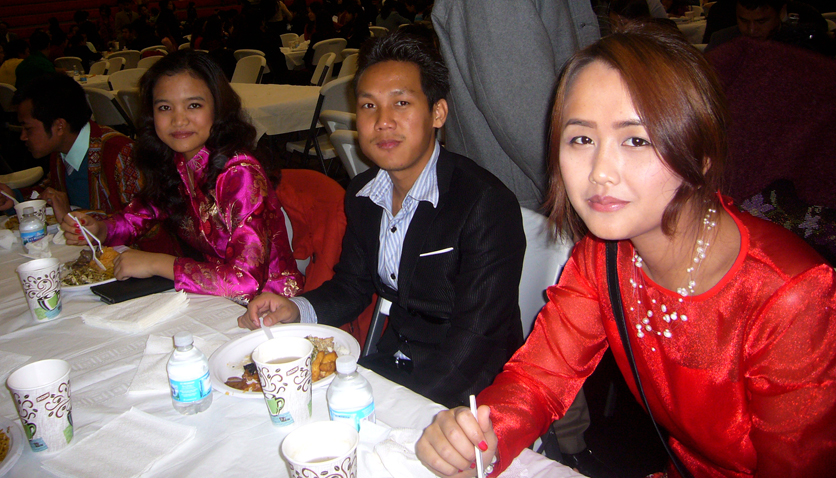 Krismas i kan inuamh nak hi thil sining nih a ngeih deuh ko: lungduh he kan tthut-tti le tthut-tti lo tehna, thil thar ngeih le ngeih lo tehna, vei tehna.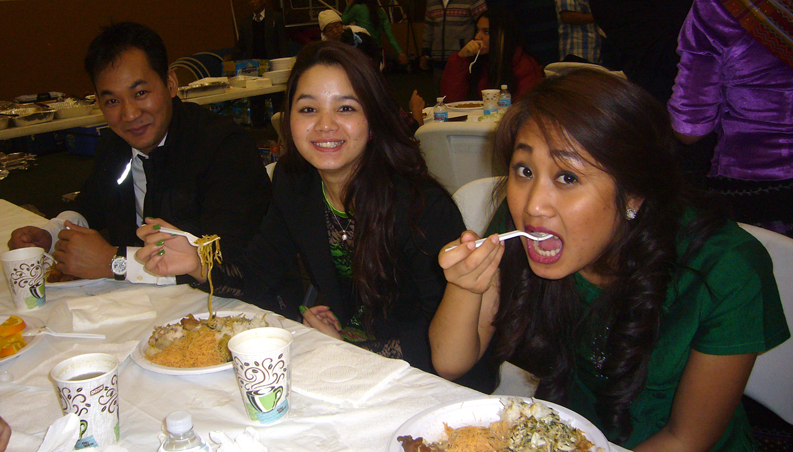 "Merry Christmas ti mi cu nan hmu thiam cang maw?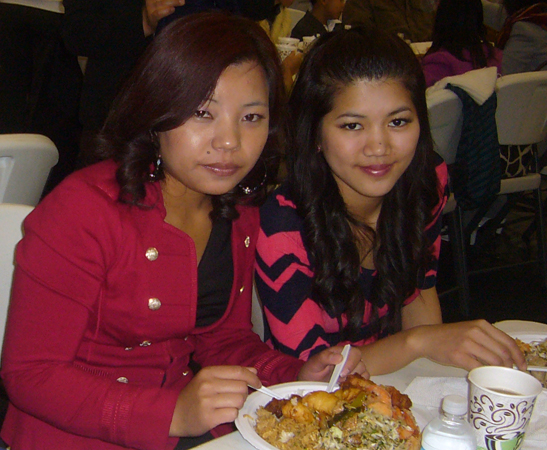 "The only failure is not knowing how to be happy."--Celine Dion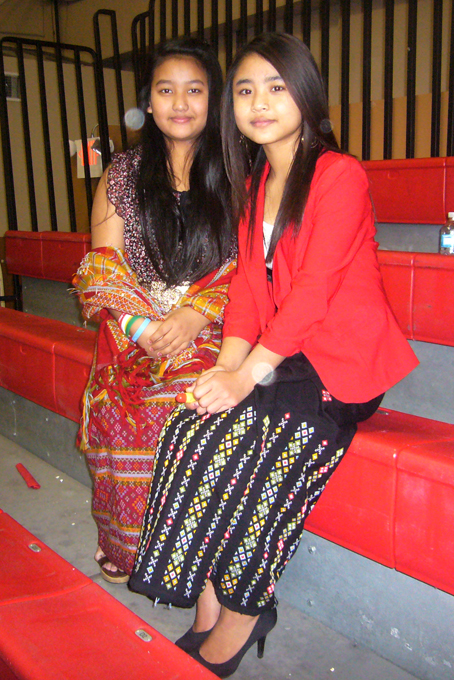 "Kan ngaihchiatnak cu lawmhnak ah a kan thlenpiak."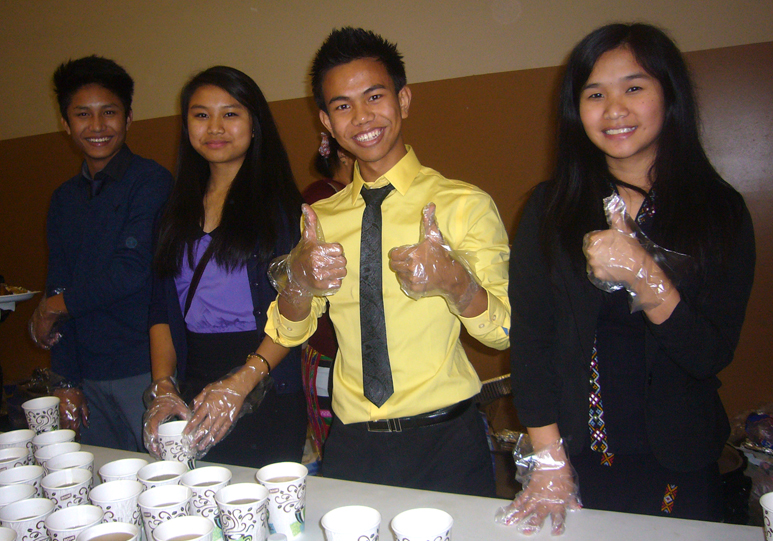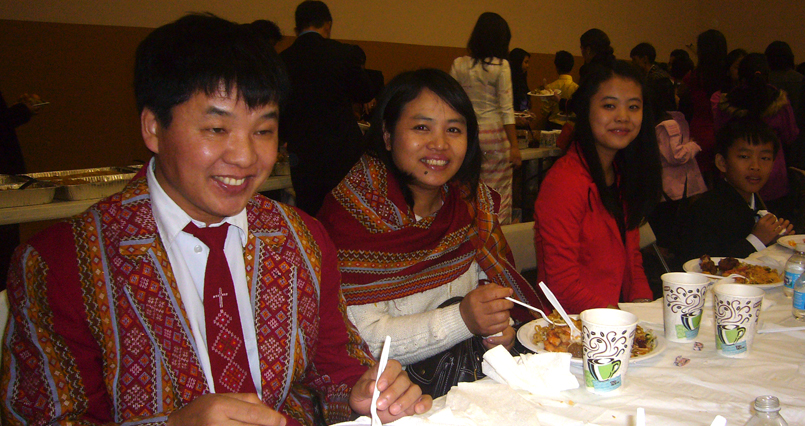 ICBC hi Hniarlawn le Hriphi rumro an si rua tiah ruat hlah u.
Lai phun an tling. Kawl an um, Karen an um. Kum 60 cung laksawng a la mi lawng hmanh ah Mirang pa hnih an um. Khual cu an tor.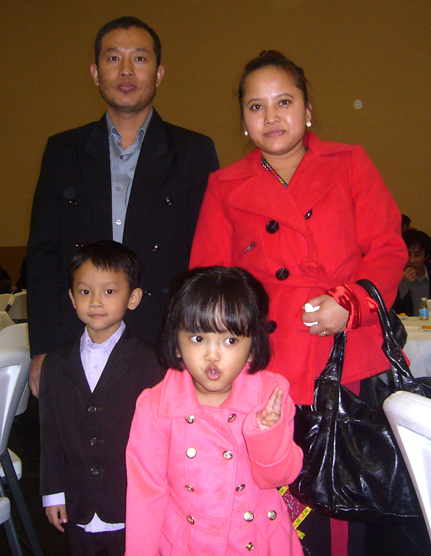 Zarhpi ni = nu saan ni.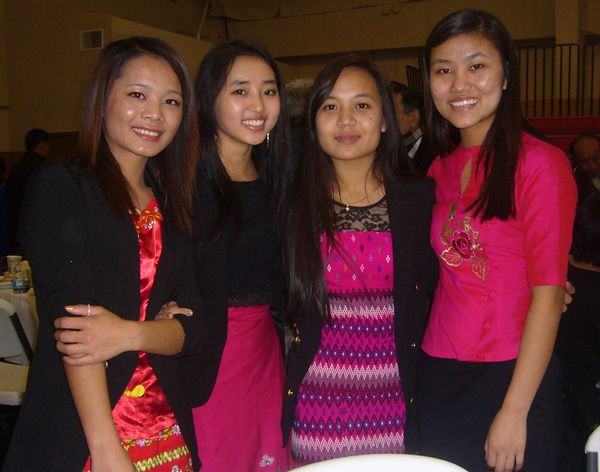 Nanmah phueih hi kum fatin hmaan kan thlak hna. Tam tuk nan ka bat cang.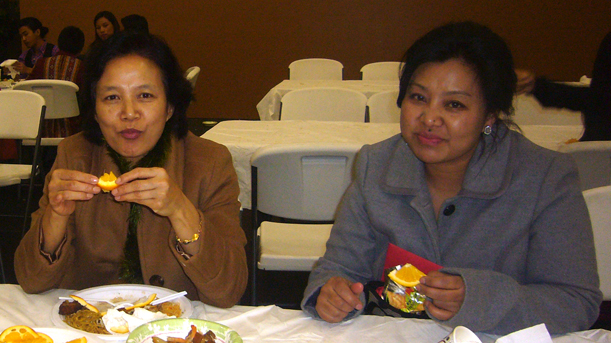 "If you retain nothing else, always remember the most important rule of beauty, which is: Who cares?"--Tina Fey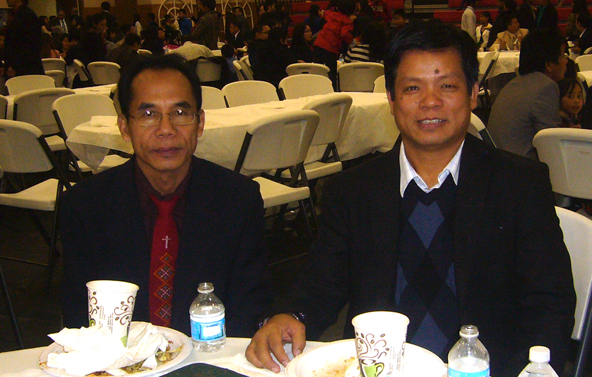 Pu Dan Lian le Pu Thawng Lin hi paih kong an rak icaih dihka a si men lai.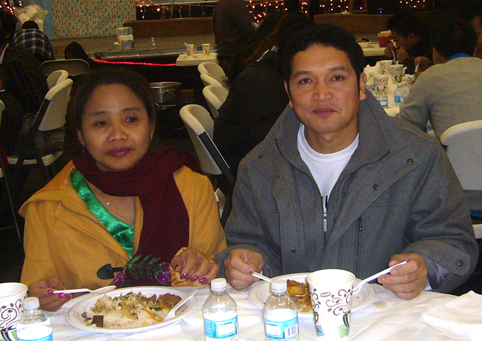 Pi Ngun Cer hi nikum Krismas ah solo an thiah i a thei lo. Tukum ah a sak.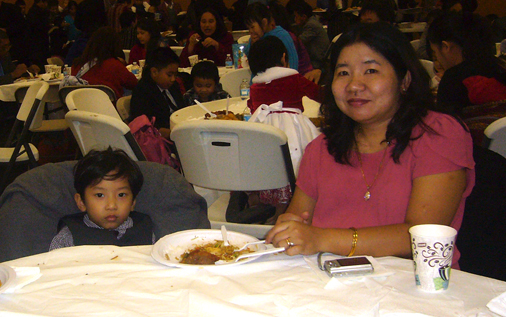 10 + 1 = 11
10 + 2 = ?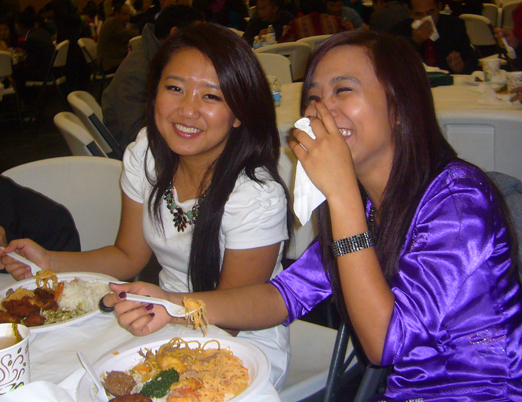 Uihli dawi ah cun ihnawtnam ding; va ngeih ah inam lo ding.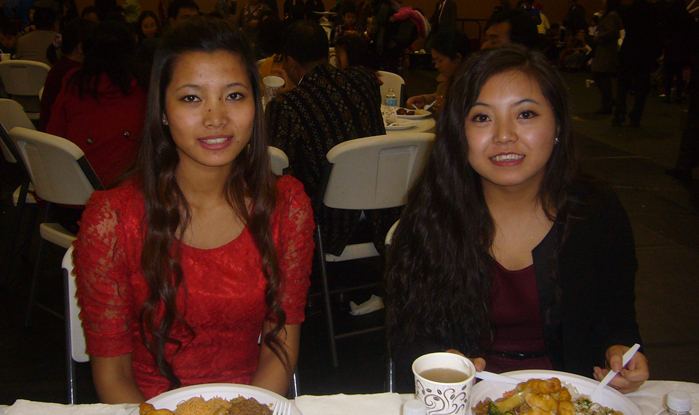 Nan hmur hi a sen cia lo maw zei he?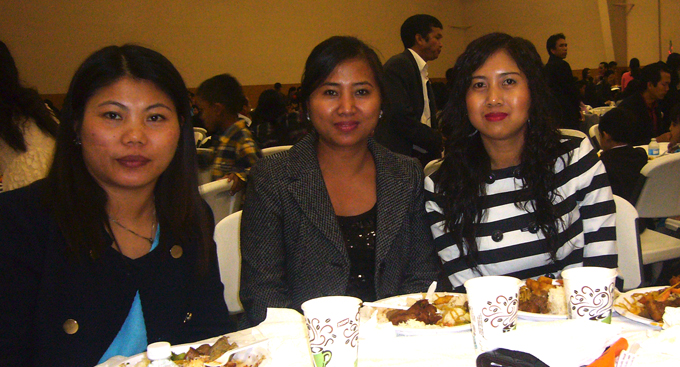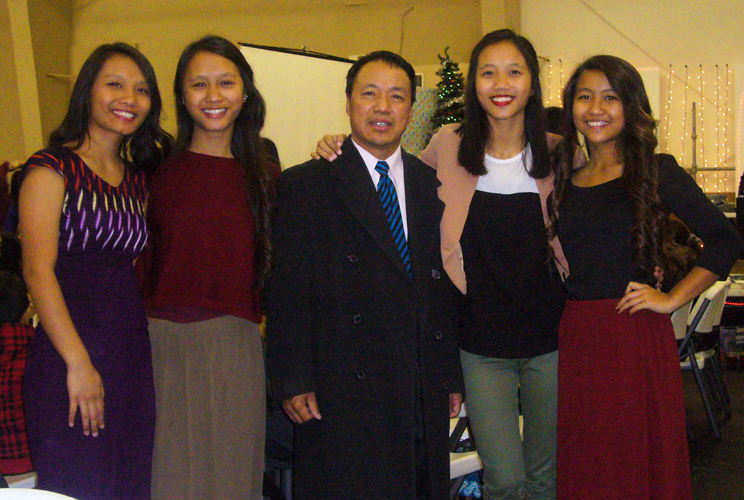 An pathum dangdang in pom khat ah ka rak pom tawn hna. Now they put me to dwarf!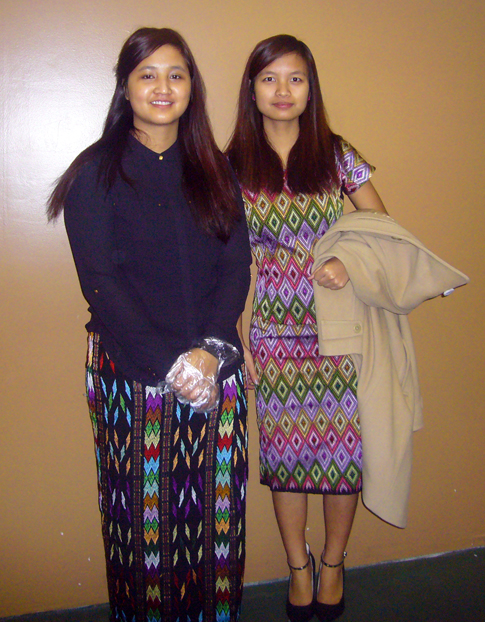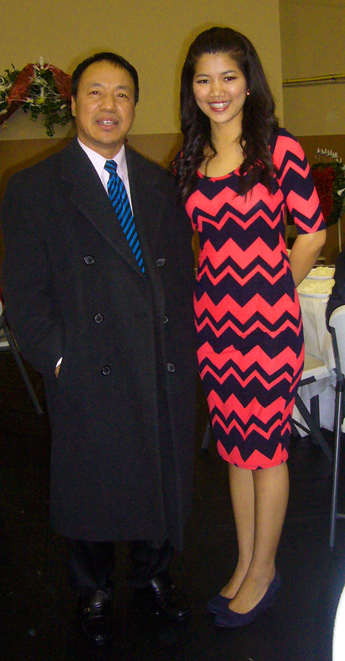 Ka kehlei i he hin Krismas inn ttamh tehna kan duh ngai i, fial zong kan fial tawn. Tukum cu kan lung a tho lo veve. Krismas ah a chuak menmente veve kan si. Krismas ni ah hin suit nak le angki chung sen aa hruk ding an tam i, kannih cu alai zarhpi ah khan kan ihruk veve cang, i Krismas ni i mah aa hruk mi cu kanmah hruk cia aa hruk ah an cang. Kan hloh ko hna. :)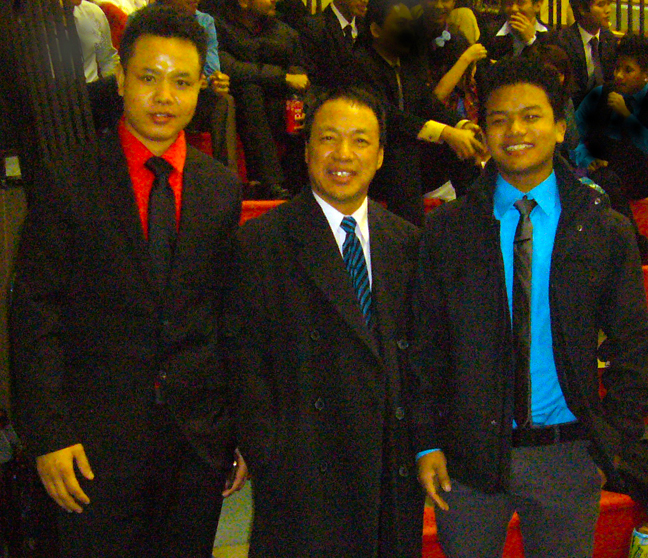 Thangkuk he hmaan kan ithla i Cema (Bual Cem) a ra tli ve i a tawhrolh sau tuk kaw a kan lonh nawn hita.
"Pu-tu rual Krismas i hmaan ithlak hi zeitluk in dah a nuamh.
Aaron luthlung in a khabe ah, a khabe in a ngalcar ah a luang mi Harmon tlang naidaw khi cu achim chim awk a tlak lo--kik ttiamttuam in.
Khumvoi Krismas ah nuamte'n.